Viewers of French TV channel TF1 have been busily voting for their plus beau marché de France in what has become a much-loved annual contest. Here we bring you the results of this year's competition – the top 10 best markets in France for 2022 as voted for by the French…
1. Marché des Halles de Narbonne (Languedoc-Roussillon)
It came second in the 2021 edition, and this year Les Halles de Narbonne has bagged the top spot. This covered market in an elegant pavilion near the Robine canal is famous throughout the South of France, with people flocking to shop at one of the 70 local producers, or enjoy a bite to eat at the counter. Open daily, 7am-2pm.
2. Marché de Vannes (Bretagne)
In the handsome setting of the city centre, with its picturesque half-timbered houses, the very Instagrammable Vannes market is renowned for the quality of its products: seafood such as Arradon oysters, vegetables from its market gardeners, cheeses such as Tomme de Rhuys… It is split between two halls, one for fresh products and one for seafood, as well as having an open-air market which connects the two, stretching from the Place de la République to the Place des Lices via the Place du Poids-public. Open Wednesdays & Saturdays, 8am-1.30pm.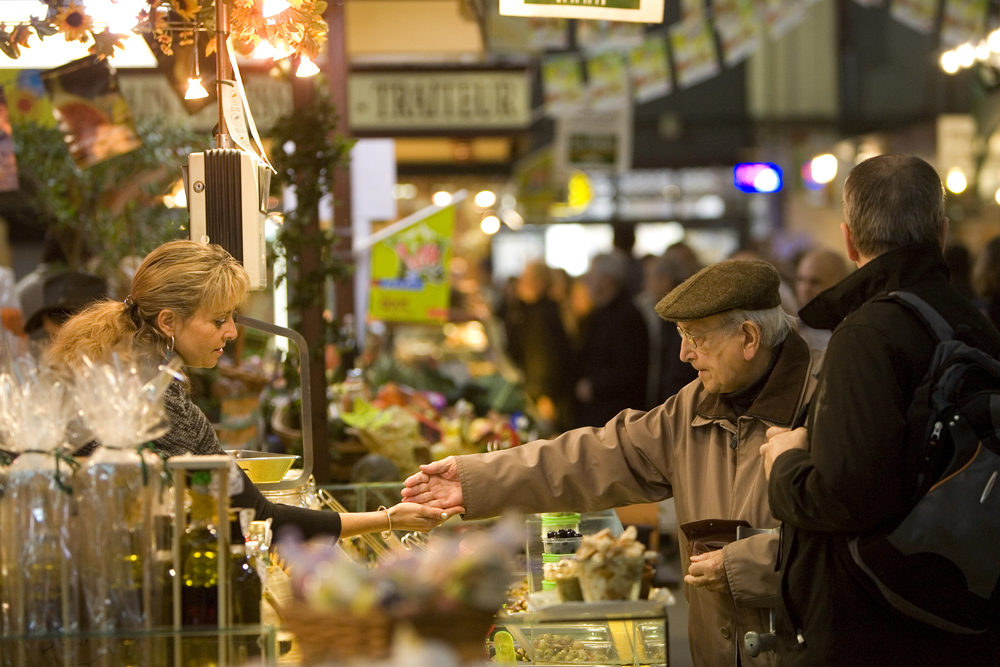 3. Marché d'Arras (Nord-Pas-de-Calais)
On Place des Héros, at the foot of the belfry (one of France's most revered monuments), the market in downtown Arras enjoys a majestic setting. Here you'll find everything: fresh products, fruits and vegetables from local farms, fabrics (Arras was a cloth town in the Middle Ages), a bookstore… The Saturday market is particularly popular, not just for shopping but for catching up with friends – locals like to enjoy a drink on a sunny terrace after finishing their shopping. Open Wednesday and Saturday mornings.
4. Marché de Sotteville-lès-Rouen (Haute-Normandie)
One of the friendliest markets you could come across, many sellers have been coming here for years, such as florist Thierry Varin, who has sold roses, tulips, hyacinths, anemones and other seasonal bouquets for 20 years on the recently-refurbished place de l'Hôtel-de-Ville. Before him, his parents were flower sellers here and many of Thierry's customers remember him from when he used to help his mother as a child. "The Sotteville market is one of the friendliest I know," he says. "There is good solidarity, mutual aid – it's family!" Open Thursdays and Sundays, 8am-1pm.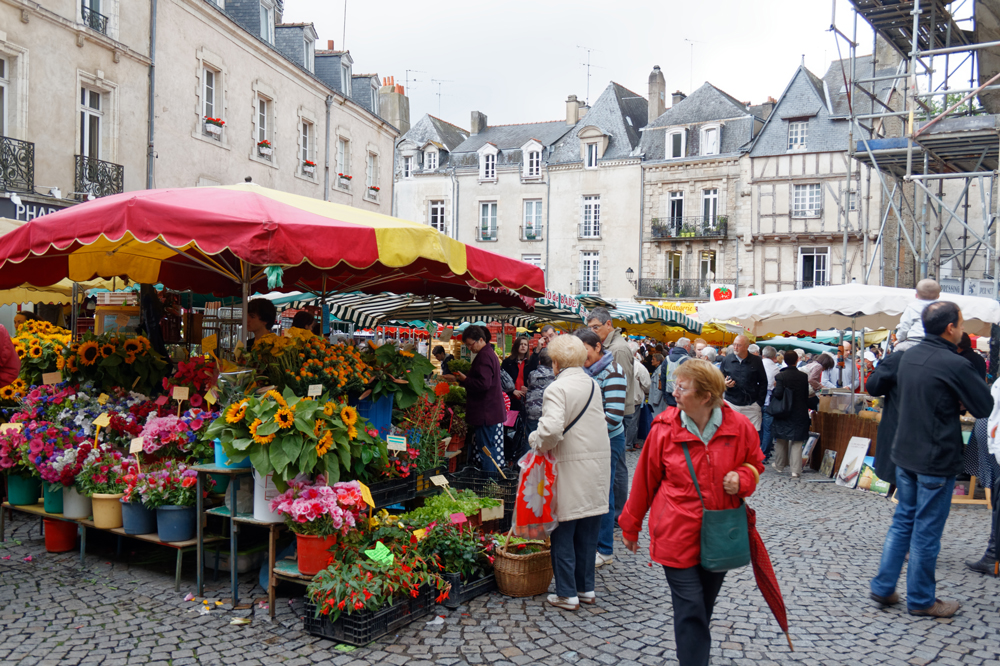 5. Marché de Revel (Midi-Pyrénées)
For more than 600 years in Revel, just south-east of Toulouse in Haute-Garonne, in a bastide built by Philippe VI de Valois in 1342, trade has been carried out under and around its hall overlooked by a majestic belfry. The building originally housed meetings of the consuls who managed the city, the prison, and the first merchants of the city: butchers, poultry or grain merchants, drapers, grinders… Over the centuries, traders gradually drifted towards shops, until the 1950s when the USA's Marshall Plan of foreign aid boosted agriculture in the Lauragais, and the weekly market we know today started up in order to sell their wares. Open Saturdays from 7am.
6. Marché des Halles de Niort (Poitou-Charentes)
The two-storey covered halls of Niort were inaugurated in 1871 and the proximity of the dungeon adds extra atmosphere to this timeless structure. Seasonal produce from sea and land can be found here but it's also a popular spot for family and friends to meet up for drinks or a bite to eat. Open Tuesday to Sunday mornings; larger markets on Thursday, Saturday and Sunday mornings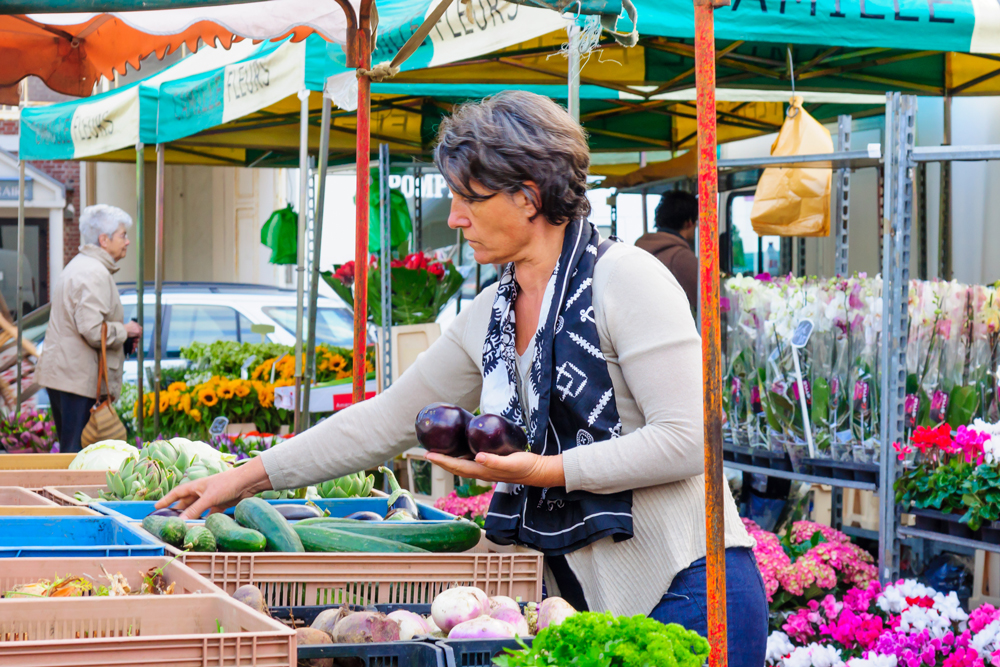 7. Marché provençal de Digne-les-Bains (Provence-Alpes-Côte d'Azur)
One of the largest markets in the Alpes-de-Haute-Provence department, Digne has about 150 traders and their stalls stretch for 850m, so shopping here counts as exercise too! A typical, colourful Provençal market which dates back to the Middle Ages, it used to take place on the market place of the Old Town before moving to the Cours des Ares and extending to the Pré de Foire (now the Place de Gaulle) due to its ever-increasing size. Open Wednesday and Saturday mornings.
8. Le marché forain de Saint-Pierre (La Réunion)
In the middle of Indian Ocean on France's overseas region of Réunion Island, on the edge of a lagoon shaded by casuarina trees, you'll find the Saint-Pierre market. It is renowned for the freshness of its produce – small producers leave their farms in the heights of the island sometimes as early as 1am to sell their produce, which was picked the day before. You'll find fruits, vegetables and spices, lentils, vanilla, turmeric, garlic and more, as well as handmade items. It has a reputation for being the friendliest market on the island. Open Saturdays, 6am-12.30pm.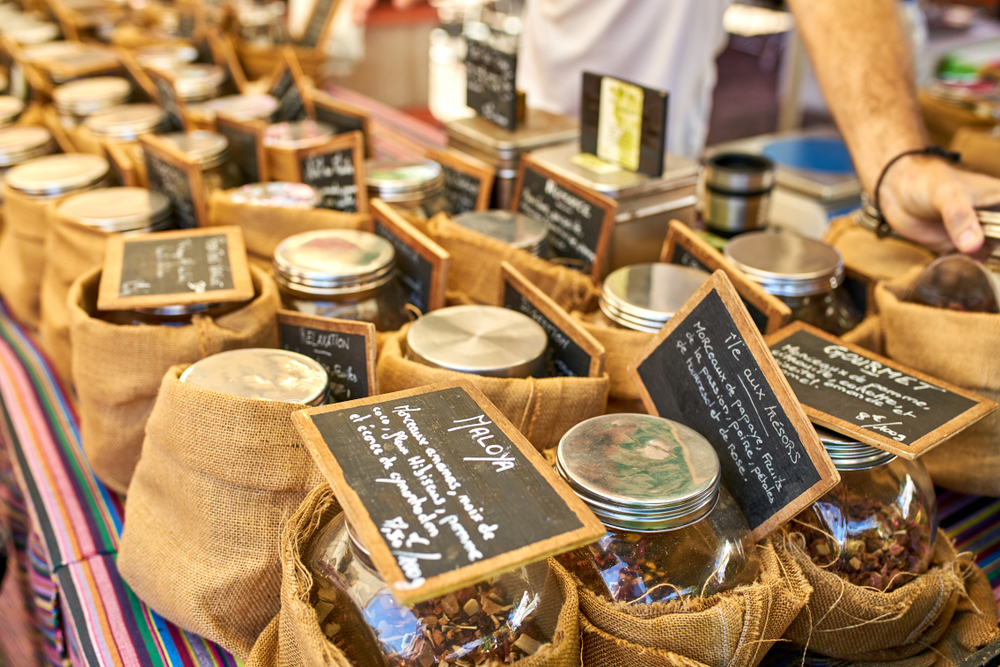 9. Marché de Thiviers (Aquitaine-Dordogne)
Historically, Thiviers is a town of traders and peasants, the Saturday market being a direct descendant of that not-so-distant era when the marketplace was full of cattle. Today up to 120 stalls gather around Place Foch and its adjacent streets, where people come to shop, chat and taste the local products in all weathers, wind, rain or snow! Thiviers is also the capital of foie gras in Périgord Vert and its dedicated stalls have an excellent reputation. Open Saturdays, 7am-1pm.
10. Marché de Pornichet (Pays de la Loire)
With its 100 merchants, a mix of food and handmade goods, the colourful Pornichet market is an unmissable event on Wednesdays and Saturdays. In summer, up to 250 traders take part. Stallholders sell food, often local and increasingly organic, fruit from nearby orchards, vegetables from surrounding farms, honey, Guérande salt and more, and you'll also find craftsmen, caterers, bakers, crêpe makers… the list goes on! Look out in particular for la charcuterie Cossard, which has been making mouths water since 1949. Open Wednesdays and Saturdays.