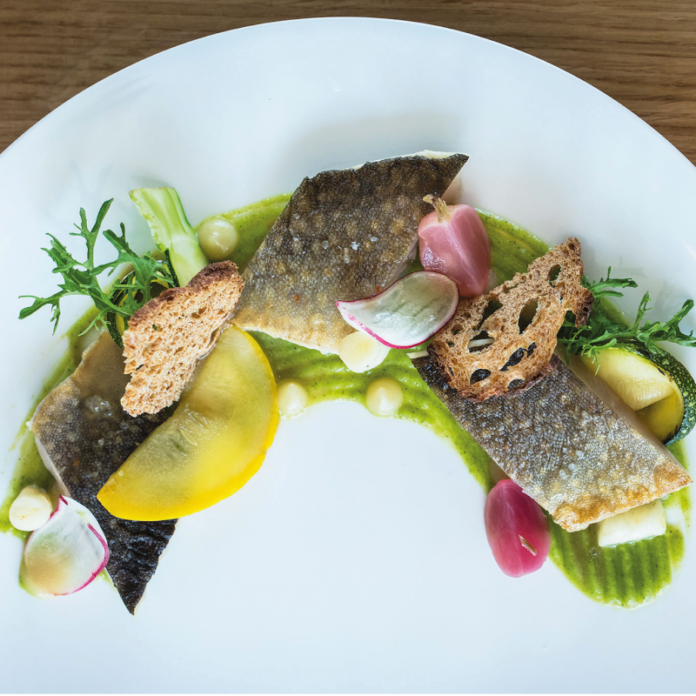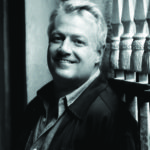 A good meal can be an almost religious experience. Alexander Lobrano reveals the eateries that, for him, delight and deliver
DURING THE MORE than 30 years I've been lucky enough to live in France, I've had many passionate affairs. Some of them have lasted for months, even years, others only for the space of several exquisite hours. In this latter instance, the brevity was only because I was apprehensive I'd ever find the same initial elation a second time around. This is because many spectacular meals are fleeting, fragile, transcendental occasions that depend on an unfathomable and irreplaceable calculus of appetite, company, cooking, setting and service.
These ecstatic gastronomic moments are not confined to the sort of elegant expensive restaurants with vertiginous prices the best-known French gastronomic guidebooks tend to laud most loudly either.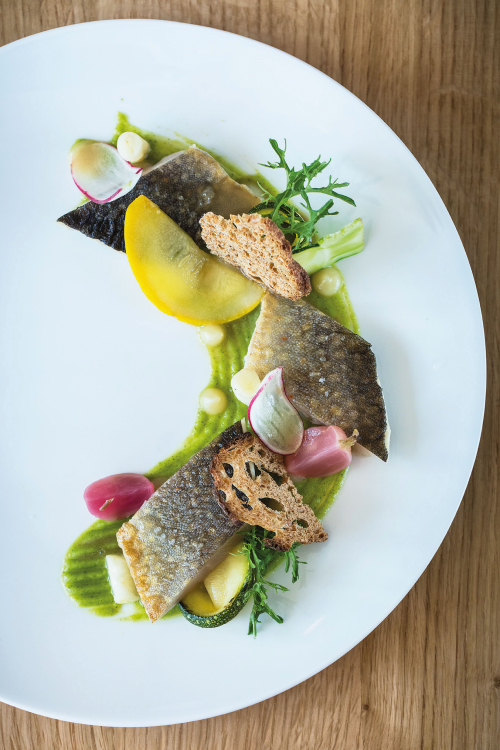 Instead these feasts represent a confluence of desire, delight and talent that delivers exactly what it is that you wanted – sometimes even when you didn't know you wanted it. This is why they live on so vividly in memory and appetite.
Driving through Burgundy on a beautiful Indian summer morning some 25 years ago, I pulled off the road to study the map open on the seat beside me and realised two things. I was hungry, and I wasn't far from Saulieu, where chef Bernard Loiseau's celebrated eponymous restaurant was located. Since I was travelling on assignment for a magazine on a very modest per diem, this Michelin three-star table was way beyond my means, but I decided to make a detour to Saulieu out of curiosity anyway.
The handsome old auberge with a steep roof of terracotta tiles was easy to find on the main street, so I parked and went to the front door, just for the pleasure of reading the menu inside its brass-framed, glass-fronted case. It was so tantalising it sparked a rather mad idea.
Even though my lunch budget for the day allowed for nothing more than a jambon-beurre in a local café, why not just throw caution to the wind and treat myself to the prix-fixe lunch menu? It was very expensive, but I was here, wasn't I? So, well, carpe diem and all that… I was sorely tempted, which made me sorely anxious. So I went for a stroll through the pretty little town and returned to read the menu posted by the front door again about 20 minutes later.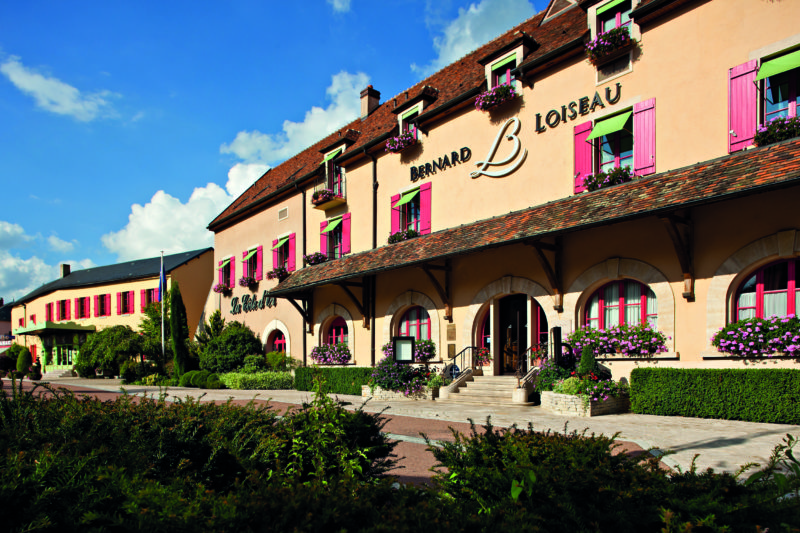 While I was standing there, it suddenly occurred to me I wasn't dressed appropriately for a meal in a three-star restaurant, so maybe I should just content myself with a nice sandwich after all and be on my way.
GIVING IN TO TEMPTATION
Instead, I walked back to my car, pulled a jacket out of my suitcase, gave it a good but futile shake to rid it of its wrinkles, and headed back to the restaurant – hesitating only when it occurred to me they might not seat me without a reservation.
A few minutes later I was sitting at a table spread with a starched pink cloth, gobbling down the hot gougères that had been graciously served on a plate with a lacy doily even though I hadn't ordered an apéritif. Now the maître d'hôtel arrived with a glass of sparkling wine, which alarmed me, because I'd already decided I could only allow myself a single glass of wine during the meal for reasons of sobriety, both physical and financial.
"After all of your careful deliberation, we wanted to welcome you to our restaurant with a glass of Crémant de Bourgogne," said the black-suited man with a bemusement I perceived he intended we should share. He must have seen a flicker in my eye or a twitch somewhere, though, because then he added, "A complimentary glass of Crémant de Bourgogne".
Thus a flattering tone of complicit civility became the wick of this meal. Beyond the charm of this man's charity, his humour and his omniscient hospitality, the dishes that followed were almost tear-inducingly good.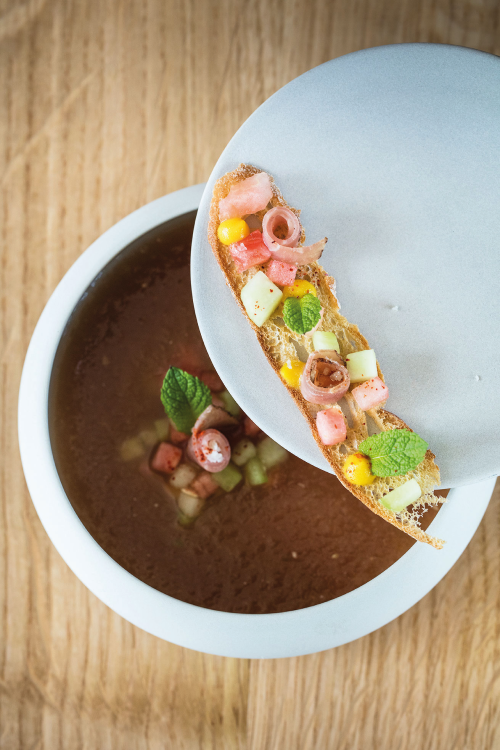 IRRESISTIBLY FUNKY
I ate my first frog's legs, tiny succulent piping hot jambonettes, which came in an emerald green pool of parsley juice with puréed garlic. They added a filet de sandre (pike perch) with its skin fried to a crunchy golden parchment in a rich ruddy red wine sauce redolent of shallots to my menu, because they wanted me to try it.
Veal sweetbreads came with silken potato purée with almost invisible specks of black truffle, a brilliant underground marriage of the humble spud and most noble tuber; and I sampled two of the cheeses I will forever permanently crave for the first time, both of them Burgundians, Abbaye de Cîteaux, with its lovely taste recalling the mossy walls of a country well, and Époisses, which was irresistibly funky, almost feral.
And, finally, apricots roasted in pine honey (I think) with meadowsweet (a wildflower) ice cream. It was almost 3.30pm when I left the table, and wanting to wallow in the elation this meal had brought on, I skipped the museum I should have visited, headed directly to my next hotel, and had the long, well-fed nap that was the coda such a brilliant meal demanded.
You will, of course, be wondering if I've been back since and if my most recent meal at the Relais Bernard Loiseau (www.bernard-loiseau.com) was as good as that first one.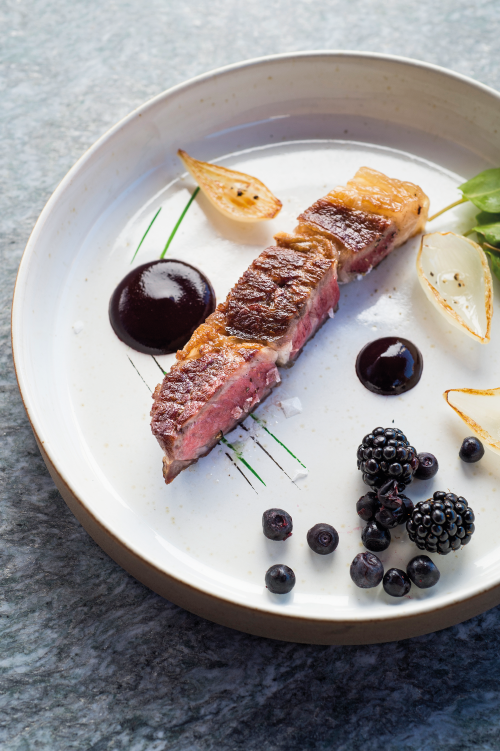 I ate there several times again last year, in fact, and those meals were superb. But, of course, very different from that first one, for dozens of different reasons; not the least of them being that the late Monsieur Loiseau is no longer in the kitchen. Still, the Relais Bernard Loiseau is a table that almost invariably figures on my list when asked to name my ten French favourites.
What brought all of this to mind was just how wonderfully ephemeral anyone's list of ten favourite restaurants must be, by definition. My own, guaranteed as current and practicable only until, oh, well, let's say next spring, is perishable for the simple reason that it changes with the seasons, new discoveries, recovered memories and all of the very personal emotional detritus you find bobbing in your thoughts every morning when you wake up.
As is true of most people, what I want most urgently to eat on any given day changes constantly. With these qualifications established, however, here's the little black book that I'd happily share with you right now.
1. L'ASTRANCE, PARIS
In an age when French haute cuisine has become dominated by chefs with big egos whose work and lives are meticulously groomed and promoted by press attachés and public relations companies, chef Pascal Barbot is the exception to the rule.
He doesn't have a second restaurant, he almost never gives interviews, and he's not part of any culinary clique. Instead, Barbot's life quietly spins on his passion for cooking what just may be the most sublime haute cuisine in Paris. I say 'just might' because this restaurant is so expensive I've only been a handful of times, but each meal I've had here has not only been worth every centime, I often find myself day-dreaming about Barbot's luminous and lyrical cooking.
Among the dishes I've loved are his signature avocado 'ravioli' stuffed with crab meat and glossed with almond oil; an ethereal mushroom, apple and foie gras millefeuille; tuna belly with chorizo drippings; and chocolate biscuit with milk sorbet.
2. JOSÉPHINE CHEZ DUMONET, PARIS
You don't live in Paris as a food writer for 30 years without answering one question over and over and over again: "What's the city's best traditional bistro?" For me, this one is easy and constant, since the international renown of this Belle-Époque dining room on the Left Bank has never thrown the kitchen off course.
Instead, it delivers a flawless roster of Gallic classics, including the boeuf bourguignon I'll crave until my last breath, along with gorgeous foie gras, confit de canard (duck preserved in its own fat and then grilled) and an impeccably made Grand Marnier soufflé.
3. FLOCONS DE SEL, MEGÈVE
Why do I love this restaurant perched on a mountainside outside Megève so much? "I don't like stuffy restaurants or fussy cooking," the amiable chef Emmanuel Renaut, who works with vegetables and herbs from a garden just outside his kitchen door and whose menus follow the seasons, told me the first time I dined here.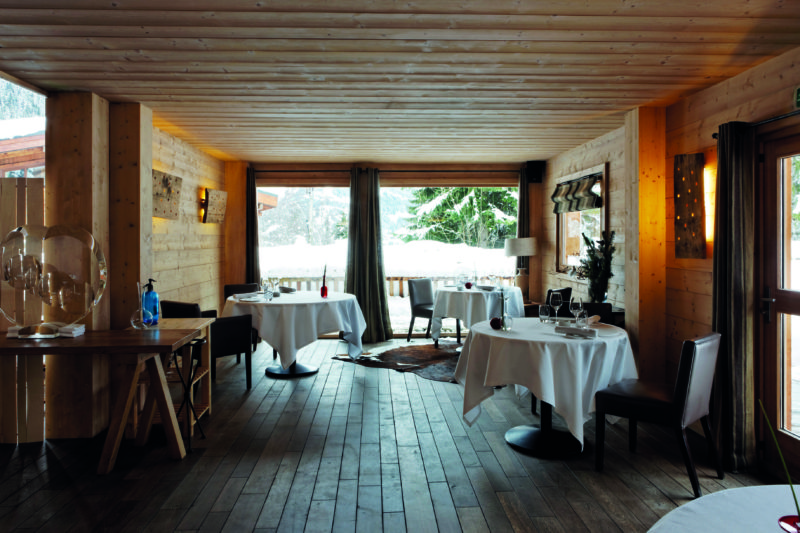 What the chef describes as "the good clean taste of the mountains" is expressed through starters like a soft cake of parsnips and beetroot served in a deeply flavoured vegetable bouillon garnished with grated horseradish and aged Beaufort cheese, and brilliant dishes made with rare fish from the region's lakes, including poached omble chevalier (Arctic char) with pine-flavoured carrots and a sauce of unpasteurised butter and local Chignin-Bergeron wine.
4. LE GARET, LYON
I've been going to this small, dark, bawdy bouchon on a side street in Lyon ever since I was a college student, and my passion for the honest, traditional Lyonnaise cuisine they serve grows with every visit. There is a lot of offal on the menu here.
My perfect meal is a salade Lyonnaise (curly endive with a coddled egg, big chunks of bacon and croutons), fluffy pike perch dumplings in a crayfish sauce, cervelle de canut (a fresh cow's milk cheese seasoned with shallots, garlic, herbs, and olive oil) and, to finish, a scoop of cassis (blackcurrant) sorbet drowned in a generous shot of Marc de Bourgogne.
5. LA MERENDA, NICE
You sort of need to be inducted into this tiny and slightly standoffish restaurant in Vieux Nice, the city's old town, because it's a place that makes very little effort to seduce. That is, until chef Dominique Le Stanc's food starts coming to the table. Then you forget that the wooden stool you're seated on is uncomfortable and that it was a nuisance to have to come by in person to make a reservation because the place has no phone. His ratatouille, courgette flower beignets, salt cod cooked with tomatoes and olives and daube de boeuf à la provençale are simply that good.
Le Stanc, who threw over his Michelin stars at Le Chantecler at the famous Negresco Hotel 30 years ago to follow his passion for traditional Niçoise fare, cooks an authentic cuisine du soleil that's always bursting with the flavours of the seasonal local produce he uses.
4 rue Raoul Bosio, 06300 Nice. No phone number. Credit cards not accepted. Average €45. www.lamerenda.net
6. MIRAZUR, MENTON
Every meal I've ever had at Argentine chef Mauro Colagreco's restaurant, in a sleek white bungalow perched on a hillside with views of the Mediterranean through a screen of palms and fuchsia bougainvillea, has been mesmerisingly good.
Colagreco's tasting menus evolve constantly, but among the many dishes I've eaten here that have left indelible memories are a vivid salad of pencil-thick green asparagus with pink grapefruit in a vanilla vinaigrette with yoghurt sauce, plump red San Remo prawns in a hauntingly smoky and slightly caramelised bouillon made from the juices of grilled vegetables, and tiny broad beans and morels in a Parmesan-rich potato cream on a bed of red quinoa garnished with rocket flowers and tiny, sour wood sorrel leaves.
30 avenue Aristide Briand, 06500 Menton, Tel. +33 (0)4 92 41 86 86. Average €300. www.mirazur.fr
7. LE PETIT NICE, MARSEILLE
My last lunch at chef Gérald Passedat's restaurant was one of the best meals of my entire life, because I'm an avid seafood lover and Passedat is one of the world's finest fish cooks. Seated in the contemporary-style dining room with big picture windows overlooking the Mediterranean, we chose the ten-course Passedat menu, and then sipped flutes of rosé Champagne while watching local teenagers diving from rocks into the sea far below.
What followed was a feast of deceptive simplicity, since every dish stunned with its freshness, and intriguing garnishes flattered but never overwhelmed the tastes of the seafood. Three of the dishes I liked best were the carpaccio of sea bream with bottarga and caviar, sea anemone beignets with seaweed sauce and, last but not least, the sea bass in an aromatic bouillon of tomatoes and Mediterranean herbs.
Anse de Maldormé, Corniche JF Kennedy, 13007 Marseille, Tel. +33 (0)4 91 59 25 92. Average €250. www.passedat.fr
8. SYMBIOSE, BORDEAUX
This laid-back bistro on the banks of the Garonne is one of my new favourites, since I ate here for the first time this past June. What I loved at lunch with a friend was the charm and professionalism of Thomas Nero, who runs the dining room, and the superb cooking of chef Félix Clerc – including fresh, healthy, inventive, market-driven dishes like sea bream ceviche with fermented pineapple, lovage, celery, lemon and parsley ice cream; grilled catfish with wasabi and green asparagus cream, turnips marinated in rice vinegar, and a black sesame condiment; and, finally, a magnificent bittersweet chocolate tart flavoured with smoky Scottish whisky in a buttery shortbread crust.
For anyone looking to understand why Bordeaux is fast becoming one of France's great food destinations, this is the place that will put the rise of the city into perfect context.
9. LA TABLE BREIZH CAFÉ, CANCALE
Of the many talented Japanese chefs in France today, my favourite is Raphaël-Fumio Kudaka, because his cooking at this first-floor dining room overlooking the azure waters of the Bay of Cancale reveals the unexpected but deep similarities between the Japanese and Breton kitchens.
What they share is their love of the very freshest seafood prepared in such a way that its natural tastes and textures are enhanced rather than overwhelmed, which explains why Kudaka's cooking is so light and bright with flavour. The standout dishes from a recent visit were the crab meat spring rolls, the tempura of langoustines and conch with seaweed, and the roast pork with white beans in miso sauce.
10. VERJUS, PARIS
Though I'm a native New Englander, the only time that my birthplace exerts any real influence on my appetite is the month of August, when a hot weekend day will have me yearning for the simple feast my grandmother often served at her Rhode Island summerhouse: tomato salad with basil, corn on the cob, and boiled lobster with drawn butter.
So there's no atavistic twitch in my love of New Orleans-born, Boston-bred Braden Perkins's superb contemporary bistro cooking at Verjus, the nonchalantly chic eatery in the shadow of the Palais Royal that he opened five years ago with his life and work partner Laura Adrian.
No, instead it's the exhilarating but stunningly logical creativity of Perkins's cooking that has me looking forward to every meal here. The menus change constantly, but two of my favourite dishes eaten here show off the chef's style: grilled Basque pork belly with semolina gnocchi, pajori (Korean-style green onion salad) and apple labneh (or drained yoghurt) and buckwheat cake with curd cheese, chestnut honey and marinated cherries.
52 rue de Richelieu, Paris, 1st arrondissement, Tel. +33 (0)1 42 97 54 40. Average €80. www.verjusparis.com