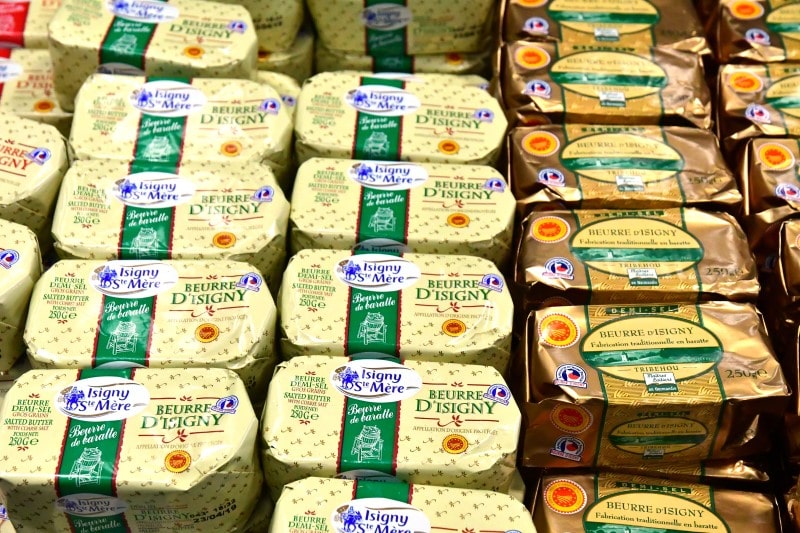 Forget your oh-so healthy olive oil and your flavourless low-fat spreads – there's nothing like butter for adding a delicious extra oomph to a dish. From a simple slice of toast to a cockle-warming baked potato to the finest pastries and the glossiest sauces, le beurre really is the crème de la crème!
It may not always be easy to get your hands on the finest French butters in your local supermarket, so we have taken a look at three varieties offered by online specialist store iGourmet.
Président butter was founded in 1933 by André Besnier in Laval in the Loire Valley. Besnier named it because, he said, everyone in France was a president of something: "La France est le pays des Présidents, tout le monde est président! De l'association de pêche, des boulistes, des anciens combattants."
It's perhaps the best-known French butter brand around the world, sold in 160 countries and counting. And of course, they also make some rather well-known cheeses. Available salted or unsalted, it's great for baking, as well as slathering on a crusty baguette.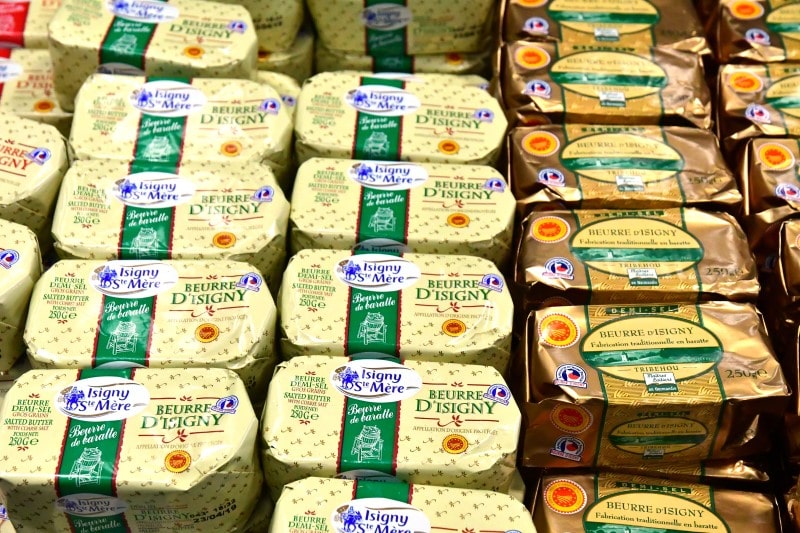 The most expensive butter in the world (you can buy it on Amazon for £14.50 for 250g), Échiré raises the bar to a whole new level.
The dairy was founded in 1891 by one Monsieur du Dresnay, on the banks of the Sèvre Niortaise river in the heart of the village of Échiré.
Beloved of Michelin chefs and gourmet restaurants around the world, the milk used to make it comes from around 60 farmers all within a 60km radius of Échiré, in the Deux-Sèvres département of western France.
Since day one, the butter has been manufactured in teak barrel-type churns, giving it a unique texture. Some 22 litres of milk are required to make one kilogram of butter, which is matured for a total of 18 hours. The cream-churning lasts for 2.5 hours, resulting in a soft, delicate texture and a hazelnut flavour. A master butter maker oversees the whole process… it's no wonder it has AOP status!
Tokyo has a Maison du Beurre, a store dedicated entirely to Échiré. Check out its website for instructions on how to eat it properly, especially if you're a first timer!
Isigny has been at the centre of the butter trade for several centuries. In the late 1700s, reports say around 100,000 jars of butter worth 1.5m francs were sold at the port city. By 1868, 1.3m kilograms were being shipped from here.
In 1839, the writer Courchamps wrote: "The best [butter] that can be used in Paris comes from Isigny. In winter, (…) this butter has a nutty taste that is special to it, with a creaminess that makes it distinguished in all stews."
Still made according to traditional methods, Isigny butter is known for its golden buttercup colour, which is due to its rich carotenoid content, and its creamy taste. Délicieux!