Parisian chocolatier serves up a warming solution to the winter blues
Paris-based Edwart Chocolatier has launched what it's describing as "le must-have for the winter gourmet" – a hot chocolate available for take-out to warm up on the streets of Paris or to prepare in the comfort of your own home.
The kind folk at the chocolate emporium are keen to cheer up all those who need a dose of comfort by bringing together two chocolate Grands Crus in one delicious hot drink: Madagascar's Grand Cru cocoa (43%), a milk chocolate with round, fruity notes, and Guatemalan Grand Cru cocoa (73%), which adds delicious tangy notes.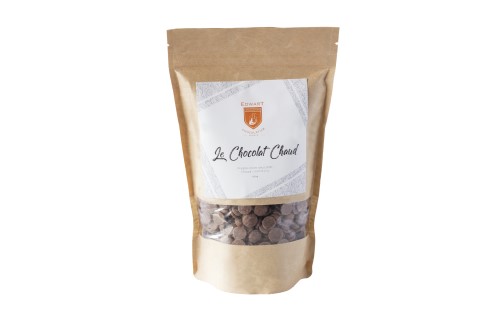 Hot chocolate to go is €5 from Edwart Chocolatier Concorde at 244 rue de Rivoli, 75001. It can also be enjoyed at home from pistoles (chocolate drops), available at €19.50 for a 440g bag from the Concorde boutique and the Marais one, at 17 rue Vieille du Temple, 75004. And if you're not in Paris, don't despair – you can order online at Edwart Chocolatier.
---
Edwart's easy guide to the perfect hot chocolate…
1Pour 100 ml of boiling water over 110g of Edwart chocolate drops (add more/less water, according to taste).
2Mix with a whisk or fork.
3Enjoy!