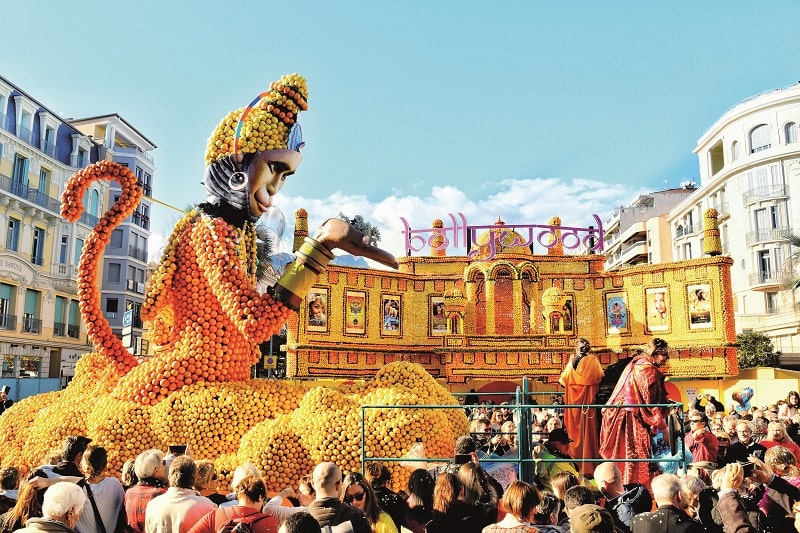 From lemon and chitterling sausage to Espelette pepper and chocolate, scoff your merry way through France's 10 scrummiest – and wackiest – food fests…
FÊTE DU CITRON
February 15 to March 3, 2020
When life gives you lemons… why, stack them up into sky-grazing sculptures, of course. For more than 100 years, Menton's handy folk have juiced up those dreary winter months with the Fête du Citron, a wondrous display of citrus-based art installations. And we're not talking slap-dash mounds of lemons haphazardly heaped on street corners, but full-blown engineering feats rising from every last nook of the Riviera town – from turreted châteaux to the Taj Mahal – and using an average of 145 tonnes of fruit each year.
The brainchild of wily hoteliers, the barmy lemon bonanza started in the late 19th century as a humble street parade to dust off those winter cobwebs and divert much-needed tourism from the neighbouring Nice Carnival. Before long, the simple fête grew into a bona fide Mardi Gras extravaganza, complete with outlandish floats, fireworks and flower processions to rival Nice's Bataille de Fleurs.
Surprisingly, lemons weren't thrown into the mix until 1928. And once again, we have hoteliers to thank. The go-getting lot opted to capitalise on the town's lemon-growing kudos by putting on a flower and citrus display in the Biovès gardens. In a jiff, the event became a permanent and hotly-anticipated fixture and spilled out onto the streets. Unmissable!
Find out more here.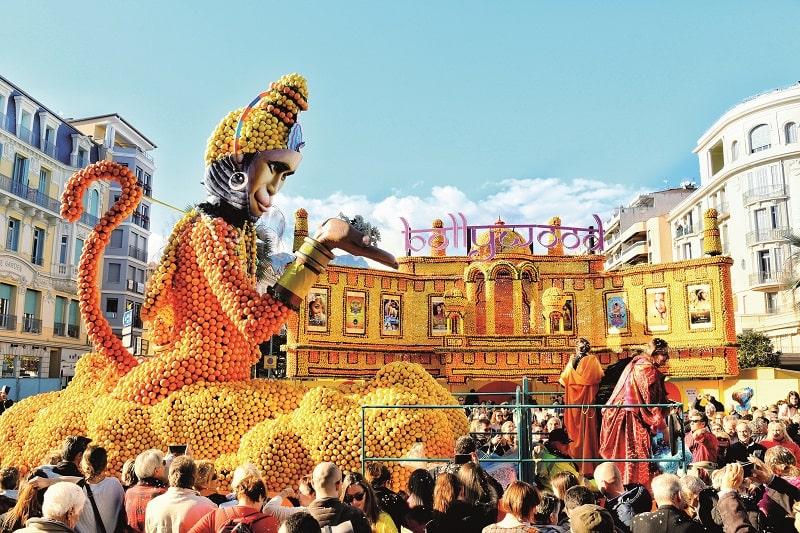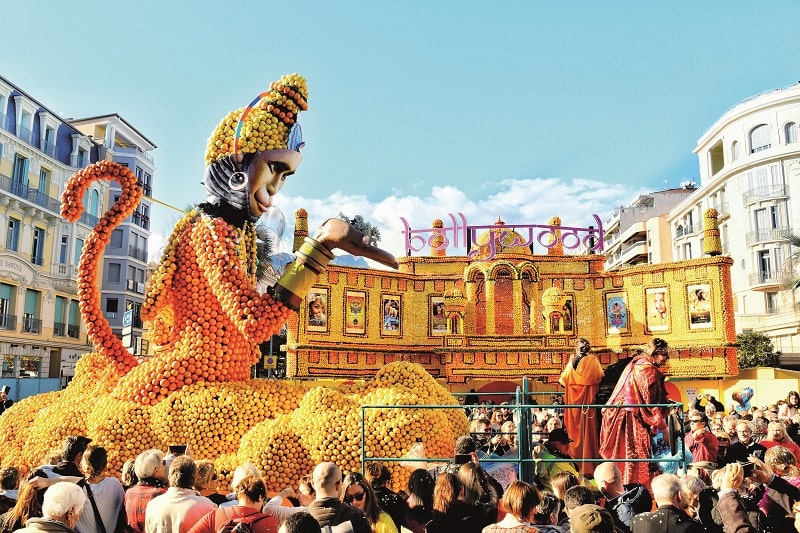 SARLAT FEST'OIE
March 7-8, 2020
Spoiler alert: the Sarlat Fest'Oie festival doesn't end well for its guest of honour, the goose. Every spring, foodies flock to the southern town for a two-day gut-busting feast of foie gras and other goose-based specialities. Too squeamish to chomp on liver or sit through butchering demonstrations? Why not give egg painting a whirl or watch a gaggle of geese dawdle around town? A real treat – if you don't think too hard about the force-feeding…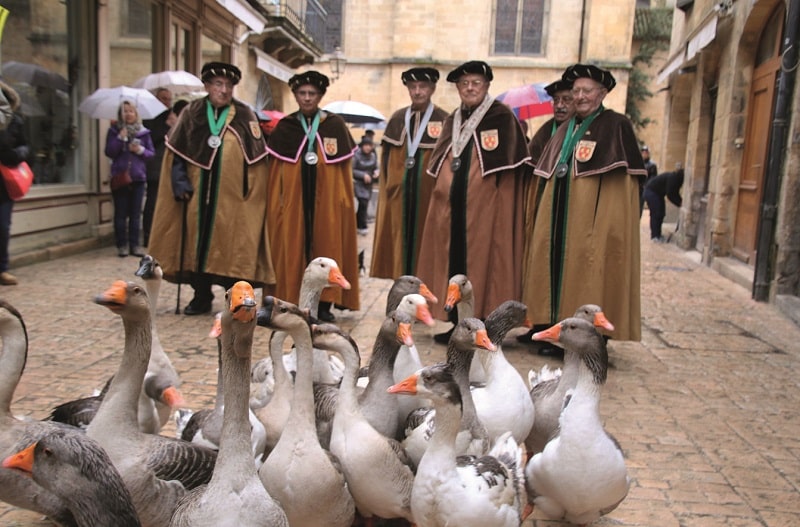 BORDEAUX FÊTE LE VIN
June 18-21, 2020
Whether you're a wine connoisseur or simply out to broaden your palate, the Bordeaux Wine Festival comes highly recommended. Held every two years, it's an open invitation to sample the region's best crus – and, for many, an excuse to drink themselves silly. 2020's event will take visitors on a 2km route lined with pavilions offering dégustations, demonstrations and local gastronomy to boot. The festivities will round off with a bang: keep your eyes peeled for the firework dragon!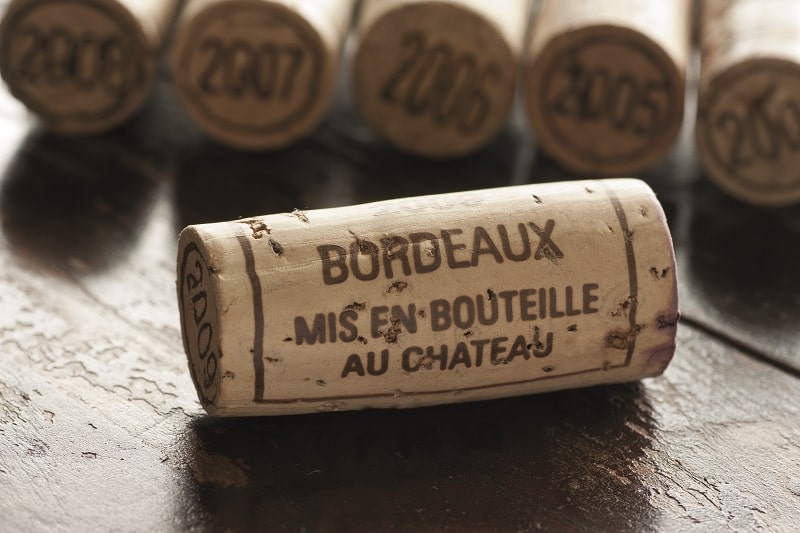 TOUTE LA MER SUR UN PLATEAU
September 2020
You may think we're a little biased towards Normandy (indeed three of our top 10 foodie bonanzas hail from the region) but what can we say? The province boasts some of the finest – and, let's face it, whiffiest – fêtes around. By far one of the largest is Granville's fruits de mer festival, Toute la Mer sur un Plateau (the Entire Sea on a Platter). And it's no empty brag: seafood is serious business in the port town. Whelks, langoustines… you name it, Granvillais prise it out of the net and serve it on the harbour with a side of white wine – and cider. It is Normandy, after all.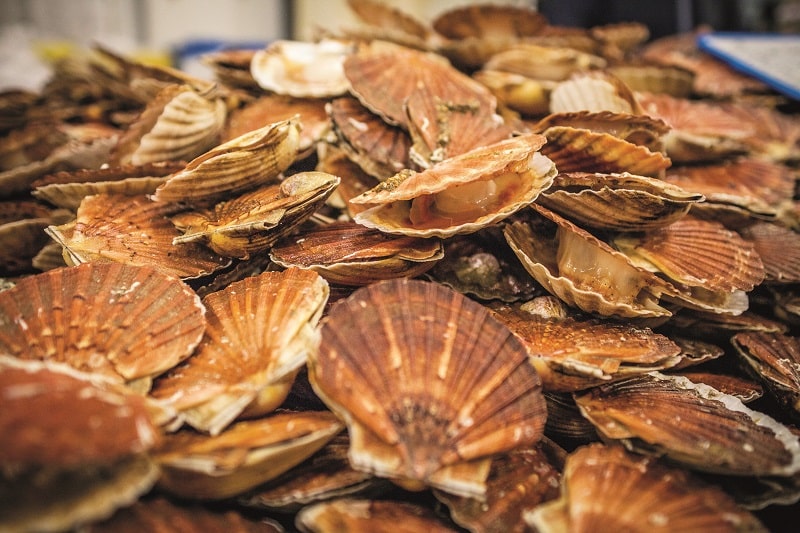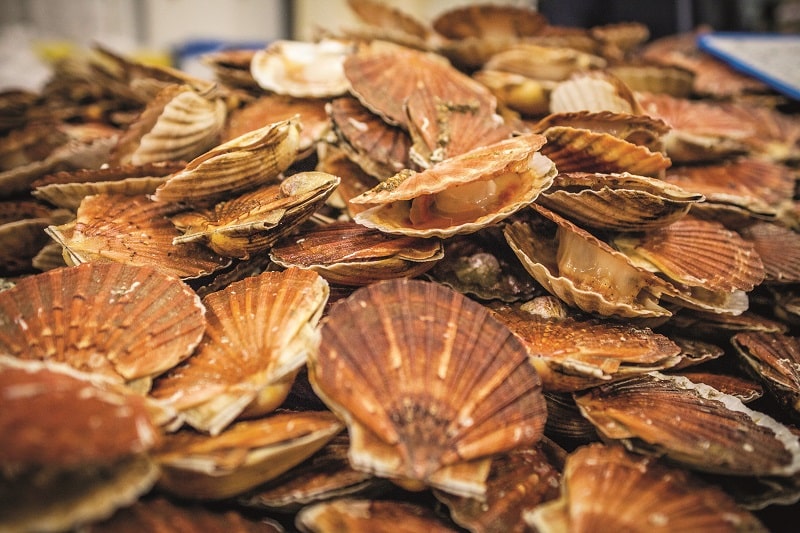 FÊTE DU PIMENT À ESPELETTE
October 2020
The hottest food fest around, La Fête du Piment dares chilli-heads to chow down on Espelette's fiery pepper. Again this year, garlands of the red-hot piments will festoon the thoroughfare while folk dancers and musicians make a song and a jig about the Pays Basque's prized scorcher. Visitors will even be invited to give thanks (blistered bouches permitting) for the chilli at a solemn mass.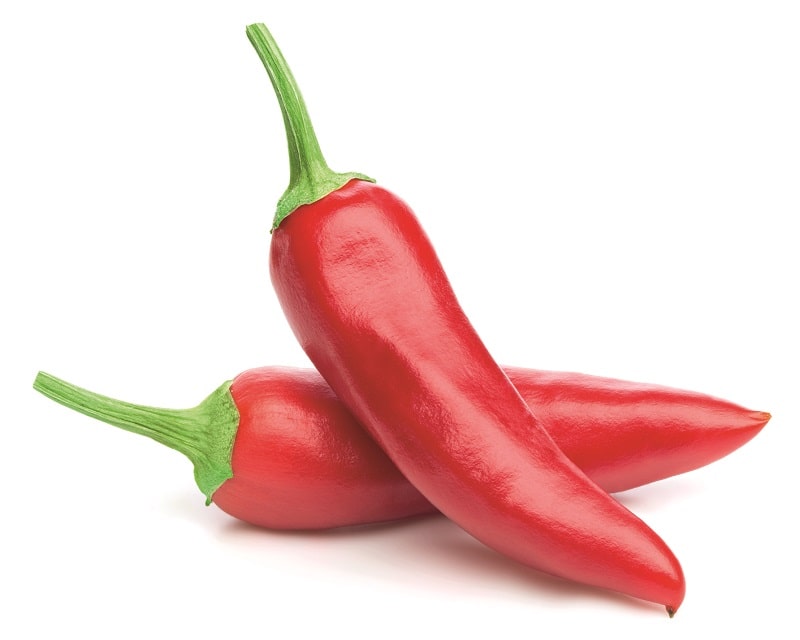 SALON DU CHOCOLAT
End of October – Early November 2020
Satisfy your sweet tooth with a trip to the most exalted chocolate show in all of Paris…nay, the world! Where else would you get to enjoy sugar-laden treats from the best international chocolatiers and pastry chefs, gripping competitions and a taste of cocoa couture at a chocolate fashion show? This high-profile event draws 500 exhibitors or so each year, among them leading chefs from around the globe. As well as roaming the stalls, visitors can attend exhibitions and workshops, and watch choccy demonstrations by experts.
The show also hosts some serious contests, including the Pain au Chocolat Masters, the Artisan Pâtisserie Trophy, the International Cocoa Awards and – the crème de la crème – the highly-esteemed Awards du Chocolat.
Find out more here.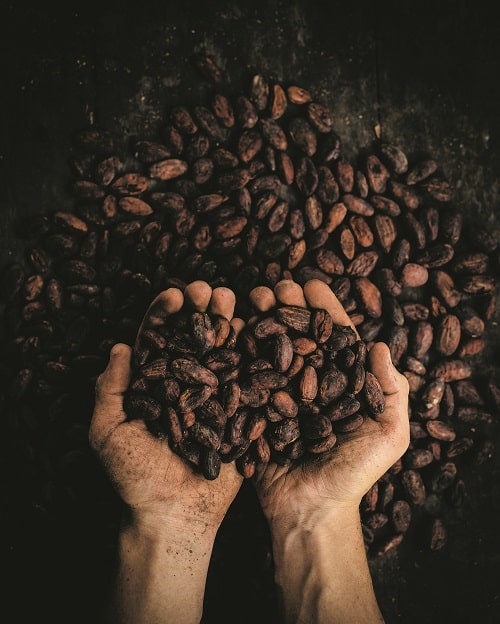 FOIRE AUX HARENGS
November 2020
Calling all fish fiends: November heralds the start of herring festival season in Normandy. Apparently, the tradition dates back to the Hundred Years War, when a consignment of the fish had to be sold off sharpish at Lieurey because English ships were preventing it from moving on to its destination. Now, the real question is: which festival to attend? The long and short of it is: all of them, bien sûr. But if your holiday allowance (or fragile stomach) doesn't stretch to a month-long smokies-chomping spree, make sure to at least check out Dieppe where a phalanx of goggle-clad fishermen grill up a storm on the quai Henri IV every autumn.
Find out more here.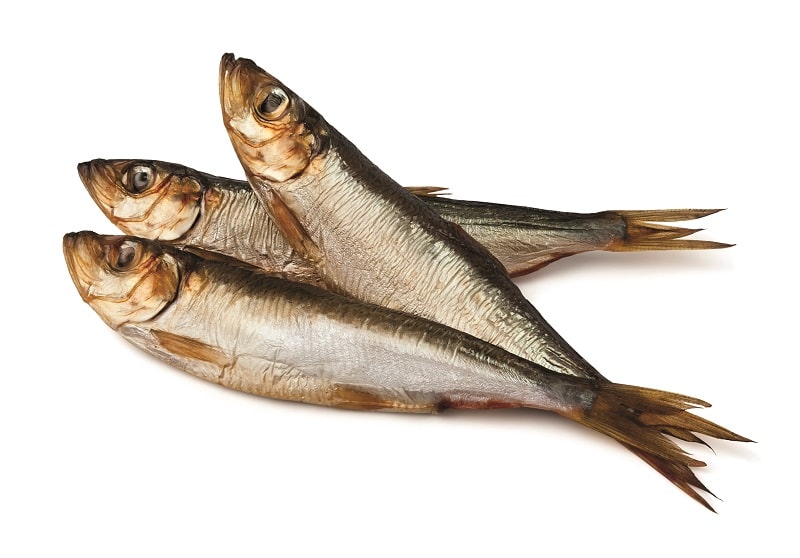 FOIRE À L'ANDOUILLE DE VIRE
November 2020
Vegans, veggies and squeamish types, steer clear of Vire – or BYOG (grub). The Foire à l'Andouille de Vire does what it says on the tin: serve up chitterling sausage à toutes es sauces, and pickings are slim for herbivores. It may sound niche, and it certainly is, but the nose-wrinkling feast (the less said about the pungent ingredients the better) draws offal-scoffers from all five corners of the Hexagon.
Find out more here.

FÊTE DE LA DINDE DE LICQUES
December 2020
If you can stomach seeing your Christmas dinner gaggle its way down a street before ending up on the plate, the quirky Fête de la Dinde might be the one for you. Curious? In this peculiar annual tradition, a large procession of turkeys makes its ungainly way through the village of Licques in Pas-de-Calais, herded by the Brotherhood of the Turkey (yes, it really does exist). And, while fowl-ogling is the festival's star attraction, in our humble opinion the pièce de résistance is its Licquoise – a mysterious local liqueur brewed in a giant cauldron!
STRASBOURG CHRISTKINDELSMÄRIK
December 2020
Granted, it's not technically a food festival, but it may as well be: what with the feast of gingerbread, pretzels and Sauerkraut on off er (the lot washed down with gallons of pipin' hot mulled wine). Held since 1570 outside Strasbourg's cathedral, Christkindelsmärik claims to be Europe's oldest Christmas market and has more than earned its "Capitale de Noël" sobriquet.
From the towering 30m tree on place Kléber, decked out in bulbs and baubles, to the pervasive smell of bredele biscuits in the air, the traditional boxes are all ticked. Follow your nose to the place des Meuniers where a cluster of Alsatian producers peddle 100-per-cent local products; from warm juice and cream-laden cakes to moreish jam and honey.
Best of all? Every year a guest country is invited to Christkindelsmärik to showcase its festive treats. Bring your appetite – and a pair of elasticated pantalons!