Going on holiday isn't all about sightseeing, endlessly ticking châteaux, museums and breathtaking views off your to-do list. Sometimes you want to experience the real France, the one the locals know and love. And what better way to do that than to sit and watch the world go by? With a drink, of course.
Historic Bordeaux is crammed with architectural wonders, stellar oenotourism offerings, fabulous shopping… oh and it's drop dead gorgeous too. But when the day is done (or at lunchtime if you're feeling really lazy!) where are the best terrasses to go to unwind with a verre? And for those of you who enjoy a lively night out, which are the best spots for some nightlife?
Enjoy a wander around the squares of Parlement, Saint-Pierre and Camille Jullian, where there are countless bistros and terraces with a lively and welcoming atmosphere. If you enjoy listening to music with your tipple, head to rue Saint-Rémi where you'll find Café Brun, which hosts apéro-concerts. If you're partial to a glass of fizz, make a beeline for champagne bar Secret d'Initiés on rue Parlement Sainte-Catherine, and for those who love cocktails La Comtesse on rue Parlement Saint-Pierre is the place to be.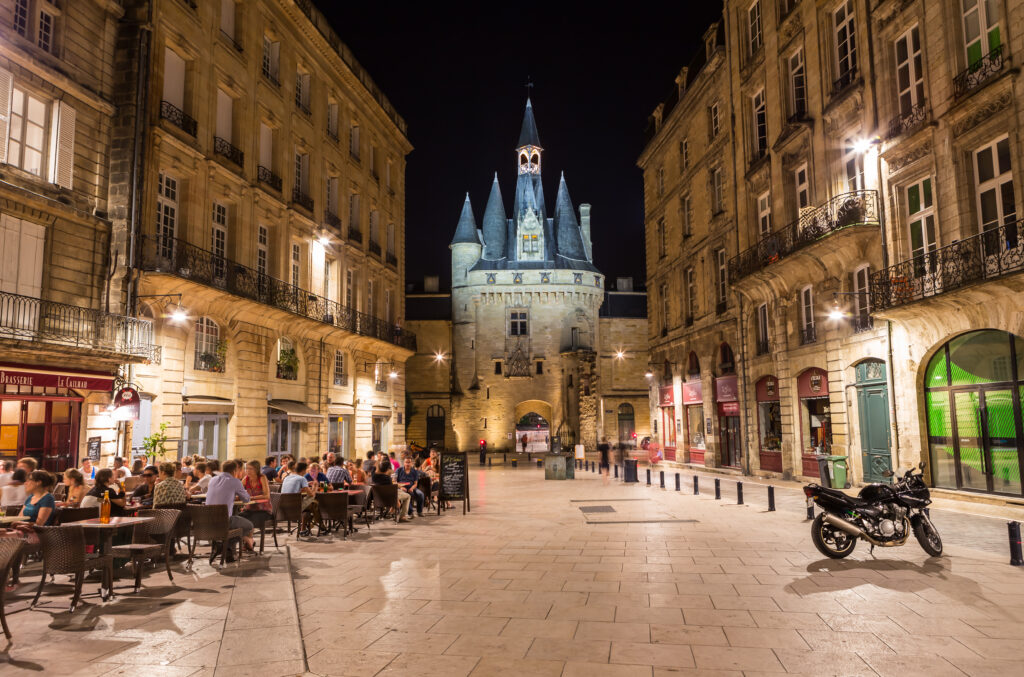 Over in Place Camille Jullian, you'll find Café Utopia in an old church which has been lovingly transformed into an arthouse cinema with its own bar with terrace. Head to Place Fernand Lafargue where you'll find l'Apollo Bar and a lively mix of cocktails and live music, or for a vintage atmosphere head to la Vie Moderne on cours d'Alsace-et-Lorraine. Meanwhile over on rue Buhan you'll find the enticing Frida, with its colourful terrace and rustic chic décor, where you can have a meal, nibble on some tapas, or just sip a few drinks.
Depending on whether you're looking for a night of partying or wish to make a point of avoiding the crowds, it's worth that Place de la Victoire, with its many bars and pubs, is very popular with students, while the Bassins à Flot district's nightclubs are a mecca for partygoers.
On the other side of the Garonne in a former shipbuilding hangar, the fashionable Les Chantiers de la Garonne offers a terrace with breathtaking views of the river, making it the perfect spot to enjoy some tapas with a glass of wine or a craft beer. On sunny days, its cheerful neighbour La Guinguette Chez Alriq (worth points alone for its strapline of 'Cool at the Guing'!), has a laidback, almost festival atmosphere and a fantastic programme of world music.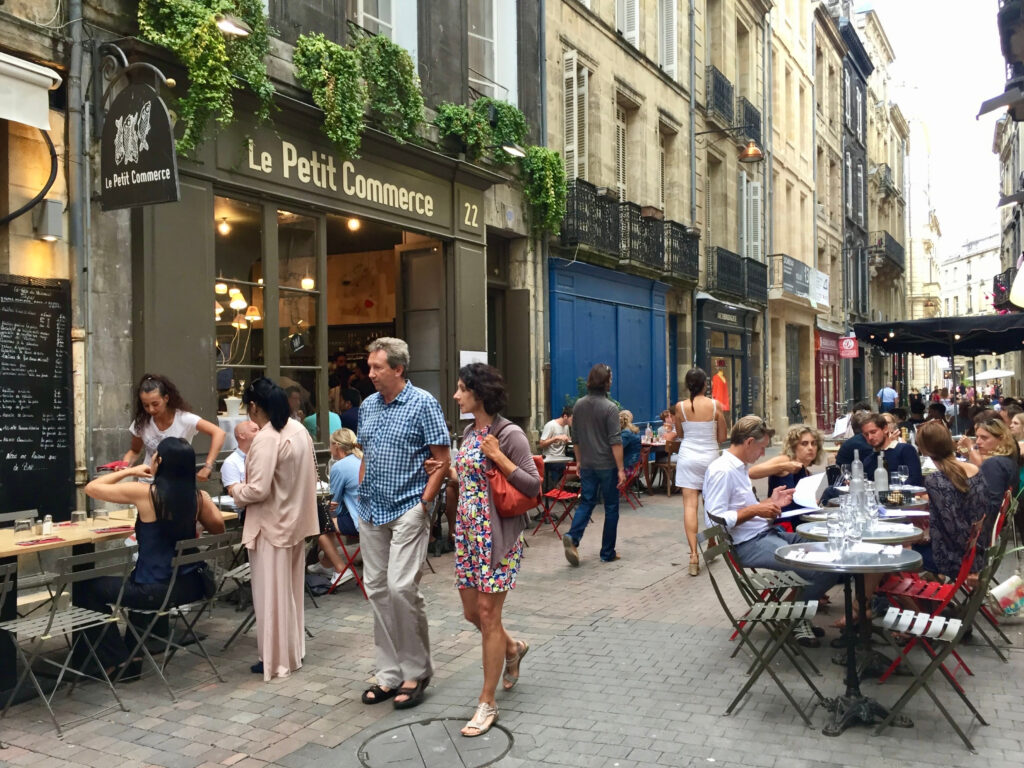 Wine-lovers, of course, will want to know where to go to enjoy a glass of Bordeaux, and you won't go far wrong at Le Bar à Vin du CIVB, on the ground floor of the must-see 18th-century Maison du Vin de Bordeaux on cours du 30 Juillet. It's the epitome of chic and is the place to go to expand your knowledge and explore the wonders of the Bordeaux wine region. It's also worth stopping in at Les Trois Pinardiers, on rue Georges Bonnac, a stylish spot offering wine by the glass and charcuterie alongside.
On cours d'Alsace-et-Lorraine, Bon Jaja offers a good selection of natural wines, or if you like being spoilt for choice, head for rue des Bahutiers where self-described casual dining cellar Vins Urbains has a selection of wines numbering 500 from all over France, lovingly selected by sommelier Janek. And if that sounds overwhelming, why not try Blind where blind tasting is the thing? A stone's throw from Place Gambetta, it serves wines from around the world with sharing plates of Spanish-Peruvian cuisine.
On Place du Palais, Tutiac, Le Bistro Vignerons was the first bistro in France to be set up by winegrowers. Les Vignerons de Tutiac number 700 and here you can taste some of their finest wines paired with a menu of local produce.