There's a chill in the air, which means it's time to dig out your cosy jumpers and cook up some hearty autumnal treats.
If you're looking for a quick and easy snack that's guaranteed to warm the cockles, try Mont d'Or, aka Vacherin du Haut-Doubs AOP, which comes in a spruce wooden box where it finishes its ripening. Made from raw cow's milk from Bourgogne-Franche-Comté, it can be roasted in its box in the oven to accompany potatoes – and if that doesn't warm you up, nothing will!
Named after Mont d'Or, the highest mountain in the Doubs, it is made purely from milk from Montbéliard and Simmental cows, which graze at more than 700m above sea level, and is only available to buy from mid-September to mid-May. The herds are fed hay in winter and enjoy a luxurious one hectare of grass per cow in the mountain pastures during the summer months. It is the quality of the grass and fodder which is key to the distinctly woody flavours of Mont d'Or.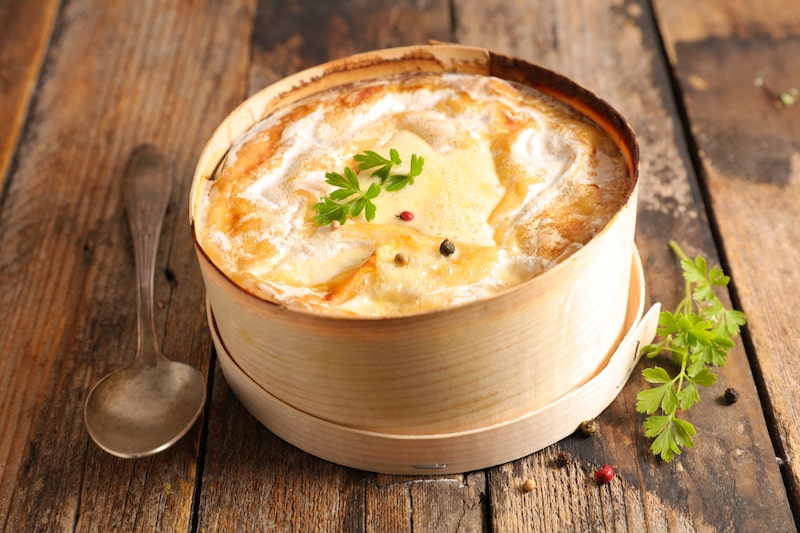 Of course, if you can't wait for the oven to heat up, you can also enjoy it at room temperature, scooped out of its box with a small spoon.
Each year, more than 5,500 tons of Mont d'Or PDO are produced thanks to 400 dairy producers and 10 cheese factories. Oh, and be careful not to confuse Vacherin du Haut-Doubs with a Swiss cheese: Vacherin Mont d'Or. The Swiss version is made from thermised milk and its crust is darker, due to the fact that it is washed more often during preparation.
DID YOU KNOW?
Mont d'Or started out as a 'vacherin' – that is, a cheese which is produced to feed the cowherds who tended the animals. The milk produced in summer and spring was used to make Comté AOP. But in the winter months, with the cows producing less milk and access to the cheese factory made difficult by the snow, the cattle farmers made Mont d'Or for their personal consumption.