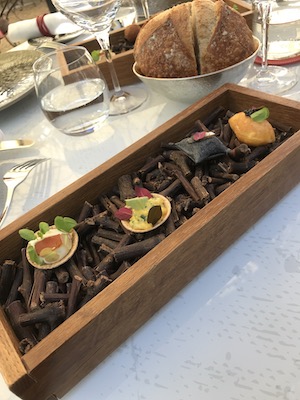 Lyn Archer visits Logis de la Cadène for an affordable Michelin meal
You will find Logis de la Cadène tucked mid-slope in the cobbled heart of quaint Saint-Émilion. A local institution since 1848, this beloved establishment serves as a gourmet's gathering spot for locals and visitors alike. Beneath its wisteria-laced, golden stoned façade, guests enjoy a hushed, unhurried ambiance.
Owned by the Boüard de Laforest family of nearby Château Angélus, the Michelin-star restaurant boasts impeccable service, an extensive wine list, and locally sourced, seasonally inspired French cuisine reflective of the region.
Chef Alexandre Baumard, who learned his craft from the likes of Paul Bocuse and Christophe Bacquié, directs the kitchen and oversees pastry chef Damien Amilien.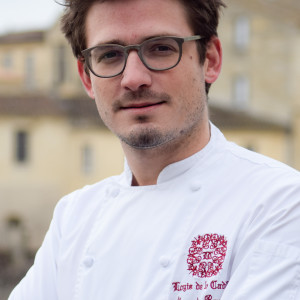 Offering a variety of bespoke menus, its best-kept secret is the weekday, lunchtime Menu du Marché, an elegant, three-course meal (starter, main course and dessert) for a remarkable €39.
As a vegan who eats fish, the chef accommodated my dietary restrictions with a delightful vegetable small-bites starter, fresh fish of the day main, and luscious assorted fruit sorbet. A selection of by-the-glass wines complimented the food beautifully.
In addition to Logis de la Cadène, the site includes La Maison de la Cadène, a luxury, four-suite resort with in-house spa for the discerning traveller.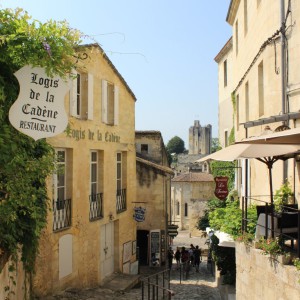 ---
Logis de la Cadène
3 Place du Marché au Bois, 33330 Saint-Émilion
Tél. : +33 (0)5 57 24 71 40
www.logisdelacadene.fr
Open Tuesday to Saturday, midday to 1.45pm and 7.30pm to 9.30pm