Le Bristol Paris, France's first hotel to be awarded coveted Palace status, is welcoming guests once more.
At the stroke of noon on Tuesday, September 1, visitors once more passed through the renowned hotel's revolving doors to enjoy lunch in the courtyard garden, Le Jardin Français, the perfect spot for some Indian summer dining. The garden has been transformed in the final phase of a lengthy refurbishment of the hotel, which also includes the creation of the new Lumière suite.
Le Bristol has no fewer than four Michelin stars, three for its fine-dining table Epicure, where chef Éric Fréchon has been at the helm for 21 years, and one for its brasserie, 114 Faubourg.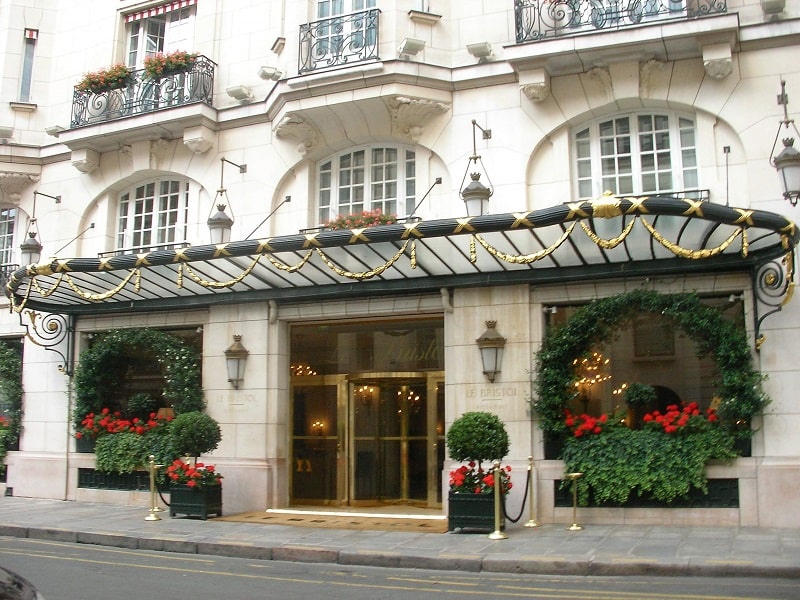 Dishes at Epicure, which is open for dinner only (three courses for €140), include mouth-watering delights such as macaroni stuffed with black truffle, artichoke and duck foie gras. Or how about spice-roasted Challandais duck with figs and chanterelles, an onion puree with verbena and a rich gravy?
If you're only free for lunch, don't worry, you can still admire Chef Fréchon's culinary skills at Le Jardin Français with his famous lobster club sandwich and green bean and artichoke salad. Or perhaps afternoon tea is just what the doctor ordered? Don't miss the divine fig tartelette by Chef Julien Alvarez. Come evening, you can enjoy dining al fresco at Epicure's terrace before slipping into one of the hotel's fabulous suites for a peaceful night's rest.
Le Bristol Paris was opened in 1925 and became an instant hit with Hollywood greats, artists, royalty and fashion icons. Now's your chance to add your name to the visitors' book!
For more information check them out here.