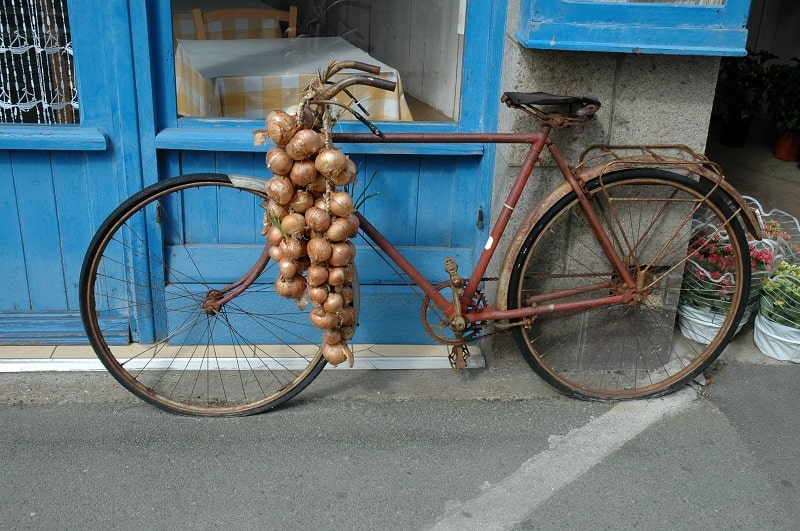 A staple ingredient in any kitchen, from soups to casseroles to potato gratin, the onion is one item you won't want to leave off your shopping list.
Here's our whistle-stop tour of just some of the regional onion varieties to be found in France…
ROSCOFF (BRITTANY)
Back in 1647, a monk brought back a seed from Lisbon and planted it at the convent in Roscoff, and thus began the illustrious history of what must surely be France's most famous onion. By the late 1820s 'Onion Johnnies' – yes, they're the ones on bicycles with the striped tops and strings of onions round their necks – were doing a fine old trade in les oignons, regularly transporting them to Britain and making a fortune in the process. The Roscoff onion was awarded AOC status in 2009 and AOP status in 2013. The Fête de l'oignon rosé is held each August to celebrate the harvest.
What's it like? Sweet and mellow with a white flesh and pinkish skin.
SAINT-TURJAN (POITOU-CHARENTES)
AKA the Rosé des Sables, this onion was traditionally grown in the sandy soils of the Île d'Oléron and was hugely popular during the Belle Époque. The 20th-century advent of oyster farming and seaside resorts, however, led to its demise until a bunch of enthusiasts set up the Association Le Saint-Turjan in Saint-Trojan-les-Bains in 2009 and valiantly rescued it from extinction.
What's it like? Sweet with a pink hue, it can be cooked or even eaten raw like an apple!
CÉVENNES (OCCITANIE)
Despite tracing its roots back to the early 15th century, the Cévennes sweet onion was a slow-burner, only really gaining popularity in the 1950s. Awarded AOC in 2003 and AOP in 2008, it is the only onion in France grown en terrasses and most of the production is carried out by hand.
What's it like? Pearly white and slightly elongated, it's melt-in-the-mouth juicy and sweet – and thanks to its low sulphur content, it won't make you cry (well, not too much). It's marketed by its growers' association as being 'aussi bon cru que cuit' (as good raw as it is cooked).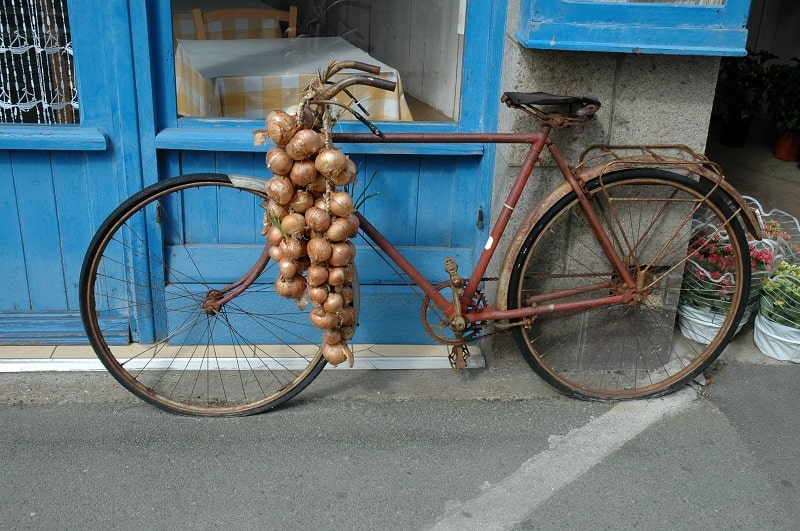 CITOU (OCCITANIE)
A regional best-seller since the 19th century, onion production in the village of Citou in the Audes département really is a family affair. And the tiny village outdoes itself each September with its array of preserves at its annual onion festival.
What's it like? White fleshed and even sweeter than the Cévennes!
CÈBE OF LÉZIGNAN (OCCITANIE)
Grown in the village of Lézignan-la-Cèbe, near Pézenas in Hérault, since the 17th century, its name comes from céba, the Catalan for onion. The village was originally called simply Lézignan but added its famous product to its moniker in the 1620s. Each year, the onion festival takes place on the first weekend of July.
What's it like? White-skinned and flat, it's a brute when it comes to size (often 10cm-plus in diameter!) and tastes great raw in summer salads or with fresh fish thanks to its juicy sweetness – in fact, the locals say the Lézignan onion 'es douco come lou pan' (is as sweet as bread).
RED ONION OF VILLEMAGNE (OCCITANIE)
It started to die out in the 1970s due to a lack of interest in farming it, but since 2006 plucky Villemagne market gardeners Huguette and François Guiraud – the only professional onion growers in the village – have been growing it again. Using only natural fertiliser and doing everything by hand, the couple are now successfully selling it at local markets.
What's it like? Super sweet and pink in the flesh, its beautifully fragrant and is best eaten raw. It won't sting your eyes either, thanks to its unique terroir (onions from just down the road are real stingers, apparently!).
TOULOUGES ONION (OCCITANIE)
Grown in Toulouges, on the outskirts of Perpignan, it dates back to the 19th century when trade flourished, with many families selling onions from carts around the area's towns and villages. Each July, the popular onion festival celebrates the harvest. A word of caution, though – it's illegal to throw onions in Toulouges (just in case you were tempted)… On September 13, 1805 (or the 26th day of Fructidor in Year XIII as the then-in-use French Revolutionary Calendar would have it), a gentleman by the name of Mr Joseph was attacked by people throwing onions at him. It seems to have become a common problem because in 1814, a by-law was passed which said 'it is expressly forbidden for anyone, resident or foreigner, to throw onions at passers-by'. You have been warned.
What's it like? It's a large, soft onion, with a distinctive red skin revealing pearly white flesh with a mellow sweet flavour, and is delicious baked in a tart, one of the local specialities.