If you're not hungry right now, beware: you will be by the time you've finished reading this.
The Federation of boulangers-pâtissiers of the Alpes-Maritimes has broken the world record for the largest pan bagnat. Impressive, you say, but what exactly is a pan bagnat? Well, put simply, it's a salade niçoise in a sandwich. A speciality of (surprise!) Nice, it's popular across Provence and sees your classic salad vegetables, hard boiled eggs, anchovies, tuna and olives, seasoned with olive oil and vinegar, served on a wholewheat pain de campagne – historically it was a way to bring stale bread back to life. The Federation's pan bagnat, which made its appearance at the unveiled at the Agecotel Nice trade show, measured an impressive 1.04m in diameter and weighed in at a hunger-busting 52kg.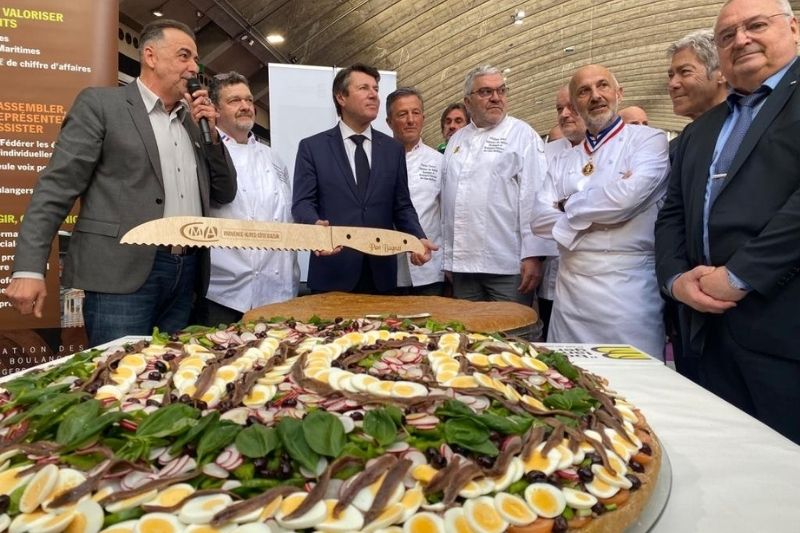 Federation president Gilles Dutto hopes the behemoth buttie will be given its due place in the Guinness Book of Records, having beaten the previous world record created in Antibes, which measured 83cm in diameter and weighed 17kg. He says the record attempt is a way of shining a spotlight on all the artisans who work hard to keep the culinary traditions of the Côte d'Azur alive.
The Federation's sarnie took 10kg of tomatoes, 6kg of peppers, 1.5kg of beans, 800g of spring onions, 5.5kg of tuna, 1.2kg of radish 1.5kg of anchovies, 3kg of Nice olives, 50eggs, and 2 litres of olive oil.
All that hard work went to a good cause, as well, with the giant pan bagnat being donated for distribution by the Secours populaire des Alpes-Maritimes, an organisation which helps fight poverty.