The legendary French Foreign Legion, immortalised in more than 100 films and open to all nationalities, has its own vineyard in Provence. Patrice Bertrand reports.
"Winemaking is not our primary job. But in everything we do, we have a duty of excellence. We have therefore chosen to be competitive and aim high to provide quality wine."
The person speaking, sitting behind his desk, is not a former finance manager or ex-CEO turned winemaker but Lieutenant-Colonel Daniel Bouchez, a French Foreign Legion officer dressed in the required light beige shirt with red epaulettes. Until recently, before handing over the reins to his successor, he headed the ILLE, Institution for Invalids of the Foreign Legion, a military establishment created in 1954 for retired, wounded and elderly legionnaires. It has the distinction, unique in France and probably in the world, of making its own wine.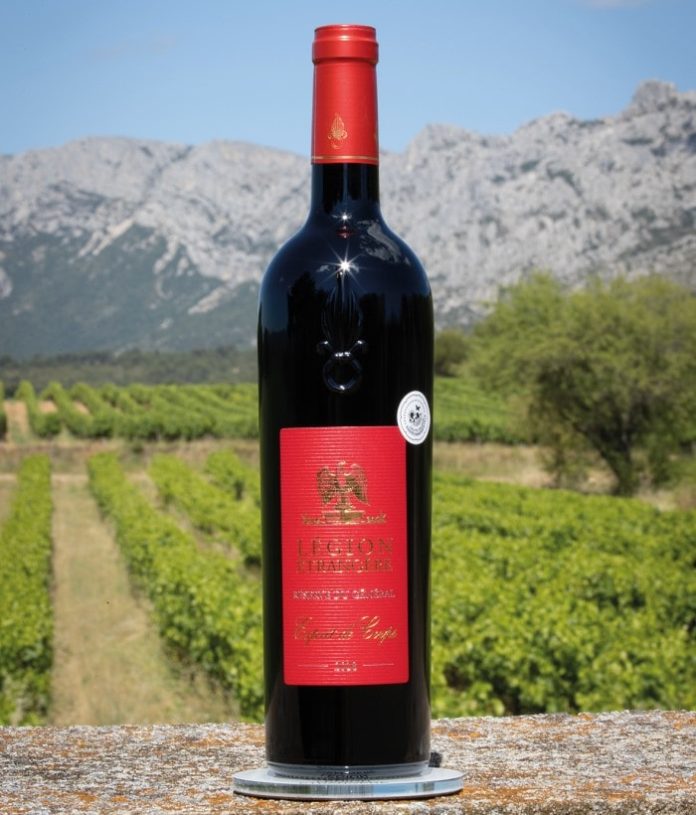 Puyloubier, near Aix-en-Provence, in the magnificent setting of the famous Montagne Sainte-Victoire, ILLE occupies the vast Domaine Capitaine Danjou (named after the hero of the deadly Battle of Camarón between the French Foreign Legion and the Mexican army in 1863). The hundreds of residents, aged 40 to 90, spend their days in ceramics and bookbinding workshops, cultivating olive trees and tending the 41 hectares of vineyards. These veteran képis blancs (nicknamed for the white cap they wear), who have put away their assault rifles forever but have kept their fatigues, are preparing for the September harvest.
The grapes produce the red, white and rosé wines of Domaine Capitaine Danjou, labelled PDO Côtes de Provence and bearing evocative names: Esprit de Corps, Camerone, Cuvée du Général, Képi Blanc and even Miss Képi Blanc, a cuvée created for women.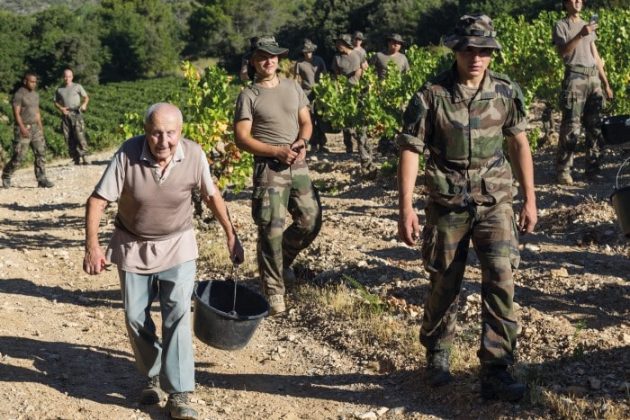 CODE OF HONOUR
The vines, mainly Grenache, Syrah and Vermentino, are cultivated by a team made up of a crop manager (a non-commissioned officer who manages the vineyards and olive groves), three tractor drivers, five resident workers, and two volunteer wine experts from Bordeaux. At harvest, they are assisted by other residents and 100 legionnaires from the neighbouring garrison of Aubagne. The grapes are then vinified at the Puyloubier cooperative. Total annual production: around 230,000 bottles, which are sold at the estate, at the Foreign Legion Museum in Aubagne and online. The wines allow the ILLE to cover 40% of its budget.
"We receive no subsidy," explains Lieutenant-Colonel Bouchez. "So, we're forced to generate our own resources. We make wine for this reason. In addition to its excellence, it obeys our code of honour: 'Tu n'abandonnes jamais les tiens, ni au combat, ni dans la vie' ('You never abandon your own, in combat nor in life')."
The wines are served on special occasions, including the famous "cohesion meals", the joyful banquets organised to strengthen solidarity among legionnaires, of whom 90% (out of approximately 9,000) are foreign nationals from 140 different countries. "This wine is the link with the elders, since it is produced by the elders," observes Lieutenant-Colonel Bouchez. Yet despite the legend of the drunken legionnaire in action, these libations are never more than a welcome break. As Max, an elder, puts it: "On the field, you never drink. If you are drunk, you can get killed. And no man wants to be killed."
For more information visit puyloubier.com.
Taken from our sister magazine France Today