The French Ministry of Agriculture is on a mission to persuade people to eat seasonally which is a great way to help local farmers and other producers. So grab your panier and let's see what's best to buy in March…
VEGETABLES
Curly chicory is part of the salad family in the same way as lettuces such as Batavia and oak leaf are, and leaves such as watercress. It's just perfect served charred with slices of warm duck breast and a sweet mustard sauce.
To elevate cauliflower, which in France is mainly grown in Brittany, to the next level, slowly caramelise it in butter – the sweet, nutty and buttery goodness makes a dish in its own right.
Yellow, white, red… onions are one of the most consumed vegetables in France with 660,179 tonnes harvested in 2019. Often used as a base ingredient, it can take more of a starring role in a gratin, with Parmesan cheese and a few drops of Menton lemon. Use the sweet onion of the Cévennes PDO or the pink onion of Roscoff PDO if possible.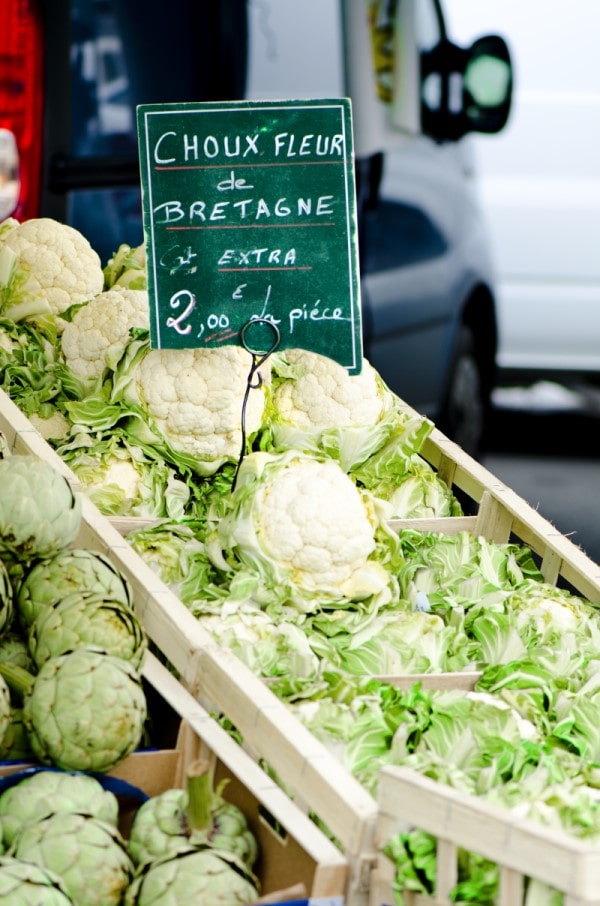 FISH
Cockles and sea eels are great right now – why not use them to make a hearty bouillabaisse or matelote fish stew?
MEAT
When it comes to beef, you're spoilt for choice in France, with more than 40 breeds – Limousin, Salers, Bazas, Parthenaise, to name but a few. For a mark of quality, keep your eyes peeled for Label rouge beef, which guarantees product quality and respect for animals. Aubrac Label rouge farm beef is particularly good and is the meat is characterised by the floral mountain pastures on which the animals graze in the summer months. Or look out for Parthenaise Label rouge, which has a very fine and marbled grain meat.
FRUIT
Winter pears are still packing plenty of punch. The Passe-crassane, easily recognisable from its stalk covered with red wax, is slightly tart; while the Doyenne du Comice IGP Savoie is juicy and sweet.
The pomelo – a cross between a grapefruit and an orange – is harvested in Corsica from February so should be in plenty supply on the market stalls now.