The popular festival returns on October 26th and 27th – Gillian Thornton gives us a taster
Red hot in colour but comfortably piquant to the taste, the scarlet red chillies from Espelette are perfect for those of us who like a slight kick to our food, but don't appreciate our mouth being set alight!
France's only AOP spice, they are grown in 10 designated communes in and around one of the most colourful villages in French Basque Country. These small chillies first arrived in France from Mexico with Columbus in the early 17th century, instantly thriving in the damp, warm climate that prevails in the angle of the Atlantic and the Pyrenees.
Production slumped to disastrous levels with the onset of intensive farming in the 1980s, but in the 1990s, a small group of local growers fought to save their livelihood. AOC status was awarded in 2002, replaced by the new AOP label in 2012. Discover the full story with the entertaining 15-minute film at Espelette's new pepper interpretation centre beside the Town Hall. And don't miss the interactive elements, fun for all ages. Identifying the four key scents of Piment d'Espelette is not as easy as you think!
Then browse the boutiques for authentic souvenirs to take home – whole fresh peppers; cords of anything between 20 and 100 dried peppers, all of equal size; or jars of powdered pepper, the colour ranging from deep orange to russet. Then use it at home in all manner of sweet and savoury dishes from cakes to grills, sauces to soups. You'll find all manner of chilli-themed souvenirs, including glass earrings in the shape of this emblematic spice.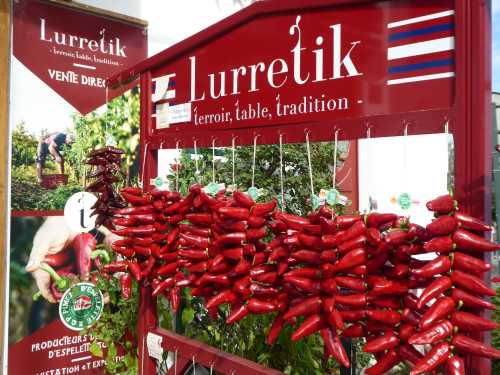 Visit in early autumn to see long cords of fresh peppers hanging out to dry against the facades of Espelette's typical whitewashed houses. But for the full-on chilli flavour, pitch up in the last week of October to join in the colourful Pepper Festival. Entertainment with spice guaranteed! www.espelette.fr.