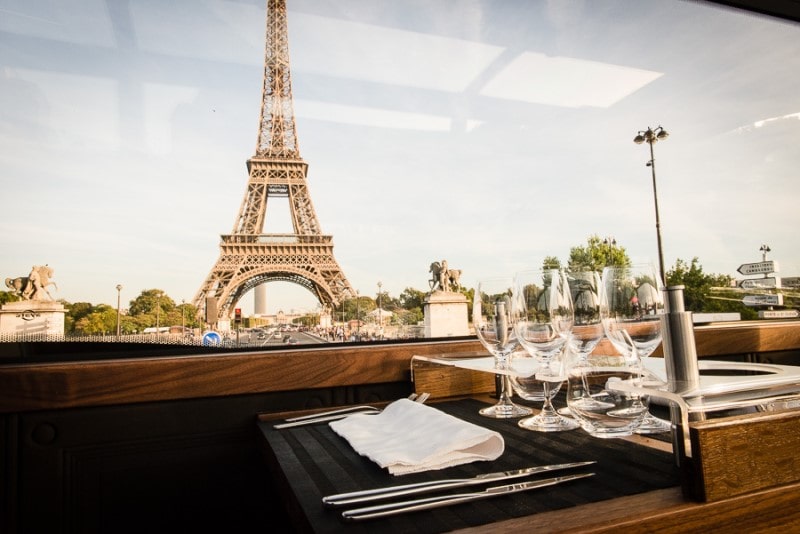 All aboard! Climb into the handsome, black and gold, state-of-the-art, double-decker bus, complete with panoramic glass roof. Launched in 2014, Bustronome is a unique experience in Paris.
A moveable feast, Bustronome offers a voyage into French gastronomy while gliding by Paris's iconic masterpieces and monuments: the Arc de Triomphe, Grand Palais, Place de la Concorde, Pyramid of the Louvre, Musée d'Orsay, Champs Elysées, Palais Garnier, Notre Dame and Eiffel Tower. Not a tacky tour guide in site, but you'll get an audio pen and map. Pick up the pen, point at the map, and all is revealed about your favorite site. Génial!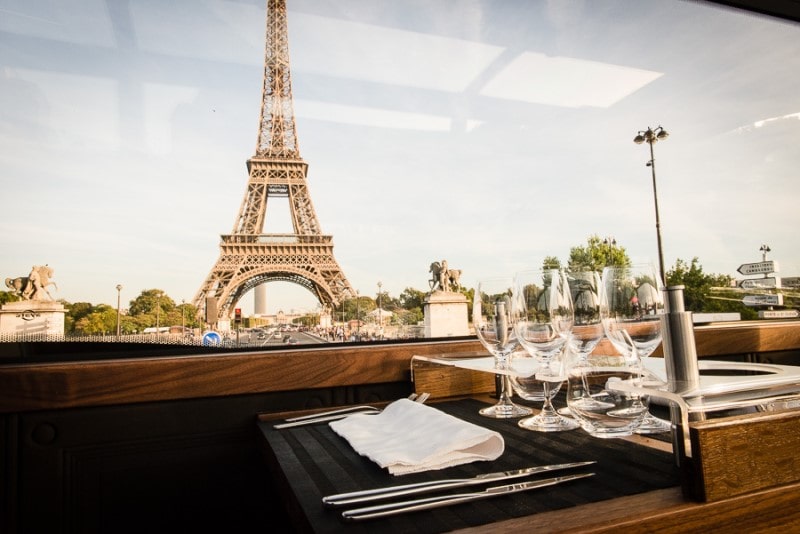 Lunch/brunch/dine on seasonal dishes by chef Sébastian Nicolleau (who previously worked at Jules Verne, the Eiffel Tower!), prepared in the purpose-built lower-deck galley.
Discover the Bustronome experience in video here.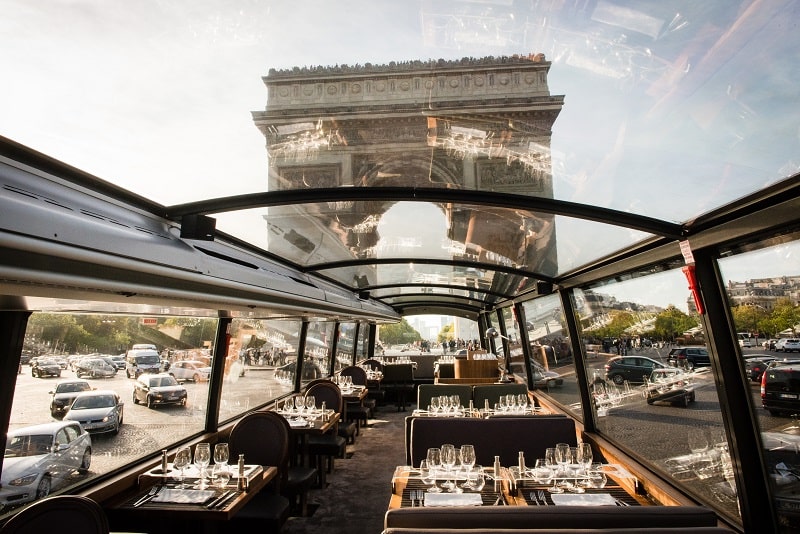 Of course, festive meals and seasonal surprises are planned for Christmas Eve and until 1st January 2020 when lunch is €65 (or €85 with wine pairings). Dinner from €115-€130 and Menu Arc de Triomphe – giving priority access to the monument – is €77. The New Year's Eve dinner includes wine €250; it leaves from Place Trocadéro at 9:30 pm.
Children's menus (under 12) for lunch/dinner cost €40/50. Vegetarian, vegan and gluten-free menus are possible, let them know ahead if you can.
Plan to arrive 15 minutes before departure. The 1hr 45 Sunday Brunch includes Eggs Benédict, croissants, detox juice, fresh fruits, yogurts, granola, etc.
Adults €65: Children €40: Arc de Triomphe menu (includes priority entry) €77
Lunch departures (1hr.45) are at 12:15 pm or 12:45 pm (from Avenue Kléber).
Begin with champagne cuvée Bustronome, and look for specialties like lobster ravioli, Fish Koulibiac, Foie gras stuffed chicken, Chocolate pavlova. Veggie dishes could be lentil soup, chestnut fricassee, risotto and smoked tofu, lemon hazelnut dessert.
Dinner departures (unless otherwise specified) are at 7:45 or 8:45 pm (for a duration of 2hrs45). Expect to pay €115 + wine – €150 with wine pairings.
And, yes, it's possible to hire Bustronome for Bar Mitzvahs, weddings, parties from 15-38 voyagers – about €150 per person call on + 33 (0) 954 444 555
Privately book the Bustronome experience for yourself here.
"Paris is the ideal city for a tourist service of this kind," says Jean-Christophe Fournier, co-founder of brand Bustronome with Bertrand Mathieu.
Since its launch, Bustronome has attracted an eclectic clientele who appreciate the originality of the concept. Seven days a week, noon and night, the bus welcomes its passengers for an exciting culinary experience: combining the discovery of the capital with that of French cuisine.
"Our ambition is global," say Bertrand Mathieu and Jean-Christophe Fournier, who helm a fleet of three beau buses, their aim to become major players in Parisian tourism.
By the way: The London (Big Ben) Bustronome launched in 2017 to great success – other cities are under consideration – including New York – watch this space !
Bon Bustronoming!
2, avenue Kleber, 75016
Keep up to date with the latest news on this feed.
As originally published on sister site Bonjour Paris