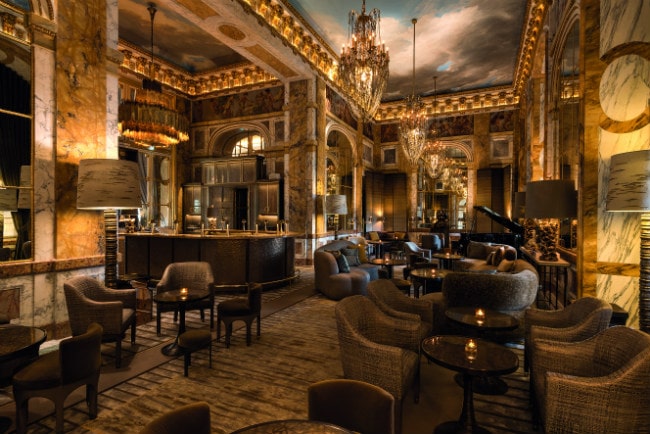 The most up-to-date hangouts in Paris's constantly changing cocktail scene
LES AMBASSADEURS, HÔTEL DE CRILLON
Soaring gilded and frescoed 18th-century walls and ceilings and a sumptuous décor make Les Ambassadeurs the most glamorous watering hole in Paris. Champagne is the drink to imbibe here.
10 Place de la Concorde, 75008 Paris
01 44 71 15 00
www.rosewoodhotels.com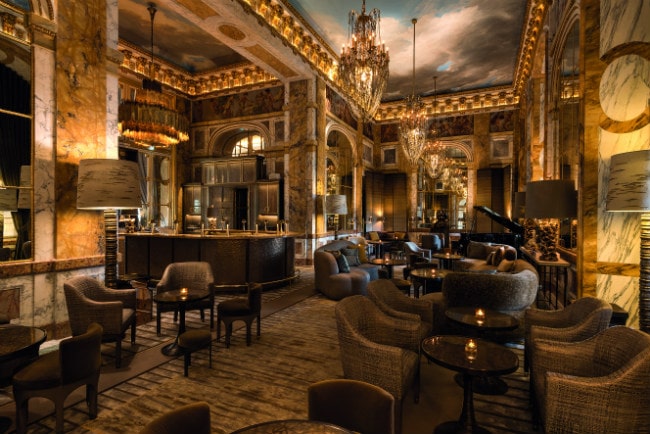 HERBARIUM, HÔTEL NATIONAL DES ARTS & MÉTIERS
Expressive creations concocted from herbs, flowers, berries and fruit chosen as much for their fragrance as for their flavour. Make your choice by sniffing from a perfume flacon.
243 Rue Saint-Martin, 75003 Paris
01 80 97 22 80
www.hotelnational.paris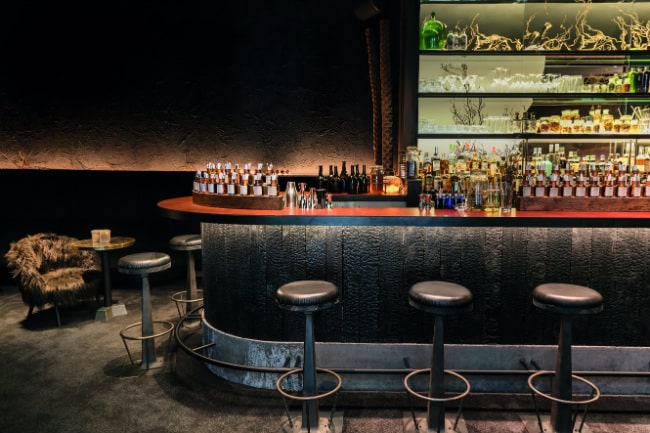 LES GRANDS VERRES
Nothing is ever wasted here, as ingenious cocktails are invented from whatever happens to be on the menu at the time. The ingredients are mixed with some wildly imaginative combinations of the house's syrups, herbs and artisanal spirits.
13 Avenue du Président Wilson, 75016 Paris
01 85 53 03 61
www.palaisdetokyo.com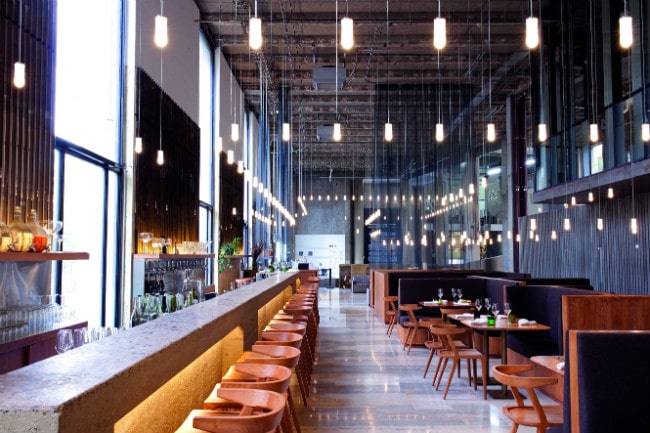 LE JACQUES BAR
This adorable lounge in the hip Hoxton Hotel is a firm favourite with guests and locals alike. The cocktails are inspired by the flavours and colours of Morocco. It only seats 20 people at a time, so try to get there early to stake your place.
30-32 Rue du Sentier, 75002 Paris
01 85 65 75 00
www.thehoxton.com
BISOU
You can't miss this friendly neighbourhood bar on boulevard du Temple. Just look for its pink awning. Fancy something different? Speak to the barman, a respected expert known and loved for crafting cocktails to his customers' tastes.
15 Boulevard du Temple, 75003 Paris
01 40 27 82 85
www.facebook.com/bisoubar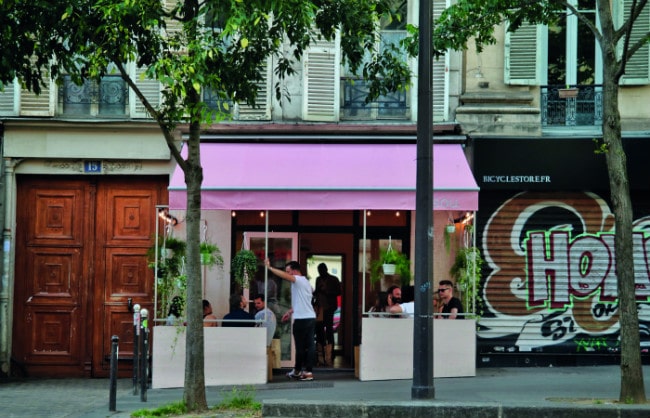 CARBÓN
Carnivores are flocking to the newest unabashedly meat-centric Marais hotspot, where the food is divine, the wine is plentiful, the crowd is beautiful, and the cocktails served at the long table d'hôte are crazy good. (Check out Mina downstairs too.)
14 Rue Charlot, 75003 Paris
01 42 72 49 12
www.carbonparis.com
LE RENARD
A sleek and chic new bar near the Canal Saint-Martin, it offers some of the city's yummiest cocktails for about half the price you'll pay anywhere else. A tempting bar menu makes this a very congenial spot to settle in for the night.
6 Rue du Renard, 75004 Paris
06 40 38 99 39
www.facebook.com/Renardbar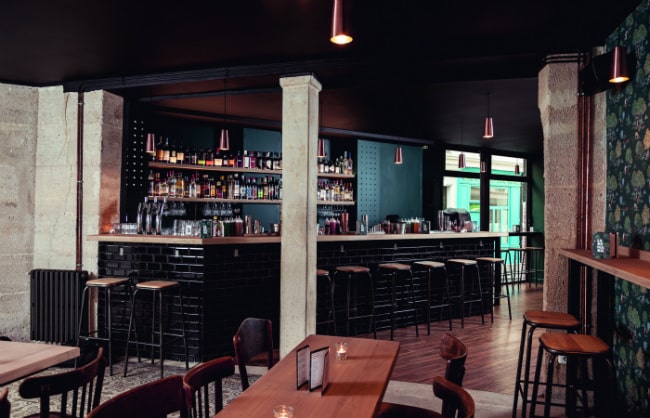 LE MARTA PARIS
Champs-Élysées jet-setters in the know are flocking to this hidden gem in the legendary Hôtel Le Fouquet's for its sumptuous décor modelled on a louche Parisian boudoir. Plush velvets and divans invite languorous evenings nourished with luscious cocktails.
46 Avenue George V, 75008 Paris
01 40 69 60 85
www.hotelsbarriere.com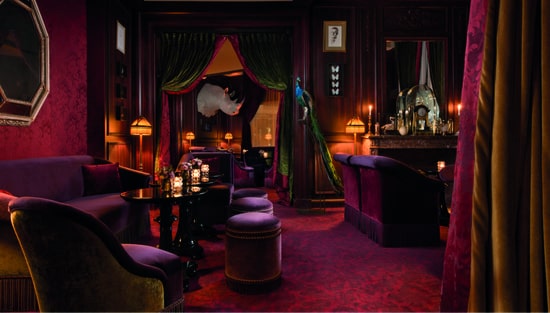 BARANAAN
Near the Montorgueil market street and shopping district, take a voyage to Bombay at this hidden Indian cocktail bar serving up surprising elixirs accompanied by delicious naans and rollicking Bollywood videos in a vintage train car.
7 Rue du Faubourg Saint-Martin, 75010 Paris
01 40 38 97 57
www.baranaan.com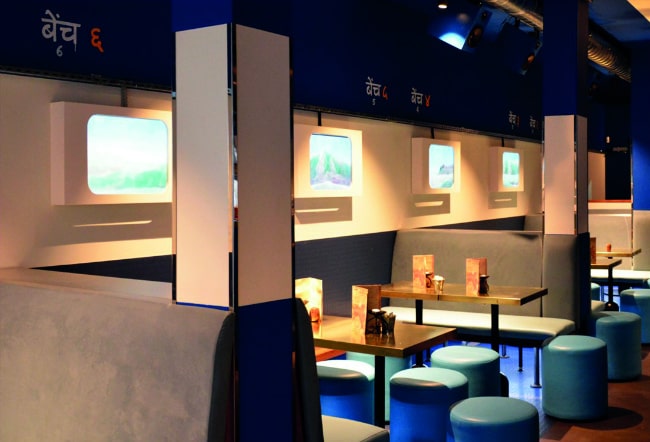 BALAGAN
Tucked away in the Balagan restaurant, a new foodie haven in the Paris-Vendôme Hotel, just steps away from the rue Saint-Honoré, Bar Balagan's lavish Pillow Talk décor, Middle Eastern mezze dishes, and yummy juice-based cocktails are bang on trend.
9 Rue d'Alger, 75001 Paris
01 40 20 72 14
www.balagan-paris.com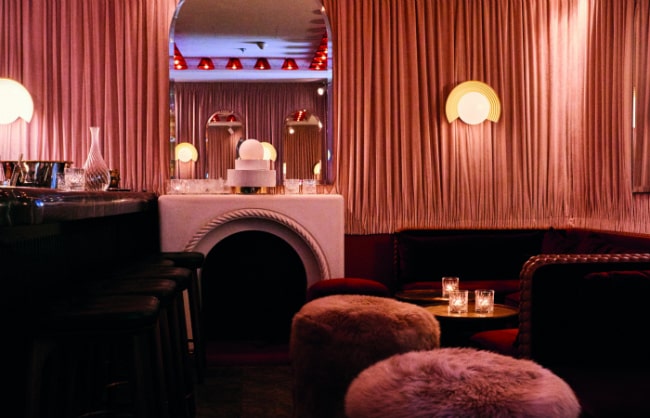 THE SHELL
Bijou seems to be a Paris trend these days, but this little gem in the brand new Hôtel des Grands Boulevards, with seating for about 12, opens onto a stylish patio bar with plenty of space to drink and dance the night away under the stars.
17 Boulevard Poissonnière, 75002 Paris
01 85 73 33 33
www.grandsboulevardshotel.com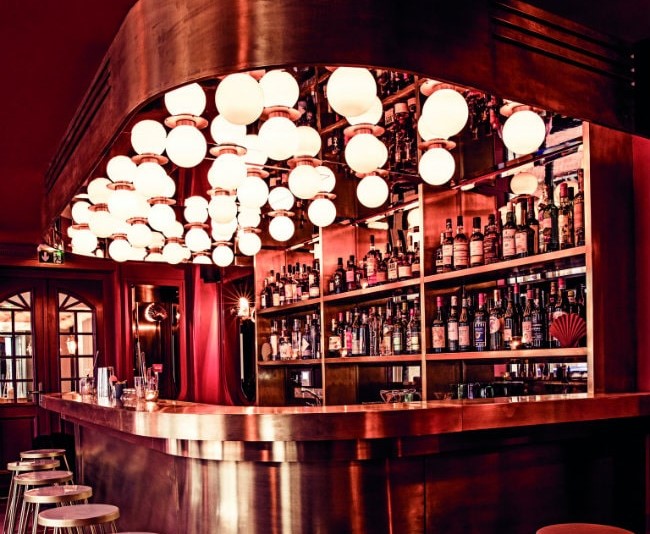 LE 1905
Up the stairs, above Vins des Pyrénées (which opened in 1905), this colonial-style space, complete with ceiling fans, globe lights and veranda, serves quintessentially refreshing drinks with and without alcohol.
25 Rue Beautreillis, 75004 Paris
01 42 72 64 94
www.vinsdespyrenees.com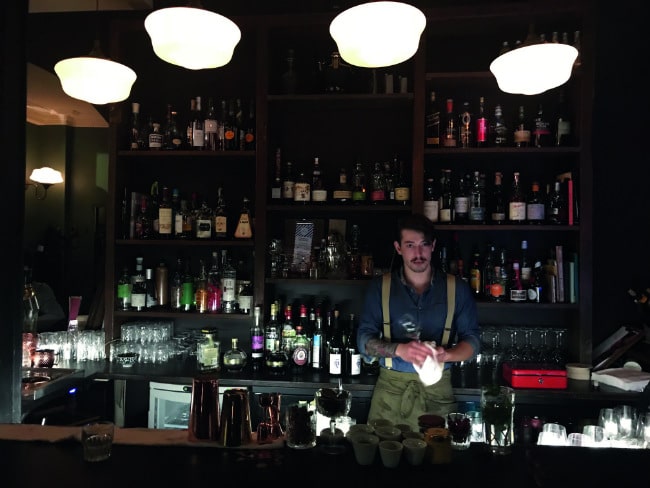 Originally published on our sister site, France Today