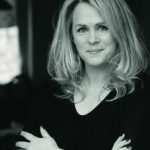 Serves: 4
Difficulty: Easy
Preparation time: 15 minutes
Cooking time: 10 minutes

Irish-born chef Trish Deseine, who has lived in France for 20 years, shares this gorgeous mussels recipe, which makes a change from the classic moules marinières or moules-frites. Cilantro – aka coriander – and almonds add an unusual twist you won't be able to resist.
---
Ingredients
For the pesto
1 garlic clove, peeled
1 cup (4 oz/125g) blanched whole almonds, coarsely chopped
1 bunch cilantro (coriander)
1 cup (4 oz/125g) Parmesan, coarsely grated
Olive oil
Salt, pepper
For the mussels
24 large mussels, opened on the half shell
4-5 tbsp Japanese panko bread crumbs (or dry bread crumbs)
Lemon wedges, to serve
Directions
1Preheat the oven to 180°C / Gas Mark 4.
2For the pesto, combine all the ingredients – except the olive oil and seasoning – in a mini food processor and reduce to a paste. Gradually add the oil, processing again until you have a soft mixture. Season to taste.
3Arrange the mussels on the half shell on a baking sheet and top each one with a spoonful of the pesto. Sprinkle lightly with the panko crumbs or dry bread crumbs.
4Bake in the preheated oven for 10 minutes or until the pesto is bubbling lightly and the crumb topping is golden.
5Remove from the oven and serve hot, with lemon wedges to squeeze over. Enjoy with a glass of white Côtes de Provence.
IMAGE © DEIRDRE ROONEY
---
First printed in our sister publication France Today
Want more mouth-watering recipes? Order this wonderful book by clicking the link below!