Nicola Leigh Stewart talks inspiration and responsibility with one of Paris's most exciting chefs
After cutting his teeth at the Ritz Paris, the Shangri-La, and Le Royal Monceau, Adam Bentalha joined the EVOK Hotel Collection in 2018 as executive chef at Brach. His cuisine is inspired by Mediterranean influences and his Algerian heritage. Now he brings his talents to the Sinner, the latest luxury opening from the group, where he has already established himself as one of Paris's young and exciting chefs to watch.
You were studying biology before you decided to follow a career in gastronomy. When did you realise that becoming a chef was your calling?
I realised that science wasn't for me, and also that I wanted to go straight to work and not be a student in a classroom, passively learning etc. So instead, I started at hospitality school. We had two hours of cooking per week, which were the best hours of my week! I found creativity and emotion in this class.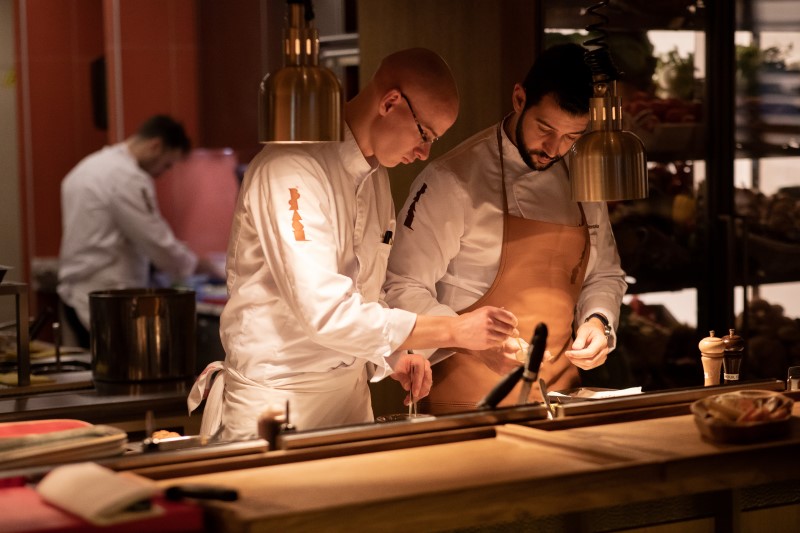 You've worked at some of the most prestigious addresses in Paris – how has this experience shaped your style?
Each experience varies and has different benefits. After school, the goal was to be in one of these amazing houses. I liked everything, the hats, the "Oui Chef!", even the military part of the job. The kitchen team also work in a creative way, and the team spirit attracted me; in a big team at the Ritz I learnt the foundation and classics of French cuisine; in the Shangri-La I learnt how an opening works, and how to create an identity. The latter was my first job as a sous-chef, a job with real responsibilities.
How has growing up in Algeria and France influenced your cuisine?
Flavours from my childhood mixed with the discovery of French cuisine during the learning process; it helps you to create your own identity. But it's with the Evok Group that I could completely reveal myself.
Is there a dish that reminds you of your childhood, your 'madeleine de Proust'?
Pigeon pastilla, with spices like ras el hanout; my mother used to dust the pastilla with icing sugar and mint. But my madeleine de Proust would be the smell of jasmine – it reminds me our house in Constantine, where we have jasmine everywhere. It's a flower that 'breathes' during the night. It's a very peaceful smell that takes me back to my childhood.
Your new menu at Sinner eschews traditional French dishes in favour of international dishes. Where do you find your inspiration?
I try to position my cuisine dans l'air du temps and adapt my menu to what people like, but also with the aim of creating a timeless cuisine, and a good meal that is still a good meal even 10 years later! As chefs we have a mission to follow the trends, especially when they are good trends like less sugar, less carbs, following the seasons, and always respecting the products, etc. This is especially apparent at Sinner, where I have created a dedicated offering with raw fish, using this idea of a nomadic, ancestral and traditional cuisine, but to suit today, and in a very trendy space.
IMAGE © SINNER AND BRACH

IMAGE © SINNER AND BRACH
What are your favourite ingredients to work with?
I love the family of citrus fruits; I love the acidity of lemons and vinegar, the electroshock that it provokes in the mouth, and which sometimes helps with a balance of tastes. It gives originality and depth to a meal. But I like everything, because I believe all elements deserve to be cooked and all ingredients have a special and unique taste that can be associated with something.
Which chefs do you most admire?
Franck Giovannini, from the Restaurant de l'Hôtel de Ville de Crissier in Switzerland. He works with elements, flavours and tastes like no one else. His restaurant has been named Best Restaurant in the World – a magical moment. This is excellence and it's what we are looking for in our jobs, to create a magical moment for our guests, without any wrong note.
Can you share any secrets with our readers for cooking at home?
The only advice I can give is to do everything with love and passion, to choose fresh and seasonal products, and to avoid frozen food!
How do you tackle the issue of sustainability in your kitchens?
This is very important, for a chef to respect nature and the seasons. We have a kind of power in our hands, to make people understand the importance of respecting the season (no strawberries in January, no tomatoes in winter etc.). We have to consider climate change. As a chef, I have to work hand in hand with our producers. We are lucky, at Brach we have our own vegetable garden on the roof, so we use aromatics herbs from there, and we do our own compost. We try to have a professional conscience and an environmental conscience.
What's the most important lesson you've learned?
You can't succeed on your own, it's an obligation and a duty to share your knowledge with your team. It allows evolvement, and for you to always challenge yourself, otherwise you stay fixed and you can't improve yourself. My advice would be, choose this job due to passion, not because you have to. It's an amazing job, a difficult job, full of pressures, but also full of joy and emotion. It's important to follow your team, and to transmit all that you know. Stay positive for your team, allow them to evolve and evolve with them, it is your responsibility as a Chef. I used to tell them: one team, one dream!