Ludivine Griveau chats to LM Archer about her place in a 600-year-long history
Every November, global gourmands gather to bid on a bit of history at the annual Hospices de Beaune wine auction in Burgundy. Founded in 1443 by Nicolas Rolin, Chancellor for the Duke of Bourgogne, Hospices de Beaune originally served as an almshouse for the poor. Funded by wealthy donors' vineyard bequests, the charity estate currently comprises 60 hectares (148 acres) of mostly premier and grand cru vineyards throughout the Côte d'Or.
Proceeds fund historical monument preservations, hospital upgrades, and celebrity-sponsored charities. In 2015, Hospices de Beaune appointed Ludivine Griveau as the first female wine maker in its 600-plus year history. Prior to Hospices de Beane, Griveau spent four years as a viticulturist at Domaine Jacques Prieur, followed by 10 years as part of the winemaking team at Maison Corton-André. At Hospices de Beaune, Griveau oversees a team of more than 20 people.
There hasn't been a woman at the helm of the Hospices de Beaune since co-founder Guigone de Salins ran the Hôtel Dieu in the 1400s, after the death of her husband and charity founder, Nicolas Rolin.
I'm the first one. Guigone de Salins was not in charge of the wine, she was in charge of taking care of sick people. She was doing great, great work – she was taking care of others. But she was not in charge of the wine.
Do you feel like you've grown a lot as a winemaker since you started in your position?
There are no words to say how much I've grown – and I'm still growing, because first of all, when you're a winemaker, especially in Burgundy, you play one time a year. Everything can be so different from one year to another, so you start from the beginning each time. But you always keep in mind the difficult part of each vintage, so that you can learn from it for the following ones. And I'm still learning.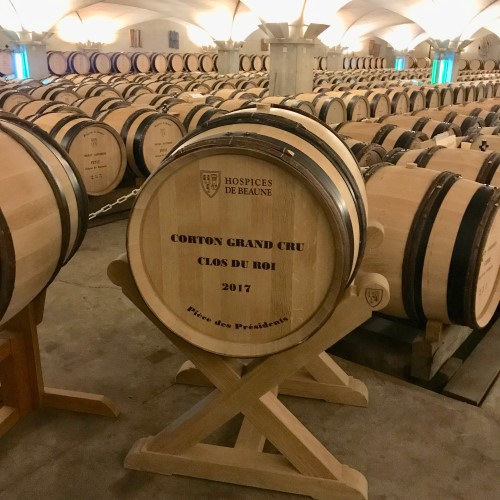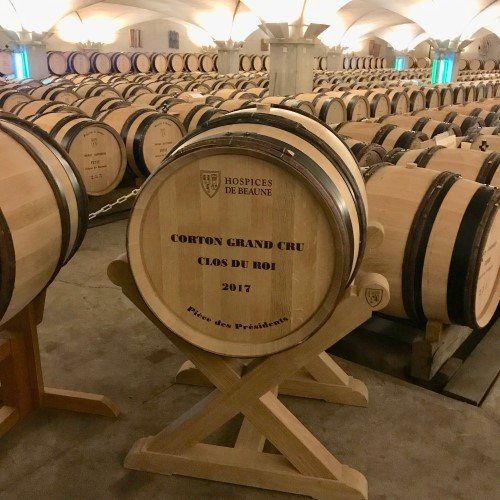 Is there anything about the Hospices de Beaune wine auction – not just the cultural and financial aspects, but from a social aspect – that may be overlooked sometimes?
Well, the main point is that it's a charity auction, so the social part is that, thanks to this auction, and thanks to the money that it brings to the hospital, it is the way the hospital can stay open and available for people around Beaune. If not, they would have to go to Dijon and Chalon [for medical services] which are really far from here when you are sick. So this social point is one of the key ones, I would say, and it is possible thanks to money [from the auction].
What has your experience as vigneron at Hospices de Beaune taught you?
To persevere in what you believe. There's a lot of work to do here, and it's not that easy, but I'm not going to stop. So I feel stronger in being determined to reach my objective. And I'm very proud to be a tiny part of this huge institution for such a short moment of the time of the institution – five centuries. If I even do 30 years, that would be nothing. But I'm proud to do even 30 years out of 500. So I want to do my best.