LM Archer meets wine ambassador Stevie Bobès who specialises in introducing visitors to the wines of Burgundy
As France eases into déconfinement, lockdown-weary gourmands eagerly await a return to food and wine rambles nationwide. Stevie Bobès of Wine Ambassadeur, a bespoke Burgundian gastronomic tour company, is here to help.
First of all, what's a 'Wine Ambassadeur'?
My role as Wine Ambassadeur in the Burgundy region is to guide my clients in an immersive experience that allows them to discover the Burgundy not seen by the casual tourist. My guests enjoy regional culinary delights and some of the best wines available.
We take care of everything for our clients, including accommodations, fine dining and travel recommendations. These are customized, deluxe, multi-day experiences in the heart of Burgundy's wine country. People love to stay in comfortable places, see beautiful things and taste exceptional wines. We deliver all of that.
Why Bourgogne? How did you end up living there?
Burgundy, or Bourgogne, as the French say, is an idyllic place of rolling hills and vineyards that offer some of the best wine growing conditions on the planet. There is an extensive viticulture history that dates back to Roman times. My career in hospitality, travel, and client care led me to this wonderful place.
I originally moved from the US because my wife is French, and she was instrumental in helping me appreciate the French "art de vivre". Bourgogne is a perfect fit for a relaxed lifestyle, focused on wine, food and culture—I've truly found my home here.
My wife and I spent several years renovating a building originally used for wine processing and storage that was built around 200 years ago. We have raised our three wonderful children in this unique home in a small wine village in the countryside. I have lived here now for over 20 years.
Bourgogne lovers not fluent in French often feel intimidated about exploring the region. What would you recommend to overcome such hesitations?
You do not have to be fluent in French to explore Bourgogne. There are a number of established wine producers here open to the public, many staffed with people who speak English.
That said, navigating other opportunities that may only be available by appointment or be more suited to your individual needs and interests will be easier with a local specialist. Using a service such as Wine Ambassadeur allows you to make the most of your time in Burgundy. Having a native English speaker like myself ensures that nothing is lost in translation.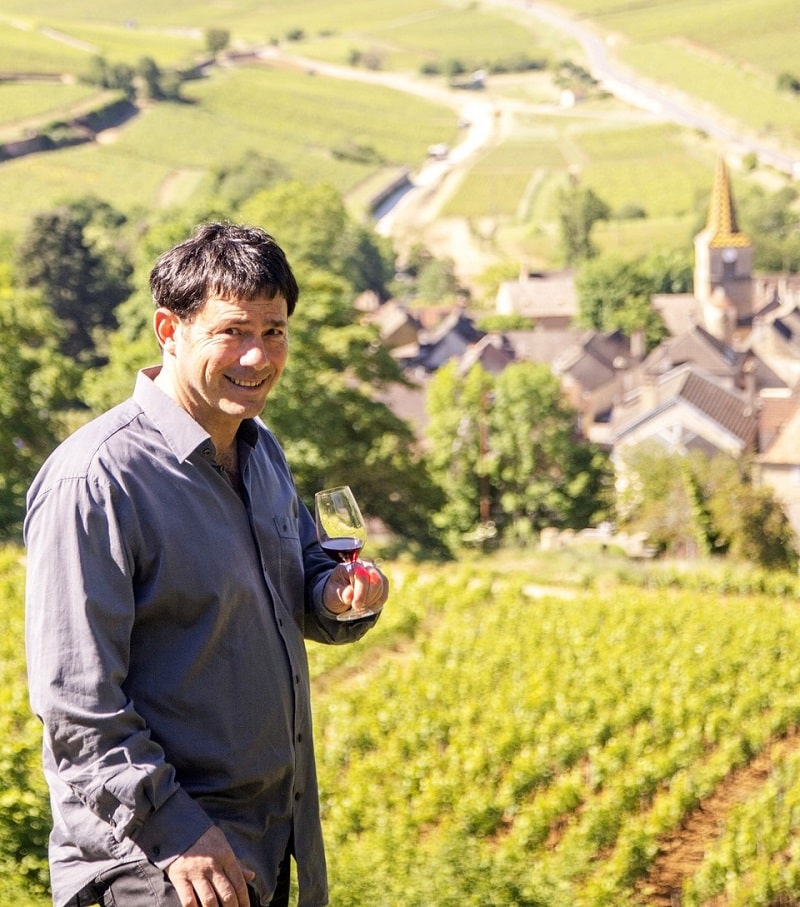 Many consider Bourgogne a region that produces wines exclusively for the wealthy. What would readers be surprised to know about Bourgogne wines?
In our hierarchy of wine offers, the super high end is but a miniscule fraction of what is available. The majority of the production is very approachable, with a wide range of price points, much like you find with California cabs, for instance. There are many excellent, under-the-radar producers here that offer delicious wines for extremely great value. A local specialist can bring these to your attention.
Do you have any favourite regional food or wine venues or domaines readers may not know about?
To start with, Bourgogne is one of the smaller wine regions in France in terms of production. The entire region accounts for just around 3% of the total French wine volume. In the big picture, that's only 0.4% of world-wide wine production!
The region's vineyard area is long and narrow stretching 140 miles from north to south. To best explore the area, the city of Beaune is a great place to base yourself as it is relatively centrally located. Beaune is famously known as the wine capital of Bourgogne. It also is a perfect location to learn about regional history and see examples of the unique architecture of the area.
And in your question, you used the French word "domaine". It translates as a family-owned and operated winery. There are so many of these wineries / domaines here. Our region counts well over a thousand of them. This is one of the attractive aspects about Bourgogne because there are always new producers to discover.
How is Bourgogne coping with COVID-19?
Wine-growers are still tending the vines in their fields, and caring for the 2019 vintage which is aging in barrel. The good news is that wine delivery services are considered "essential," so we continue to ship wine to our clients. One of the services we offer [at Wine Ambassadeur] is shipping pre-selected wine assortments to client's homes in the US. It is an easy way to bring the wines of Bourgogne to your door so you can continue to enjoy a taste of Burgundy!
Finally, what have you learnt from living and working with winemakers for nearly a generation in Bourgogne?
That there's always something new to learn and experience! New knowledge, new information, new producers. And there's always something new to taste. It's amazing how Pinot Noir and Chardonnay can take on such different dimensions depending on where in the region they are grown. And the differences can show up from village to village. On top of that, the weather conditions here really influences the vintage from year to year. It's a place I'll never tire of—it's a Shangri-La of wine.
For more information about Bourgogne tours and tasting:
Wine Ambassadeur
www.wineambassadeur.com
+33 648 174 681
For more about Bourgogne Wine Region: