Three-Michelin-starred chef and "defender of French cuisine" Éric Frechon tells Nicola Leigh Stewart where he finds his inspiration, the secret to his success, and his advice for creating great food at home
What is your earliest memory of food?
My mother's apple tart. Sunday morning was like a ritual: we peeled the apples, we ate the raw dough and we prepared the pie with her. It is especially the smell of cooked apples which sticks in my memory.
Where do you find your inspiration?
Inspiration comes from the seasons and seasonal produce. The produce comes first and must be enhanced above all else, to make sure that it does not leave you indifferent. There must be something that makes the dish memorable, something that speaks to you. I have always been inspired by great chefs, and I am still. For example, Christian Constant, with whom I worked for seven years and who taught me the spirit of cooking. Then, Joël Robuchon for his rigour and Paul Bocuse for what he represents.
For entertaining guests at home, how can our readers elevate a meal to make it special?
From a traditional dish, one can create a rather original dish. For example, incorporate seafood into a meat dish. That's what I like to do; many of my signature dishes are land and sea dishes.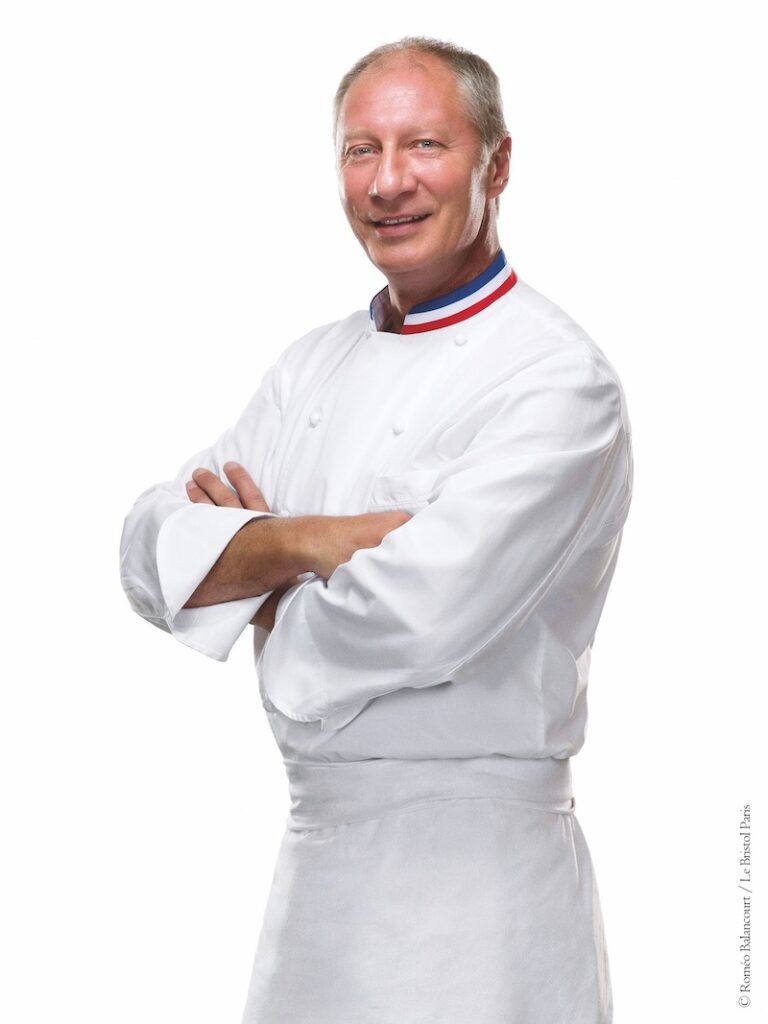 What is your go-to dish at home?
I would say roast chicken, and simple things in general. Good products, simply cooked. Paradoxically, I think we must know how to return to simplicity to continue to make three-Michelin-star cuisine.
What is your favourite dish on Le Bristol's menu?
I've made a balanced selection of my signature dishes, which is representative of my years at Épicure, so it's hard to choose one. The Stuffed Macaroni and Bresse Farm Hen have been there for 20 years now, the Langoustines five years, the Leeks from Île-de-France three years… Every dish has a story! I would choose the Leeks from Île-de-France for its contemporary side and the Stuffed Macaroni for greed.
What does it take to make it this far in what is a cut-throat industry?
Through work, through questioning every day and especially through passion. I think that I have these requirements in me, and this rigour, which does not let go even after all these years.
What has been the highlight of your career so far?
There were two. Winning the title of Meilleur Ouvrier de France (MOF) in 1993 and then, of course, the three stars in the Michelin Guide.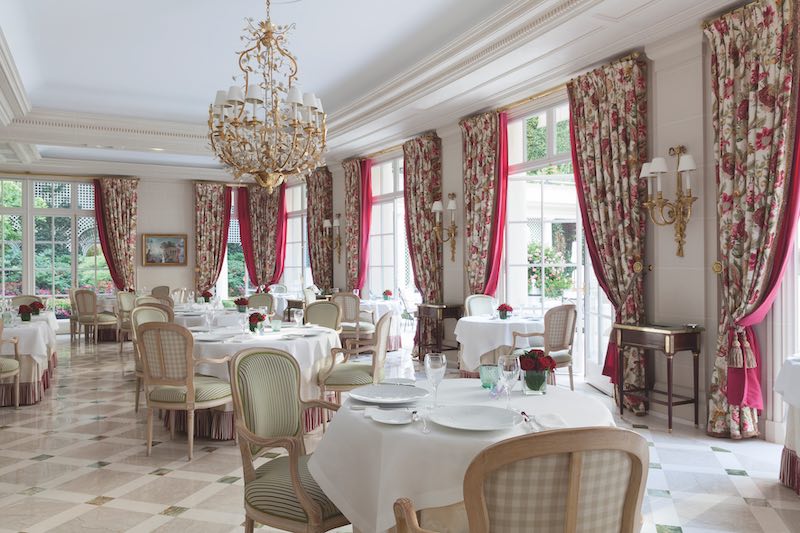 You have recently installed a working flour mill at Le Bristol, making it the first and only hotel in Paris to produce its own flour. Can you tell us a little more about this?
I had wanted to change our method of bread production for a few years. We started to test organic flours, but I wasn't convinced. Then there was this meeting with Roland Feuillas, and there was a click. It was this encounter that led us to create a natural bread, the 'Pain Vivant' (Living Bread), created from exceptional products and ancient wheat, and thus off er our customers a bread with incredible nutritional value. Today, we do not talk about flours, we talk about cereals, and that changes everything. We let nature express itself through these wheats.
What makes bread such an important part of a meal for you?
Beyond the bread, it is the message that it conveys: sharing. It is a product that may seem basic, but which often accompanies meals, without taking over the dishes. The real luxury is to have this Pain Vivant, made with exceptional wheats, that no one else can find, and put it on the table.
How do you address the issue of sustainability in your kitchen?
By using seasonal products and working with local producers as much as possible.
You've held three Michelin stars at Épicure for 10 years now. What's next for Éric Frechon?
Twenty years more for both! I imagine myself with a fourth star. After 20 years at Le Bristol, you always have to raise the bar, even if many dishes are accomplished. It is difficult to remove a dish from the menu, which is why we must always offer better.
This comes courtesy of Taste of France Issue Two. For more great recipes, food news and interviews with top chefs, buy your copy here!