Michelin-starred chef David Gallienne, who owns the spectacular Le Jardin des Plumes in Monet's hometown of Giverny, is a hit on the TV screens of France as well as in the kitchens, thanks to his appearance on the popular M6 show 'Top Chef'. Gill Harris caught up with him to hear about his love of vegetarian cooking and why his plans for a unique pastry shop is literally causing a buzz…
How is it going at Le Jardin des Plumes since you took over?
After a month of closing, I am happy to reopen the Jardin des Plumes with a new look, more anchored with my vision, and better aligned with my 15 years' experience in the gastronomic field. The restaurant's kitchen was revamped with top-notch equipment to be able to be even more specialised and to meet my requirements as a chef.
Are you looking forward to watching yourself on Top Chef?
Top Chef has been a turning point in my life, a challenge which has allowed me to assert my personality. I can't wait to see it on the television!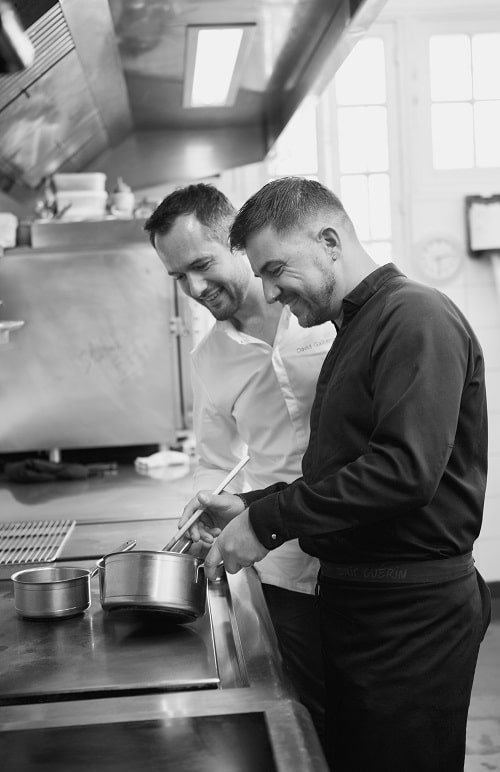 Where did you grow up and how did it shape your love of food?
I was raised in Normandy, France, and I am very attached to my region. I am thankful to my parents and grandparents who instilled in me the values of eating well. I was taken by them to this beautiful culinary field, for instance, where my grandfather grew his own vegetables, bred his poultry, rabbits, pigeons… and foraged for his own mushrooms, snails and frogs.
What's your earliest memory of cooking?
Oh! Hulling a crate of green beans as a kid. I spent the whole morning on it… Disastrous!
Who did you train with and what did you learn from them?
I started my passion in a traditional restaurant which allowed me to acquire all the basics of the French cuisine. Then, I continued to learn for around 10 years in the same place: a Michelin-starred restaurant in Normandy.
Where do you find the inspiration for your dishes?
I find my inspiration in my travels and the people I meet wherever I go or spend time − in France or outside France.
How would you describe your culinary style?
Aha! My culinary style is vegetal and inspired by my travels.
What's your favourite dish currently on the menu and why?
I like the whole menu, without any preference really. In general, I like all the dishes except those that are based on cabbage… But, I'm not completely closed to cabbage − I do like raw cauliflower.
How has the growing passion for sustainability and plant-based diets affected your cooking?
I am very sensitive to what is happening around the world… Just look outside, our planet is suffering and we must react! We are its ambassadors and it is our duty to take part sharing the message in order to educate others about eco-responsibility and sustainable development. Eating healthy is also part of what I stand up for. I like to stay close to my land, eat local and aligned with the different seasons. For example, each morning I like to go outside and pick my wild herbs for my kitchen. In a way, this allows me to take care of myself and keep myself grounded with the land.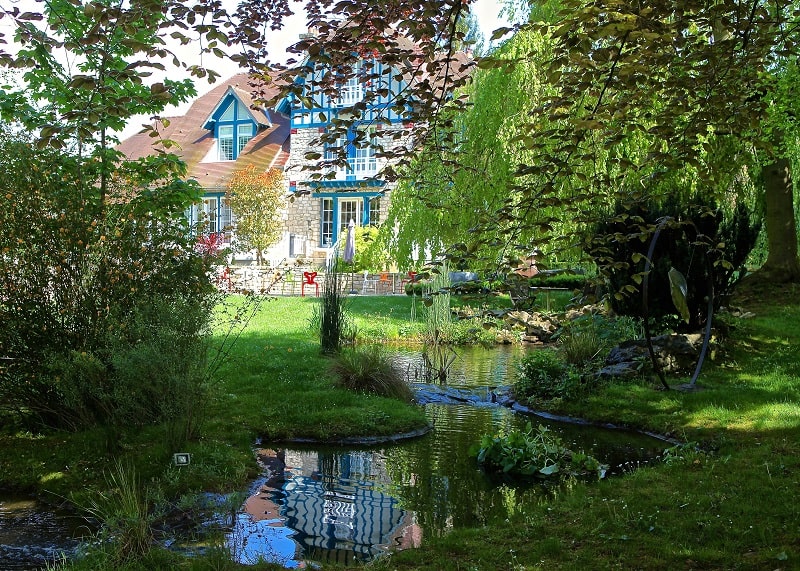 What's your favourite meal to cook at home – or do you not cook off-duty?
At home? I cook all the time and I love it! I am fond of cooking my childhood-related dishes… Like ham/farm-butter/pasta, a very simple dish to do, but… so good and tasty!
What is your favourite naughty treat, foodwise?
Truffle (laughs)… It's a joke… but well, I love truffle! For me, this product is like candy! For my part, I'm not a sugary person though, more savoury…
How do you juggle Le Jardin des Plumes and La Musardière?
I trust my executive chefs who support me every day between the two places. It's important for a chef to know how to delegate in order to showcase young talent.
Tell us about your beekeeping plans.
We are creating an apiary of 25 beehives at the beginning of this year in the village of Giverny and I plan to open, at some point, a pastry shop with zero-sugar selling pastry made only with our honey! In partnership with my friend the beekeeper who will take care of our little bees, we are aiming at a 400kg harvest for the end of 2020.
What are your ambitions for 2020 and beyond?
I want to keep my plans to myself for the moment but stay tuned – I will let you know as soon as my new collaborations and projects are on the verge of being launched!