Long before the French cheese landscape was dotted with countless producers of small, creamy bloomed rind cheeses as it is today , there was Chaource.
Born in the 14th century in its namesake village, production today is mostly centred around the departments of Aube in the Champagne-Ardenne region, as well as Yonne in neighbouring Burgundy.
Chaource can appear to be two entirely different cheeses, depending on its age. A young version will be barely yielding just beyond its rind, with a creamy yet firm centre and tangy, lactic flavor. Choose an aged model if you prefer a meltingly seductive inner paste with a more complex flavor of mushroom, nuts and salted cream; however at this stage the trade-off can often be a rind that is a bit bitter with a bit of "heat" on the palate.
This voluptuous beauty is absolutely divine as a pre-dinner offering paired with Champagne or a Cremant de Bourgogne rosé.
---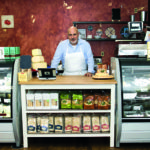 Patrick Ambrosio is the owner of Le Bon Fromage in Long Island, New York, USA. www.lebonfromage.com