With France's renowned wine producers set to begin their iconic grape harvest any day, we've pulled together a round-up of the best wine hotels to visit this autumn
The finest vintages, beautiful boutique hotels and sunny autumnal days – you won't want to miss out on visiting France during the grape harvest. Of course, there are too many wonderful places to cover here, but check out our very best of the best…
CHÂTEAU DE BACHEN
Château de Bachen, home to famed three-Michelin star chef Michel Guérard and his family, produces some of the finest Merlot, Cabernet and Chardonnay grapes on its 25-hectare vineyard, which will begin its harvest in just a few days. Its beautiful winery will then open its doors to the public on September 14th and 15th for tours.
The vineyard is just a stone's throw from renowned culinary and spa estate Les Prés d'Eugénie, which is also owned by the family, in the pretty spa village of Eugénie-les-Bains. The property features guest rooms with grand fireplaces, antique furniture and white marble baths, three restaurants including Michel Guérard's three-Michelin star gourmet restaurant, and internationally renowned spa La Ferme Thermale. Classic rooms start from €234 a night in September 2019. www.lespresdeugenie.com
CHÂTEAU DE MERCUÈS
The 13th-century Château de Mercuès is a stunning wine-estate hotel overlooking the Lot Valley, where visitors can experience the entire winemaking process during the harvest of the region's famed deep red Cahors wine. Guests can tour the vineyard, take part in workshops and visit the majestic underground cellar – in the style of a Romano-Byzantine cathedral, no less! – to taste the Malbec wine.
Visitors can stay in the picturesque medieval castle, which has 30 bedrooms and suites, and dine at Michelin-star restaurant Le Duèze by chef Julien Poisot, where dishes feature local delights such as black Lalbenque truffles, and leisure facilities including a swimming pool, all accompanied by sweeping views over the Cahors vineyard. Classic rooms start from €234 a night in September 2019. www.chateaudemercues.com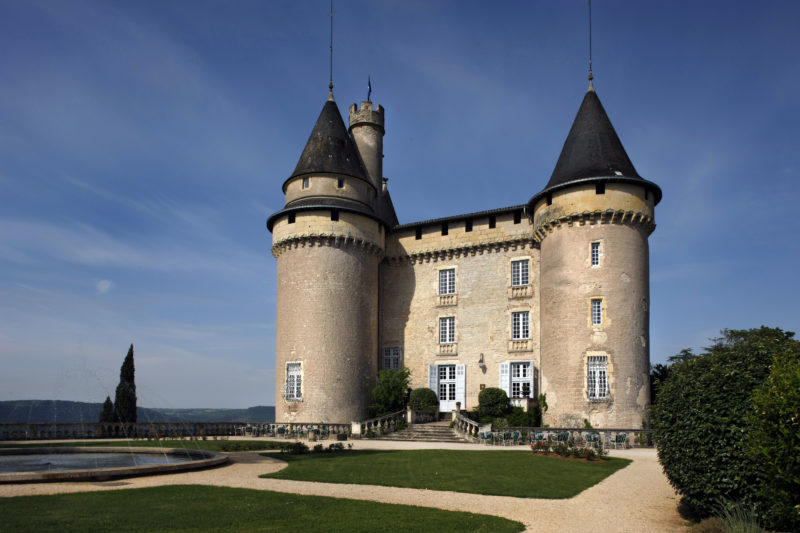 DOMAINE DE VERCHANT
For those looking to enjoy harvest season from the comfort of their sun lounger, Domaine de Verchant, just 10 minutes from Montpellier, is ideal with its stunning restaurant, swimming pool and recently opened private sandy beach, authentic rustic beach bar, and sumptuous outdoor lounge area overlooking the vines.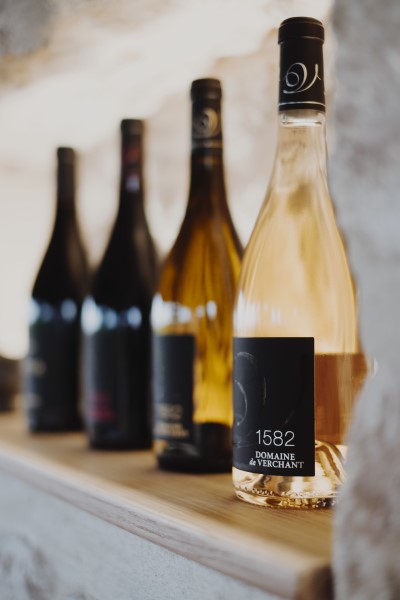 The 16th century old stone château is surrounded by a 13-hectare vineyard and houses 26 bedrooms and suites all stylishly furnished in contemporary Italian fabrics by designer Raymond Morel. Fine-dining restaurant Verchant offers an array of plates inspired by the abundance of local produce, while La Plage restaurant offers small dishes from the tapas menu and an extensive à la carte menu. Alongside this is a luxurious spa, sauna, Jacuzzi, private hammam and indoor hydrotherapy pool. Deluxe rooms at start from €288 a night in September 2019. www.domainedeverchant.com
CHÂTEAU CORDEILLAN-BAGES
An idyllic wine and gourmet retreat in the village of Bages, near Bordeaux, the former 19th-century chartreuse features 28 bedrooms and a gourmet restaurant overseen by executive chef Julien Lefebvre who secured a Michelin star for the restaurant in 2018. From the residential-style lounge and terrace that sits on the edge of the vineyard to the 25-metre heated outdoor pool, the sauna and bedrooms, the décor is suitable and calm, infusing the modern and classic.
The property can arrange wine tasting classes at Château Ormes de Pez in Saint-Estèphe, where visitors will discover the art of food and wine pairing and taste wines from the different appellations of the Médoc. Deluxe rooms start from €238 a night in September/October 2019. www.cordeillanbages.com.