A desire to make the most romantic cup of tea in the world for Valentine's Day led to a burgeoning business for one woman in Lyon.
It was back in 2013 that Elodie Fagot began the hunt for some heart-shaped teabags to prepare a special Valentine's Day breakfast, only to discover that such a thing didn't exist. Unperturbed, she decided to make her own and after posting about them on Instagram was inundated with messages from people asking where they could buy them. She realised she was on to something, and Tea Heritage was born.
Elodie, who is Lyon born and bred, cites her grandmothers as huge influences on her business, with one teaching her to sew and the other imparting the tradition of the English afternoon tea. She began selling on Etsy before graduating to her own dedicated website and shop and now Tea Heritage has earnt a reputation for delicious and unusual organic teas.
The company's new autumn collection has just been released and features four hand-stitched teabag designs and loose tea in delicious blends, including Organic Pumpkin Chai and the new Rooibos Cinnamon Roll variety and a fox, squirrel, mushroom and autumn leaf teabag design. With pretty glittery tags in gold and bronze, they'd make an ideal gift for the tea drinker in your life.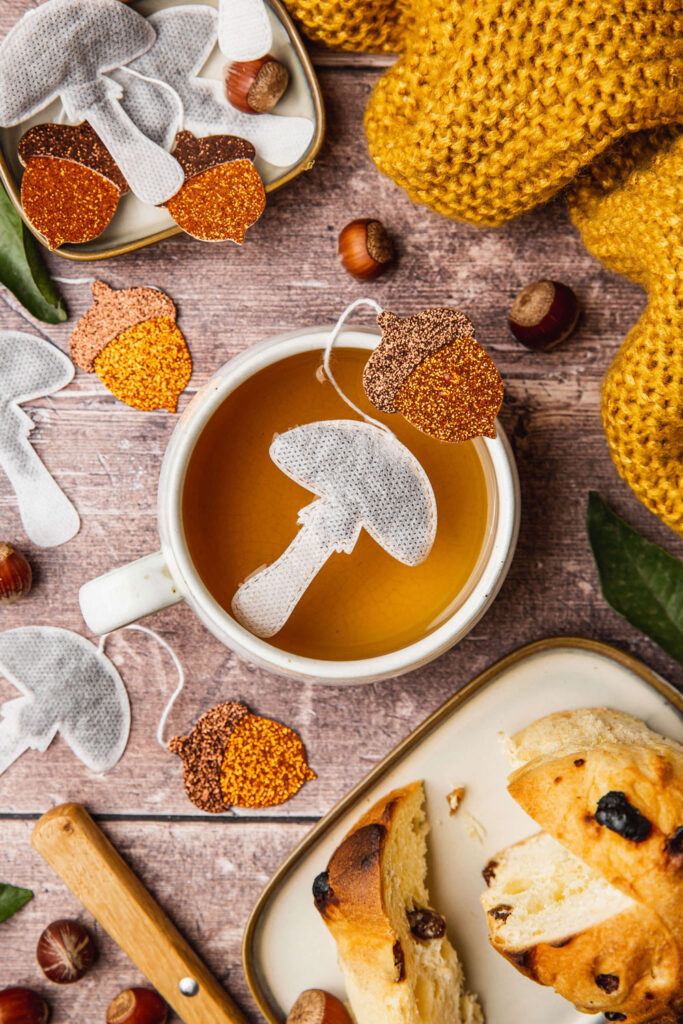 Each product is designed by Elodie and created by hand in the company's workshop in Lyon by a team of 30 people. Each craftsperson is trained intensively for a month to master the art of hand sewing the intricate designs. Incredibly, some of the team that hand stitch the teabags are blind or partially sighted. These talented members of the team live nearby in Lyon and are part of an active recruitment drive by founder Elodie to employ a diverse team and give back to the local community.
Tea Heritage responsibly sources its ingredients worldwide, including green tea from China and Japan, black tea from India and Sri Lanka, South African rooibos and herbal teas from France. Great care is taken to only use organic ingredients in all products. All of the brand's teabags are all made with food-grade gauze and sewn with organic cotton, making them compostable if the tag is removed before recycling into food waste and the products don't contain any chemicals which could rub off in boiling water and the bags don't contain any glue or staples.
If you're gasping for a cuppa and you're in the UK, head to Harvey Nichols or Anthropologie or shop direct online from www.teaheritage.fr/en. Prices start from £6.30 for a box of five teabags in one design. Put the kettle on!