Patrice Bertrand pays a visit to the Rhône Valley's last-standing producer of artisanal pastis – and puts the pearly tipple to the test…
"Pastis is simple. It's alcohol, star anise and liquorice. That's all. And the one we make is the last of its kind. Undoubtedly, there is no longer any pastis like ours today," says Raphaël Vannelle, co-owner of Distillerie A. Blachère.
Surprisingly, this beautiful profession of faith is uttered not, as one would expect, in Marseille, the traditional capital of pastis, but in Châteauneuf-du-Pape, in the heart of the famous vineyards of the Rhône Valley. And it is here, in this almost incongruous place, among the vines that produce one of the most famous vintages in the world, that Distillerie A. Blachère, the oldest distillery in Provence, manufactures Pastis Marra, the only Provençal pastis to have survived industrialisation.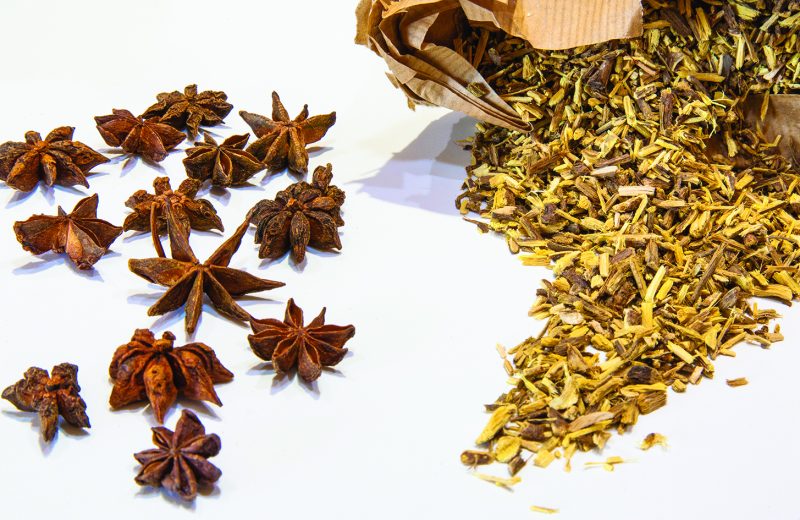 FIGHTING SPIRIT
Today, the pastis market is largely dominated by Pernod Ricard, which sells 100 million bottles of anise-flavoured beverages a year across the globe. But multinationals don't have a monopoly on the sought-after spirit. In France alone, around 50 manufacturers are still producing pastis in much smaller quantities. And Distillerie A. Blachère, which makes around 30,000 bottles of Marra a year (other products include squashes, liqueurs and apéritifs), is among a rare breed of artisans still distilling "old-style" pastis.
ANCESTRAL RECIPE
"Our recipe was created over a century ago by the Michel Marra distillery, which was located in L'Isle-sur-la-Sorgue," explains Raphaël, who runs the distillery with his wife, Sandrine Vannelle-Blachère.
"In the early 1950s, it started to decline and Distillerie A. Blachère bought it with the recipe. This is one of the few pastis for which we have proof – thanks to posters – that it really existed at the beginning of the 20th century. These posters can often be seen in restaurants or bistros around L'Isle-sur-la-Sorgue and Avignon."
Besides the recent addition of a small quantity of an alcoholate of plants and spices (a concession to current trends), for more than five decades Distillerie A. Blachère has religiously adhered to Marra's original recipe – which consists of macerating shredded liquorice root in alcohol, sugar and a tiny amount of star anise extract to produce a delicately-flavoured 45 per cent ABV spirit.
"But in terms of taste, the Marra pastis of 80 years ago and the one of today are the same," Raphaël is quick to point out. Mixing it correctly – pastis is not traditionally quaffed straight up but diluted in water – is key, he insists. As is achieving the desired milky amber colour. The optimum eau-to-spirit ratio, according to him, is one part pastis to five parts water. And it must be sipped leisurely – preferably on a balmy summer's day, lulled by the gentle song of cicadas.
As Peter Mayle once said: "The most powerful ingredient in pastis is not aniseed or alcohol but atmosphere, and that dictates how and where it should be drunk. I cannot imagine drinking it in a hurry."
Click here for more information about Distillerie A. Blachère, its liqueurs and spirits and to order Pastis Marra.