LM Archer stays at the Domaine Paul Mas luxury resort for a spot of Luxe Rural
Fourth-generation winemaker Jean-Claude Mas has dedicated his life to celebrating Le Luxe Rural, a term he coined to describe "the simple pleasures of life, artfully rendered by nature". These simple pleasures include food and wine.
The founder of Domaines Paul Mas in Languedoc, Mas today presides over 15 estates sprawled throughout southern France. Dedicated to elevating the stature and quality of Languedoc wines, Domaines Paul Mas produces 115 different wines from prestige crus like Pézenas, Terrasses du Larzac, and Grès de Montpellier, as well as popular appellations like Languedoc and IGP Pays d'Oc.
Mas strives to ensure that each wine reflects its unique sense of place. "All our wines are made with one objective, to give you a unique and authentic moment of pleasure when you taste them," says Mas. "Wine represents infinite generosity, and we cultivate that generosity."
The jewel of Luxe Rural is Côté Mas in Montagnac. Set among 150 hectares of vineyards, olive groves and truffle oaks beside the Domaine Paul Mas luxury resort, the destination restaurant is sure to intoxicate the senses.
A spacious, artful dining room allows for effortless conversation, while the outdoor terrace is caressed by Mediterranean breezes redolent of lavender, rosemary and sea air. Beyond, azure blue sea and sky hinge together along a burnished horizon rimmed by tiny fishing villages and wind-bowed pines.
Chef Alexandre Fontaine's gourmet tasting menu and à la carte choices showcase locally sourced fare, often organic. As guests of Jean-Claude Mas, we dined on freshly caught lobster accompanied by seasonal white and green asparagus grilled to perfection, with an ethereal emulsion prepared from the estate's own olive oil. For dessert, we savoured a selection of regional cheeses, decadent dark chocolate delight with Voatsiperifery pepper, and marvellous glacés maison accented by deconstructed apple crumble. Domaines Paul Mas wines amplify the meals, including scintillating Château Martinolles Blanquette de Limoux, 2017 Silenus syrah/grenache blend, and Côté Mas Crémant de Limoux brut rosé. A stunning Chateau Lauriga H'ors D'Age Rivesaltes Ambré closed the meal.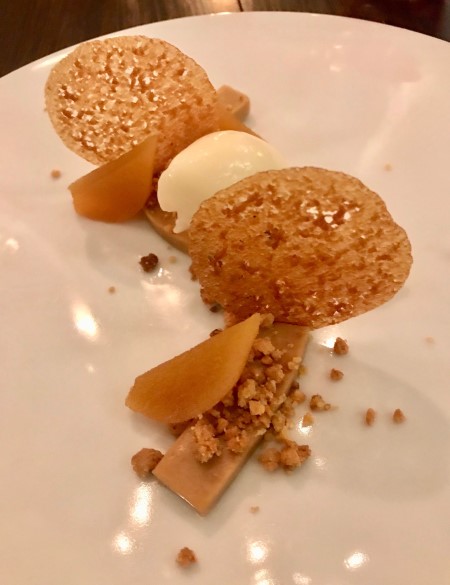 For overnight guests, morning brings a bountiful petit déjeuner served in the well-appointed luxury gîte kitchen. Across the gravel patio, Côté Mas Wine Bar also serves casual daily blackboard luncheon specials, leisurely nibbles, and cocktails poolside. Personalised experiences include horseback trekking and dressage at 'L'Olivier' Stables, vineyard viewing via buggy, and sommelier-curated cellar tastings.
Côté Mas, D5 Route de Villeveyrac 34530 Montagnac, France. Tel : +33 (0)4 67 24 36 10. Average à la carte €64. Five-course Sunday brunch €59. www.cote-mas.fr
---
About the author
Lyn Archer is a fine wine, food and lifestyle writer specialising in Burgundy, bubbles and emerging wine regions. Her works appear in numerous domestic and international publications, including France Today, Meininger Wine Business International, Wine Business Monthly and SevenFiftyDaily. You can find her @lmarcherml on Instagram/Twitter, and at www.lmarcher.com.