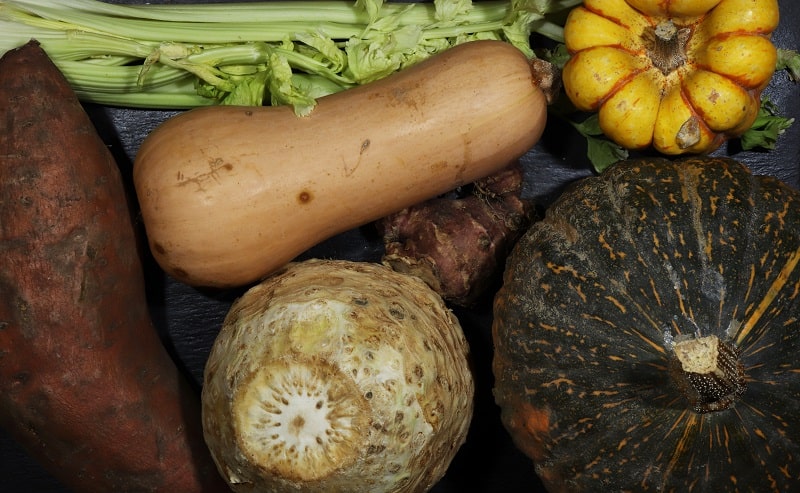 Each month, the French Department for Agriculture releases its list of what's in season in France – and October is all about colourful autumnal fruit and veg. If you're lucky enough to be in France right now, here's what to look out for at le marché. And if you're at home, why not recreate a taste of France chez vous? Bon app!
VEGETABLES
Celeriac is at its best right now – cut into chunks and roast it in olive oil, sea salt and black pepper with other root vegetables or purée it with a few drops of sesame oil.
It is, of course, mushroom season, with oyster mushrooms, shiitake and button mushrooms all coming into their own, though beware picking any yourself without the advice of an expert, as they can be deadly.
Pumpkins and squash are another welcome sight in autumn, with their lovely buttery, nutty flavour – and the chance to carve a pumpkin for Halloween, of course – although Halloween is not traditionally celebrated in France.
FRUIT
When choosing chestnuts, look out for the Red Label, which guarantees quality and freshness and if you get a chance, pick up some AOP Ardèche chestnuts or some AOP chestnut flour from Corsica, a speciality of the beautiful isle.
Among the autumn pears, there is the juicy Louise-Bonne, sweet Comice and the Beurré Hardy, perfect for eating as they come or try poaching them in wine spiced with cinnamon, vanilla and black peppercorns.
Different varieties of grape are also worth looking out for, such as the Muscat de Hambourg bleuté, l'Alphonse-Lavallé and the Chasselas de Moissac AOP, with its honeyed taste, or the deep purple Muscat du Ventoux AOP.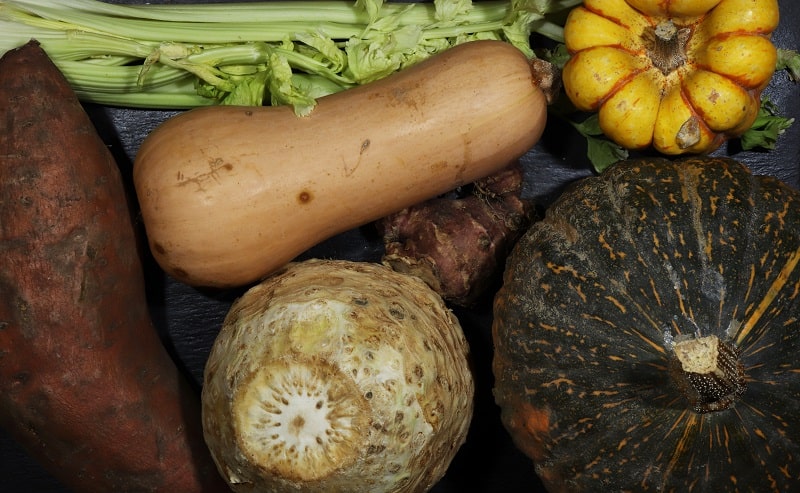 CHEESE
Fourme de Montbrison AOP, a cow's milk from the Massif Central, is pale orange and cylindrical in shape. During ripening, it is pricked once with long needles to develop a fine blue marbling.
Mont d´Or, or Vacherin du Haut-Doubs AOP, finishes its ripening in the spruce box in which it is sold. Made from Jura cow's milk, it can be baked in the oven and served with potatoes – the perfect way to warm the cockle's on a chilly autumn day.
Pouligny Saint-Pierre AOP is a goat's milk cheese from Centre-Val-de-Loire. Its pyramidal shape is a tribute to the bell tower in the eponymous village where it comes from in the Indre département. Its production area is the smallest of the French AOP cheeses nestled in the heart of the Brenne Regional Park, over a radius of 10km.
FISH
The rather curious sea bream, fished along the Mediterranean and Atlantic coasts, has the distinction of being born female and becoming male at the age of seven years. With its fine flesh, just grill it for a few minutes in a frying pan and serve with butter and lemon.
MEAT
Salted, cooked or smoked, let yourself be tempted by the large choice of pork-based cold cuts to accompany your Alsace IGP sauerkraut. Choose from an array of sausages, such as the 48-hour smoked Morteau IGP, the Montbéliard IGP with a finer grain of meat, the diot from Savoie, or the knack. Also add a few pieces of lean meat such as smoked pork tenderloin, or ham. Did you know… pork-based French charcuterie represented 36% of household meat purchases in France in 2019, according to FranceAgriMer?