Did you know that Armagnac is the oldest brandy in France, predating its cousin, Cognac, by about 150 years? Armagnac was being talked about as far back as 1310 when Prior Vital Dufour vaunted its 40 virtues in his book that now rests for prosperity in the Vatican library in Rome.
Maybe you also know that the inhabitants of the Armagnac region live longer than in any other part of France. But where is Armagnac and what is it?
The Armagnac region is to be found in the southwest corner of France and extends over the two regions of Occitanie and Nouvelle-Aquitaine and within those regions, it sits firmly in the département of the Gers with a reach into the Landes to the west and the Lot-et-Garonne in the north.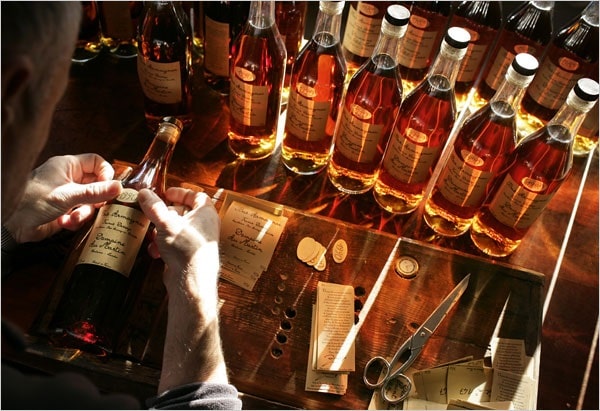 It is one of the world's oldest and rarest spirits and has been made in the traditional way for centuries. Off the beaten track, in the beautiful rolling hills of Gascony, there is no shortage of signs indicating the presence of Armagnac, perhaps a faded, wonky signpost leading up a rough track or a striking, professionally sign-written placard with insignia directing you to a swish, characterful property. This is one of its many charms and neither experience should be overlooked. Take that bumpy track with a few potholes and maybe you will discover some treasure; at the very least, you will be greeted with a firm handshake like a long-lost friend and welcomed with open arms. When you enter one of the dim olde-worlde cellars, you could be forgiven for thinking that you have stepped back in time. The cool, humid air inside is charged with the fabulous aromas of the Armagnac as it ages and the blackened walls bear testimony to this angel's share. Barrels piled high scribbled with vintages in white chalk and laced with cobwebs tell you that this is a sacred place where the alchemy of the oak and the eaux-de-vie patiently exchange notes and stories over many years, waiting for time to work its magic. This is the traditional face of Armagnac and one so passionately embraced and fiercely defended by the locals, young and old.
Although an important part of the local economy, first and foremost, Armagnac is a way of life here and it brings together many generations proud of their heritage. From great grandparents, grandparents, fathers and mothers, sons and daughters and even grandchildren, they are honest and simple guardians of their land and each one is imbibed with a sense of responsibility to safeguard their traditions.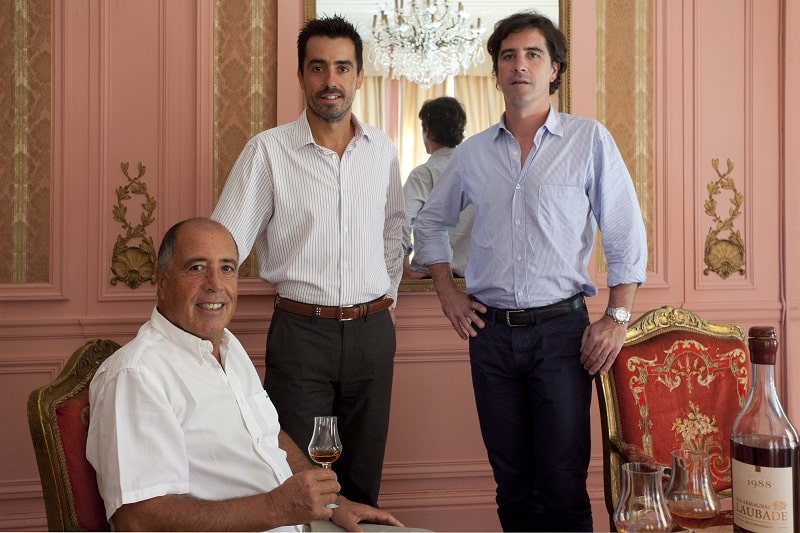 In 1936 Armagnac was bestowed AOC (Appellation d'Origine Contrôlée) status, the highest French certification for products with rigorous and clearly defined standards of quality. It can be made with up to 10 different grape varieties in any of the three defined regions of Bas Armagnac, Armagnac Ténarèze and Haut Armagnac that cover about 5,000 hectares of vines.
The four main varieties used for its production are Ugni Blanc, Baco (specific to Armagnac), Folle Blanche (the historic Armagnac grape) and Colombard, though it is also possible to find Armagnacs made from the other six lesser-known varieties.
Each grape variety has distinctive characteristics, for example, Folle Blanche gives an elegant, floral quality to an eau-de-vie, whereas Baco brings great structure and in contrast to the Folle Blanche that is sensitive and difficult to grow, it is a grape that grows easily, is resistant to disease giving an abundant crop with little chemical treatment. It also comes into its own during ageing bringing weight and big flavours the older it gets. Whereas in the past, producers probably put less emphasis on the individual grape variety, nowadays, the newer generations have recognised the significant role they all play in the diversity of the brandy, so it is possible to find single varietal Armagnacs ie. 100% Folle Blanche, 100% Baco, etc.
This is just one of the innovations that can be seen over recent years in the appellation, however, Armagnac is forever evolving as the younger generations join their grandparents and parents to ardently continue the tradition… naturally adding their own stamp.
Change is obviously to be embraced, not ignored and this new generation of Armagnac producers are leading an Armagnac evolution with great innovation and gusto. It must not be ignored also, that tastes change too. The world of international trade has granted the younger generation greater access to other fine spirits and internet allows them to play on the world stage that had never been an option for their elders. Isolated in a rural region of France, the older generation peacefully made their Armagnac with respect for age-old traditional methods, and they were content with that. There wasn't a particular desire or question of selling it to other countries; it was enjoyed locally and that was good enough for them.
The beauty of Armagnac is that there is a taste and a style for everyone. Grandpa may still enjoy his darker, oaky and quite dry Armagnac, whereas his son may prefer a younger and fruitier style with less influence of the wood. His daughter, however, may appreciate a floral Blanche Armagnac (white Armagnac) in a Martini.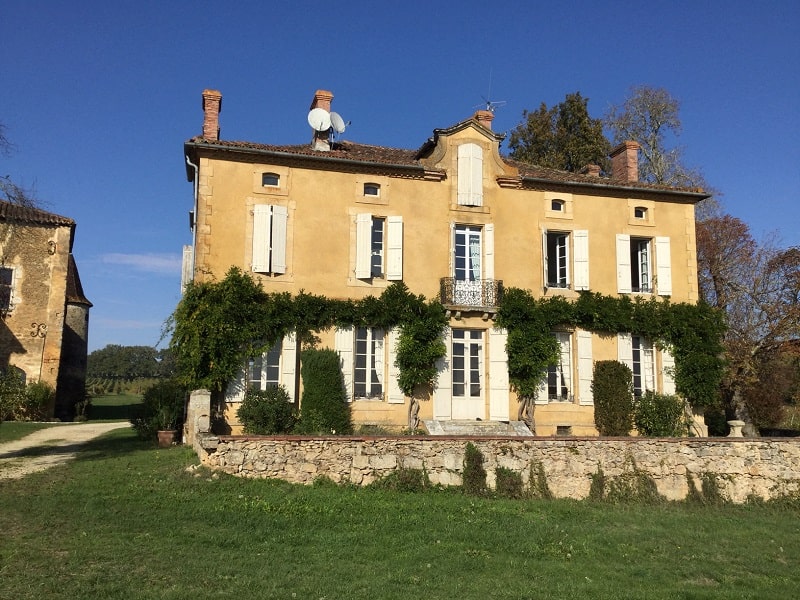 Now, if you are attracted to the polished sign on the roadside, you will be witness to the changing face of Armagnac and the innovations of the new generation. The welcome is still as genuine and heartfelt though the surroundings have a modern, fresher feel. Every mod con has been considered; purpose made tasting rooms with lines of gleaming glassware and spittoons, whilst shelves heave with beautiful bottles of different blends and vintages, young and old.
Knowledgeable staff, maybe family members, will be on hand to guide you through the maze of different styles available; it might even be possible to visit the cellars too and of course, it goes without saying that you can taste and learn about the very diverse variety available and discover what you prefer.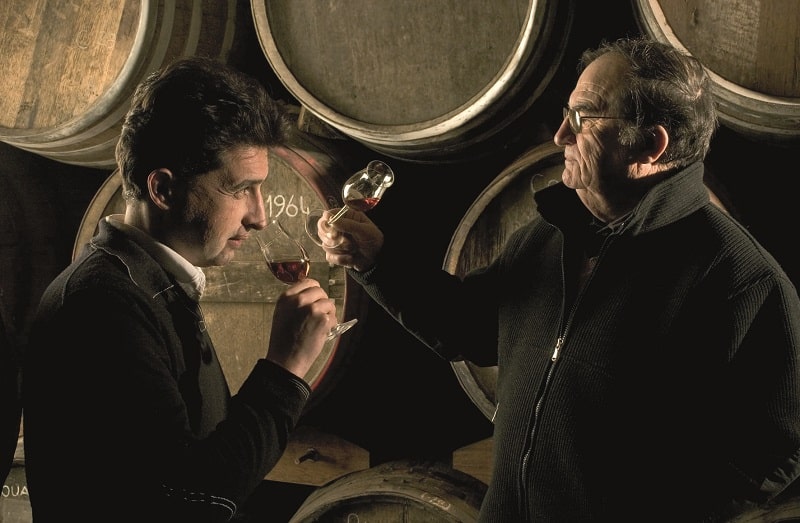 It's true that Armagnacs vary enormously depending on their age, the vintage year, the blend, the grapes used, the distillation, the oak used for the ageing, the type of cellars and not forgetting the people who have made them, who all give a part of their personality to their liquid gold offspring.
No matter what age you are, it is an enjoyable and educational adventure to embark on with a truly human aspect and a personal journey of discovery.
For more information click here.