Once snubbed by snooty chefs, the humble summer truffle is steadily winning over connoisseurs, says Patrice Bertrand
It is early morning on a hot June day in the heart of Provence, between Mont Ventoux and the Luberon. Truffle hunter Nicolas Monnier has just begun to caver (search for truffles) in the woods of green oaks with his dog, Baby, a Lagotto Romagnolo. The soil is dry, the ground stony and thick tufts of lavender and thyme perfume the air. Indifferent to this symphony of scents, Baby stops suddenly and begins to scratch the ground. His master pushes him aside gently and, using a pick, digs the stony soil repeatedly until he can extract the truffle.
The truffle he holds in his hands, along with roots and dirt, is not the famous black Périgord truffle, Tuber melanosporum – more commonly known as melano. It is its more modest cousin; what the older generation in Provence refers to as la maïenque. It also goes by other monikers, including May truffle and Tuber aestivum; but you may know it as la truffe d'été, the summer truffle.
"Usually, I harvest aestivum from June to August, melano from December to March," explains Nicolas. "In this area, you never find the two at the same time. Moreover, the hours for cavage (truffle harvesting) are strictly opposite. In winter I harvest when the soil has thawed: from noon to 2pm. And in summer, from 8am to 10am, before it gets too hot. The dog's behaviour is not the same. In winter, it is hunting season, the mountain is noisy, so it is more complicated and the animals are more active. In this respect, it is easier in summer, but there is the heat."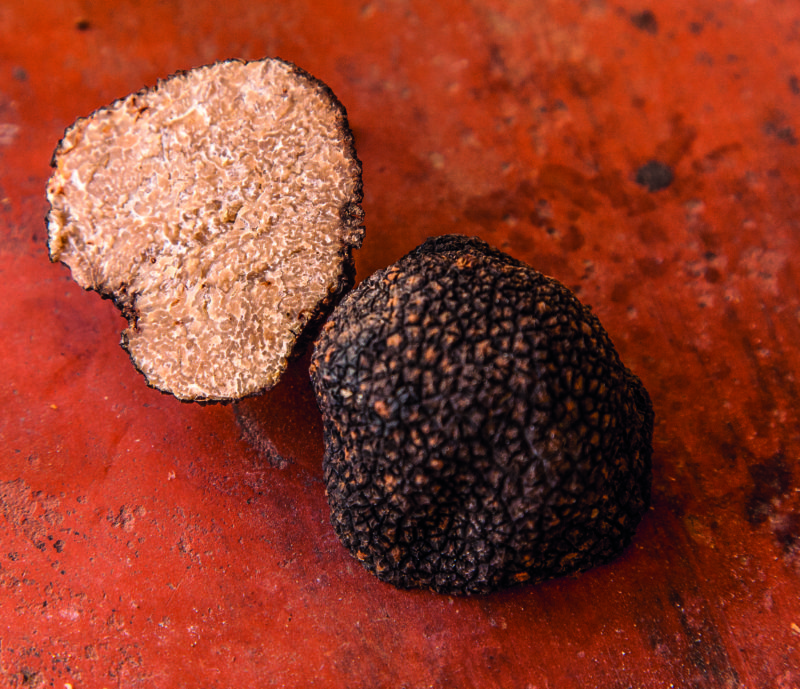 Once scorned – it was used to feed pigs or to train truffle dogs – the humble summer truffle is becoming more and more prevalent on the market stalls of Provence and on restaurant menus. Only last year, Theresa May and Emmanuel Macron dined on duck liver pâté with summer truffles at the Élysée. A few weeks ago, the city of Carpentras – where the winter truffle market, along with the market in Richerenches, is one of the most important in France – inaugurated its first summer truffle market. And it is steadily garnering a band of aficionados who rave about the truffle's subtle hazelnut flavour and attractive price (five times less on average than the black truffle). Also – a bonus for restaurants – its period of maturity coincides with the tourist season.
But this growing popularity does not generate unanimous interest in France. Many chefs remain attached to the prestige of the black truffle and prefer to use it frozen in summer rather than stoop to serving maïenque. Despite some in-roads, die-hard farmers still see the summer truffle as the superior black variety's poor relation, one used to seduce naïve and ill-informed customers.
"The entire world wishes there were only one truffle," adds Nicolas. "In the big winter truffle markets, you find both at the same time. It is complicated. Most people don't know that melanosporum is harvested in winter and that restaurants freeze it to serve in summer. Everything would be much simpler if melanosporum were served in winter and aestivum in summer. To each truffle its season."
First printed in our sister publication France Today