Taste of France's very own cheese expert Nick Bayne has taken the bronze medal in the Mondial du Fromage world cheesemonger championships.  
The competition, in Tours, saw 16 candidates from 13 countries show off their expertise in a bid to win the title. Candidates had to undergo nine theoretical, practical and artistic tests including a blind tasting of four AOP cheeses.
Here, Nick, from The Fine Cheese Co in Bath, tells us all about the competition and his career to date.
---
Questions asked in this article:
---
How did you go about entering the Mondial du Fromage?  
It's a fairly rigorous submission process! If I were competing for a country that holds a national competition – such as France, Japan, or the United States – winning that alone would be enough to qualify to some degree. But even though I won the American competition (The Cheesemonger Invitational) in 2015, I had to go through a more extensive process because I submitted to represent the United Kingdom. Aside from providing my CV and bio, I was required to submit a short treatise on the subject of The Soil as it relates to cheese, and a cheese plate of ten different cheeses, complete with both a picture of it and an argument for each choice. And this is after having competed twice before! 
Read Top 10 cheeses in the world 2023
How tough was the process and what were some of the tests you faced? 
Honestly? It is one of the most difficult seven hours I have ever faced, truly the Olympics of my profession. Every single one of the 16 competitors was completely spent by the end of the day. The moment we got back to the backstage lounge after completing all rounds, I found a quiet corner in another room and sobbed out of exhaustion and relief for a solid ten minutes.
The day begins with a 30-question written test, followed by a blind tasting requiring full cheese identification, then a challenge to provide two 250g cuts from two randomly selected cheeses, then a five minute oral presentation and tasting of a cheese of each competitor's choice (I used St James).
After that, the remaining rounds of competition are all onstage, under the hot lights and in front of the keen eyes of the audience. First we have to make a cheese plate for one person from five cheeses (none of us know in advance what these will be). Most competitors bring their own platters for this, and I constructed a display that made 'petals' out of five broken plates, to reflect the process of breaking open the cheese.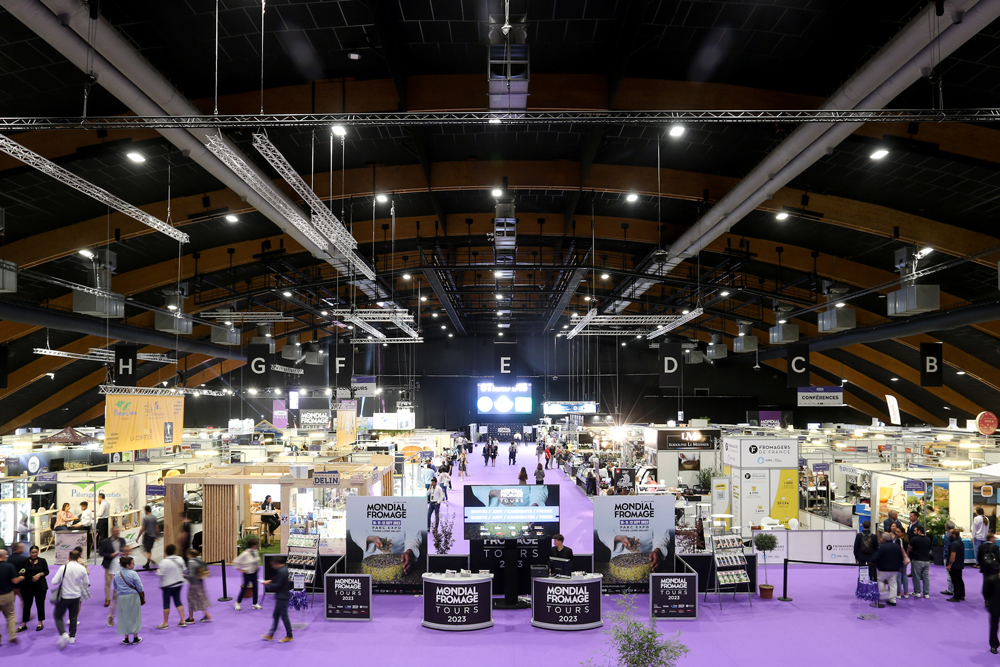 Next, there is a Combination of Flavours, which essentially an amuse bouche made of a cheese we have all been assigned months in advance. This year, the cheese was Tête de Moine, so I created a one-bite canape that demonstrates the cheese in three ways: a Tête de Moine, thyme, and pepper shortbread, gently covered with a pear, Chasselas, and mustard seed jam; then a classic Tête de Moine florette, with inlaid slivers of cherries pickled in tarragon vinegar; topped by a hat of Tête de Moine Frico.
Then we must make another amuse bouche, this time a 'Cold Preparation' that uses the preassigned cheese as an ingredient. Our challenge this year was Camembert de Normandie. I decided to deconstruct the festive Camembert au Calvados into a 'perfect bite', transporting familiar French flavours in an unconventional way. I pipped an emulsion of crème fraîche and Camembert into a spoon; atop this, I laid a toasted walnut brandy snap disc, which I used as a table for small cubes of an apple and Calvados jelly shot; these were capped by a wedge of rind from the Camembert, dusted with toasted walnut dust.
As if this weren't enough, we proceed to the signature round of the competition: the 'Grand Plateau'! Competitors are given one square metre in which to create a striking, large-scale cheese display, on a common theme. This year, we were given 'Cheese in Space' as our inspiration, and let me tell you: that is one hell of a difficult theme!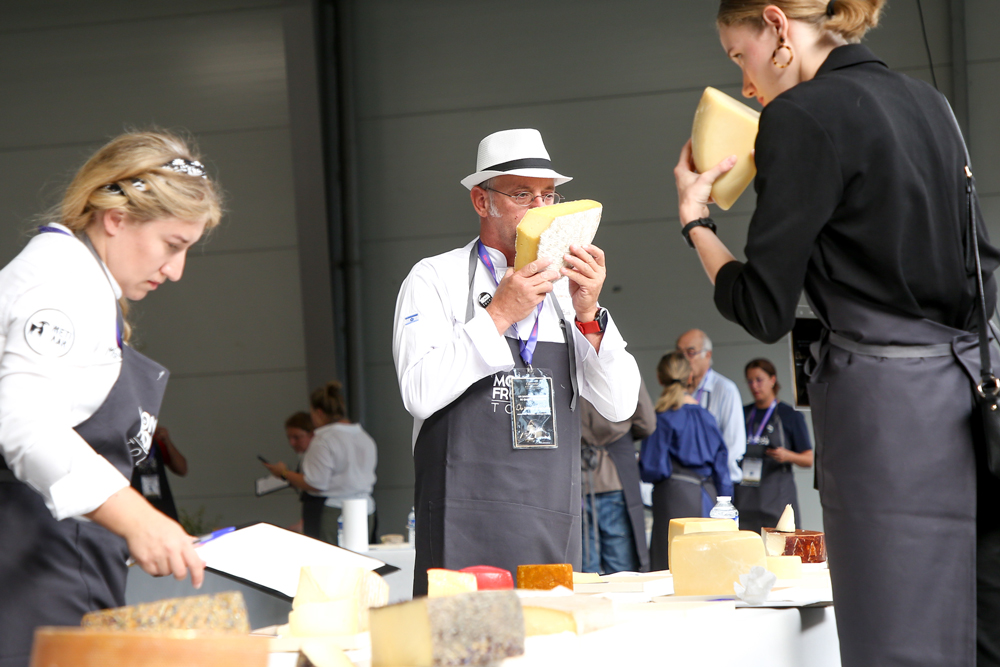 After months of creative block over this, I finally landed on the idea of creating a young astrophile's desk, with a display made of books full of astronomy, science fiction, star charts, and profiles of famous astronauts. It sounds completely mad (and when I plated a few cheeses directly on the books, a few of the judges may have agreed), but I have rarely been so proud of my own work. We are given a table's worth of several hundred cheeses to work from, and it is so easy to become overwhelmed by the sheer volume of them, especially under the anxieties of timed pressure, temperatures reaching well over 35C, and eyes from around the world watching. It is a true and brutal test of efficiency, creativity, and adaptability. I never compete without a headband on, because by this point I am running around and sweating like Rafael Nadal in a Grand Slam title match.
Last but certainly not least is the 'Cheese Sculpture', a skill of carving and display that is rarely used in the United Kingdom, and frankly one of my historical weak spots. I like to cut cheese for sale and cheeseboards, and most of all eat it! But this year, I came in with a solid and adaptable plan, capable of being utilised on any of the randomly assigned whole cheeses I would be given to used. So I created 'Excelsior', a sheep's milk tomme cut into a staircase, with miniature cheeses and a hungry little mouse both carved out of the other two cheeses, decorating its steps and top. If anyone thinks that any of that sounds easy, I can guarantee that they are deeply mistaken.
Was this the first time you've entered?  
No, I also proudly competed for the United Kingdom in 2019 and 2021. Each time I learned something new, which was invaluable. It is such an amazing chance not only to challenge myself, but to meet and befriend fellow cheesemongers at the top of their game from around the world! This year saw competitors from America, Australia, Belgium, Brazil, France, Israel, Italy, Japan, Peru, Russia, Spain, Ukraine, and of course the United Kingdom. So as much as it is a passionate competition, it is a friendly and enthusiastic international exchange of ideas.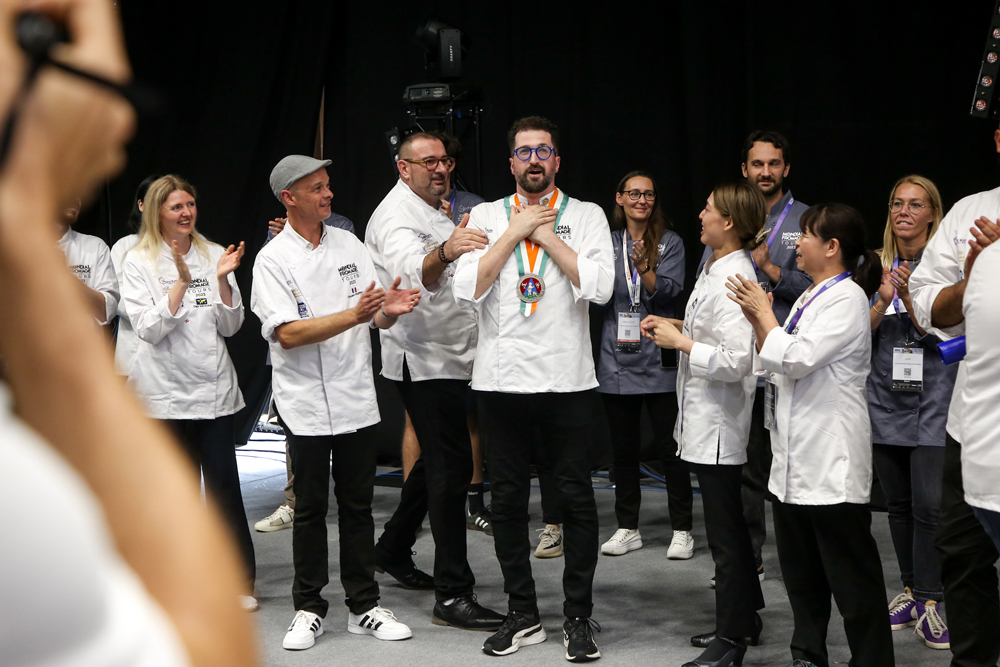 How did it feel to come in third place in the whole world?  
Amazing! Absolutely amazing. I dropped to my knees and let out an almighty yell. This was likely my last time competing, and making the podium after years of effort and a very difficult journey from London to Tours felt like the largest, most chaotic monkey jumped off my back. Just before the results were announced, I had been inducted into the Guilde Internationale des Fromagers, and I was still reeling from the honour. As I mentioned before, I was already quite emotional, and the waves of gratitude , shock, fulfilment, and utter relief bowled me over into a blubbering mess for a solid half hour. It makes me so proud to represent my adopted home country, and bringing a medal home was a thrill (and if someone would like to ask His Majesty King Charles about a knighthood, I'd be ever so grateful!).
What does this win mean for you professionally? 
You know, I'm still not 100% sure. It means I have a great deal of notoriety internationally, though I have to admit that the British seem a little less impressed. Nobody's even bought me a round, and I didn't make the papers outside of France and America! Quite seriously, though, it is hard to quantify. It is so gratifying to be recognised for my work, and I hope that this newfound title can parlay itself into some fun events. I just taught a Master Class on clothbound Somerset cheddars for the FORME event in Bergamo, and I love collaborating on pairings. I am already fairly known for my cheese Instagram, and gaining some recognition around the world never hurts.
Will you be competing again?  
It would take a lot for me to compete again. I always planned on this being my last time – it might begin to look a bit desperate if I went for it every year. Each time I've competed I've improved – from tenth place my first time, to fourth after being pipped at the finish, to third. I'd hate to backtrack. Most importantly, the United Kingdom is full of wonderful cheesemongers (some of whom have far plummier accents than my tainted American), and I think it's high time one of them took up the mantle. If the right person emerges, I will be more than happy to coach them.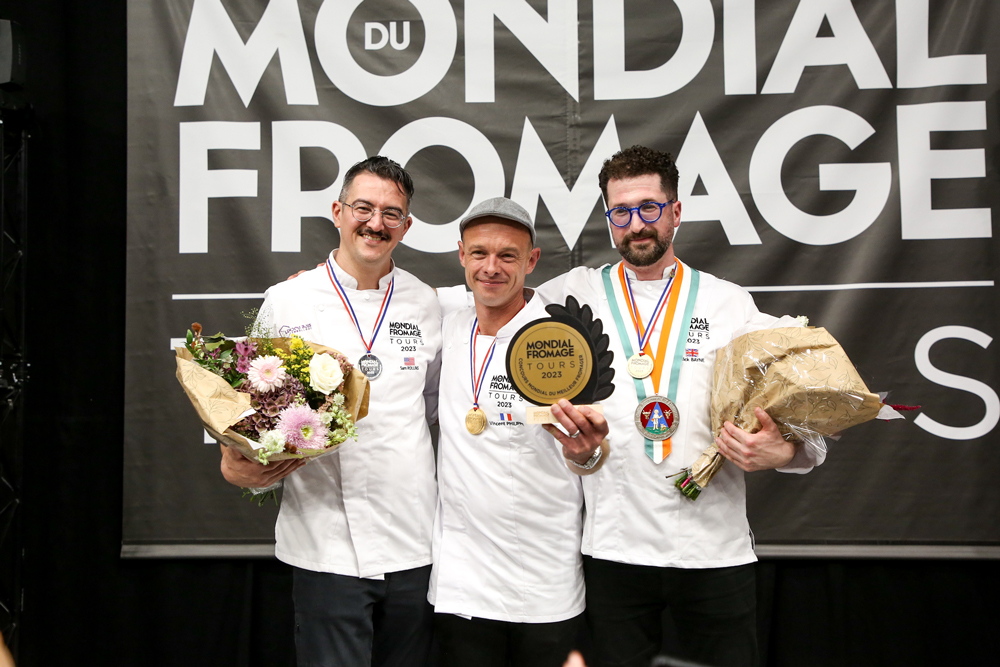 What's your earliest memory of cheese? 
Monterey Jack, as a toddler. According to my mom, by the time I was three I could tell the difference between my favoured brand and an attempt at a replacement.
How long have you worked with cheese? 
I have worked in specialty foods including cheese for the better part of 15 years (with some large breaks to gain an MA in Acting), but I have been cheese-exclusive for over ten years. My journey has taken me from San Francisco, to Manhattan, to Brooklyn, then London, and finally Bath.
Did you always know you'd do something like this?  
Sort of, but also not at all. I was really gunning for a theatre career, and have both an undergraduate and Master's Degree in that from prestigious programs. But I grew up in a family that embraced delicious food. My mom is a fantastic cook, and taught me so much that I still use to this day. I grew up in Seattle, a rainy port city with similar weather to the West Country and immediate access to stunning seafood and delicious produce. In the early 90s, my mom would take me and my sister to farmers' markets, before they were as popular in America as they are now. Even when theatre was my gig, I remained food-obsessed, and would have gone to culinary school were it not for making it into the Royal Scottish Academy of Music and Drama. The flavours and aromas of food unlock the most immediate and profound access to my long-term memory, so it is frankly no surprise that I eventually ended up in this wonderful career.
Did you have to do some kind of special training or did you learn on the job?  
So much of it has been on the job. I think that oral tradition is incredibly important to my profession. I interact with customers the way I do because of Rebekah James. I glass-wrap cheeses perfectly and have a wide product knowledge due to Charlotte Kamin. I manage staff they way I do from Aaron Foster's endless well of advice. That said, I have studied and read and gone down the deepest rabbit holes of cheese geekery on my own time, because I am obsessed. And I continue to learn through the Academy of Cheese, while teaching its Level 1 classes.
Can you tell us a bit about what your job entails? 
At present, I am what is called a cheese specialist for The Fine Cheese Co., which is an umbrella term for a lot of things. Primarily, I am in charge of selecting and procuring the artisan cheese from Europe that we import to the United Kingdom, and acting as the quality liaison between ourselves and the suppliers. I also provide training on all these cheeses to our staff and customers, advise on maturation and quality, teach Academy of Cheese Level 1 classes, and am the frequent cheesemonger on duty for export and wholesale trade shows. And, of course, I work at the Bath shop on Walcot Street on Saturdays, because I absolutely love being behind the counter. 
Do you have to travel and meet producers/taste new cheeses a lot? 
A decent amount! My work has taken me to America, France, and Italy in the last year, with Belgium coming up soon. There is always some Spain and Switzerland thrown in there, too. I am requesting samples constantly to offer the most exciting, tasty treats I can find to the ravenous British public, so yes: there is a lot of cheese in my life, and I still love every bite!
What are your favourite French cheeses and why? 
Favourites are hard for me! Cheese is such a seasonal product, and every batch of something artisan can be different. Remember that all cheese may have the same four ingredients (milk, starter cultures, coagulant, and salt), but artisanal cheeses will also have the ingredients of the cheesemakers themselves, plus the weather and the season. Generally, I'm partial to the mountains, be they the Pyrenees, Jura, or Alps. Find me a cheese from the high pastures, and you'll make me a happy man.
Read Savouring cheese from the mountains of Savoie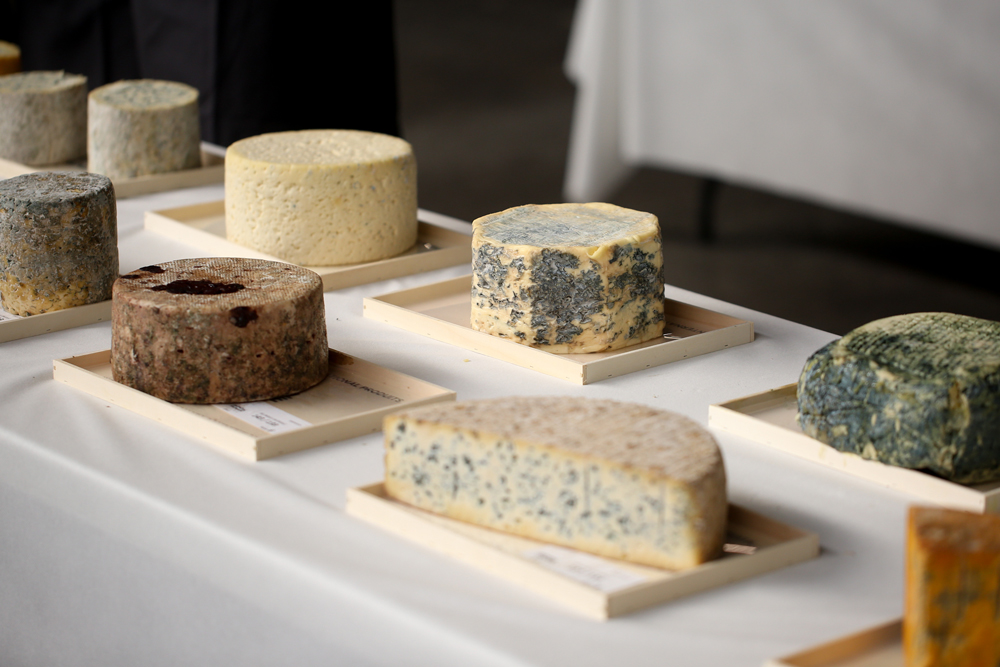 What's the rarest/most incredible cheese you've tasted to date? 
The rarest is either a camel milk cheese from Kazakhstan, a Gamonéu del Puerto from Asturias, an Alpe Loch from Austria, Surost from Norway, or the now-extinct Hebden Goat from Yorkshire. The most incredible? Let's just say there is a solid Top 25 that I will remember for the rest of my life. 
Is there any cheese you want to try but haven't had a chance to yet? 
Absolutely, and plenty at that. Some rare and ancient things from the Caucasus mountains are high up there, as are some interesting cheeses from Brazil and – quite unfortunately – Casu Marzu from Sardinia.
What's your ideal cheeseboard?  
Five cheeses. One bloomy or geotrichum-ripened soft cheese, a washed rind soft cheese, a semi-firm sheep's milk cheese, an extra mature hard cheese, and a complex and robust yet decadent blue. I believe not only in balance, but in building a crescendo from start to finish.
What do you like to serve with cheese in terms of pickles/fruits/breads?  
My pairings tend to be on the savoury side of life, so although there may be a bit of a jam, chutney, or honey, my cheeseboards are always sure to feature pickles, mustard, spring onions, and fresh herbal elements. I love when acid contrasts with fat, or when herbs elevate a cheese. Sweet things take delicacy, so I am very careful not to overwhelm a cheese that is low on salt. As for the carbs, I'm a committed crusty bread kind of guy. But I do love a cracker, and luckily work for a company that has specialised in crackers meant to pair with cheese. Something with a slight bready flavour, maybe made of a whole grain, or sourdough, or with olive oil and salt is my kind of thing, with some good crunch body.
Fondue or raclette? 
Both. Using the best cheese I can find (nothing is too precious). Fill a bathtub with either, and I'll jump in. And if you are making fondue, be sure to add a dash of kirsch or brandy at the end. It will take your melty pot of sumptuous goo to soaring heights!
What's your favourite cooked cheese recipe? 
My go-to is actually a variation on Ina Garten's cheese cracker recipe, which I bake for parties. It's a shortbread shoved full of Gruyère, thyme, rosemary, black pepper, and the tiniest touch of chilli flakes.
---
Related recipes:
---
How can ordinary people go about learning more about the different cheeses available? 
Take an Academy of Cheese course with me (or any of the online courses available!). Head to your local cheese shop and try something new every time, even if you don't buy it – a good cheesemonger will always be happy to let you try before you buy. And if there is no cheesemonger near you, sing up for a program like The Fine Cheese Co.'s cheese subscription, where we will send you a selection of different cheeses every month.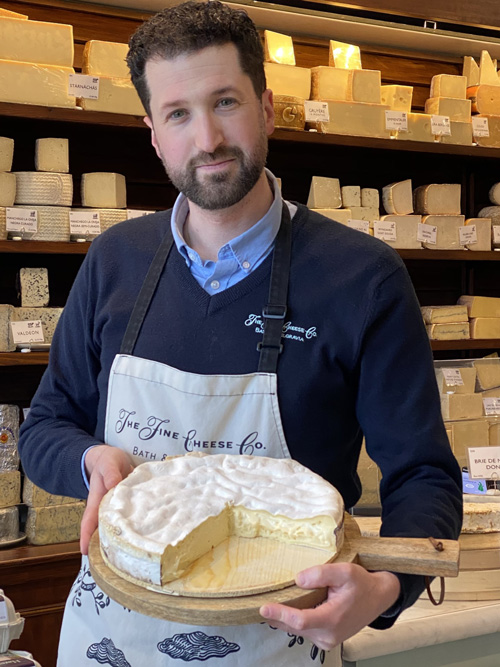 Nick Bayne is a cheese specialist for The Fine Cheese Co., 2015 Champion of the Cheesemonger Invitational, and two-time competitor in the Concours Mondial de Meilleur Fromager. He is responsible for sourcing and selecting artisan European cheeses to bring to the United Kingdom
---
Latest posts: