The enigmatic and elegant town of Beaune in the eastern France department of Côte d'Or is often described as the wine capital of Burgundy. A small, historic town, it is brimming over with many of the most renowned Burgundian producers – Patriarche Père et Fils, Maison Louis Jadot, Bouchard, Maison Joseph Drouhin, to name but a few.
Famed the world over for its wines and the Hospices de Beaune wine auction (the most prestigious wine auction in the world, taking place each November – 2022 broke all previous records!), charismatic Beaune is surrounded by equally famous vineyards, bringing a knowing smile and a twinkle in the eye to all lovers of great wines. Meursault, Pommard, Puligny-Montrachet and Santenay are all within a few kilometres of the town centre.
---
Related articles:
---
Without question, this is a place of pilgrimage for aficionados of Burgundy where they can 'live' the wine amongst the producers, villages and vineyards which occupy such a special place. Wine tourism, a sector which is currently experiencing exceptional growth, is gaining pace in Burgundy with a number of producers not only creating superlative wines, but also creating innovative and attractive wine tour centres within their own production facilities.
Maison Evenstad, in the centre of the tiny village of Santenay, opened a fabulous wine tour centre in September 2022, including the extensive 19th-century vaulted cellars on two floors and an unusual tasting room. Through thoughtful architectural design, a high-level gallery and walkway encircles the interior of the winery, allowing visitors to see the winemaking process first-hand – without getting under the feet of the winemakers!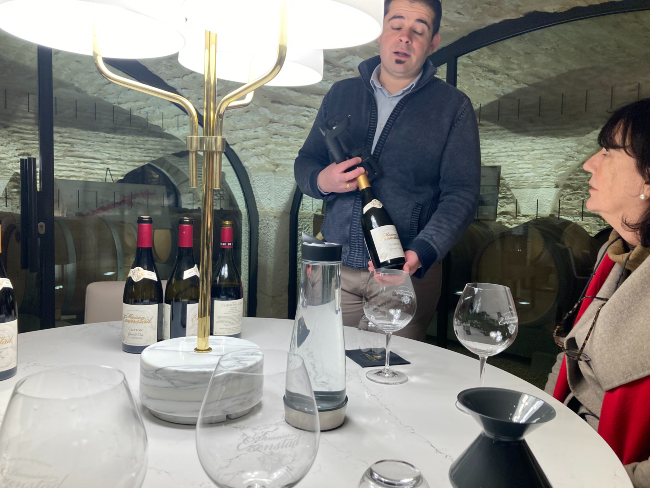 Most producers ban visits during harvest and winemaking, both for Health and Safety reasons as well as their need to concentrate on the task at hand. Yet here, visitors are actively encouraged to come and see the wines being made, due to the genius idea of keeping visitors and winemakers apart. There is also a tasting room in the eaves. All carefully planned by the American owners from Oregon, Grace and Ken Evenstad, who also own the adjacent and equally prestigious Château de la Crée.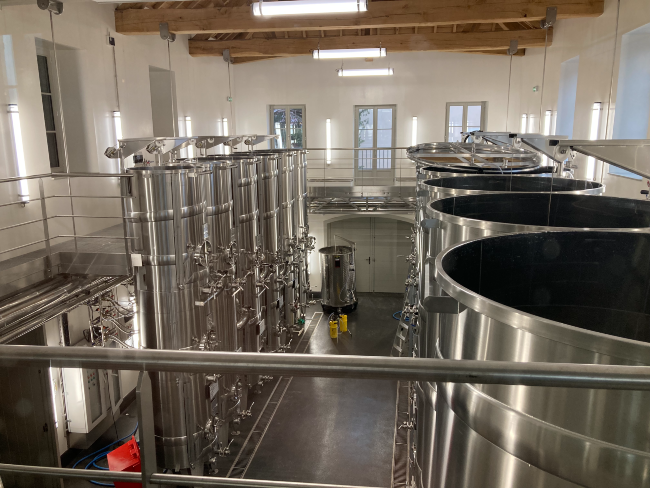 As would be expected, visitors have the chance of a tasting at Domaine Evenstad, which produces wines from appellations such as Santenay, Aloxe-Corton and Puligny-Montrachet.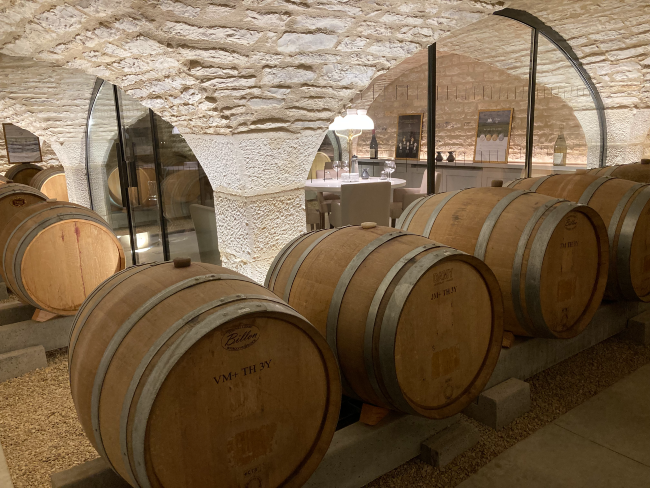 Equally charming is Château de Saint-Aubin, which not only produces top quality wine but provides accommodation in the form of four luxurious bedrooms within the recently refurbished château itself, overlooking the vineyards. Tastefully furnished with antique furniture in-keeping with the building, the rooms are an oasis of peace amongst the vines. Guests have the use of specially adapted electric bicycles, complete with wine hamper if required, for a leisurely ride through the surrounding vineyards and villages.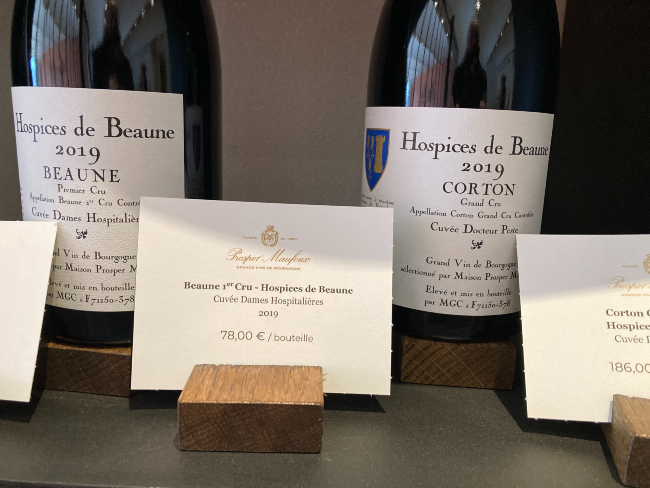 A gourmet restaurant serves delicious local cuisine, together with a wide range of Burgundy wines from the château. Visitors are taken on a guided tour of the exceptional cellars and barrel stores cut into the rock, with surprises around every corner. Château Saint-Aubin is home to the traditional yet forward-looking Burgundy Wine House of Prosper Maufoux, which was founded in 1860 and owns vineyard estates in several parts of the Burgundy wine region.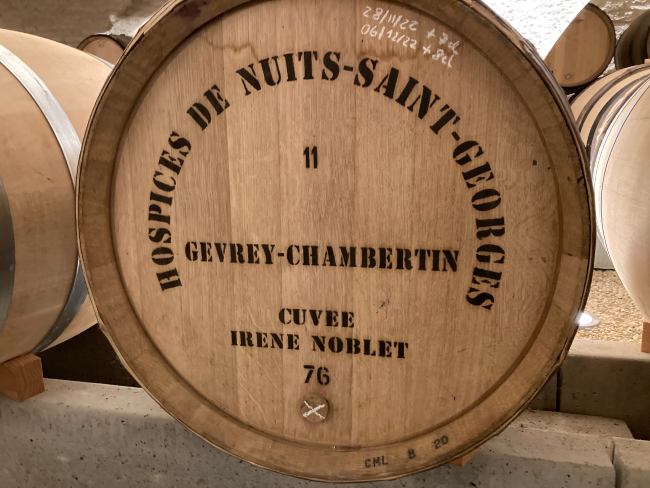 Situated in the heart of the Côte de Beaune, Prosper Maufoux is fully committed to sustainable viticulture with a resolutely modern approach to both its winemaking and its hospitality. Unusually for Burgundy the Clos du Château de Saint-Aubin is located directly next to the historic château, with different parcels of vines, some over 40 years old and designated as Premier Cru. A range of different wine tourism experiences are offered, from cellar visits and tastings to electric bike rides through the vineyards.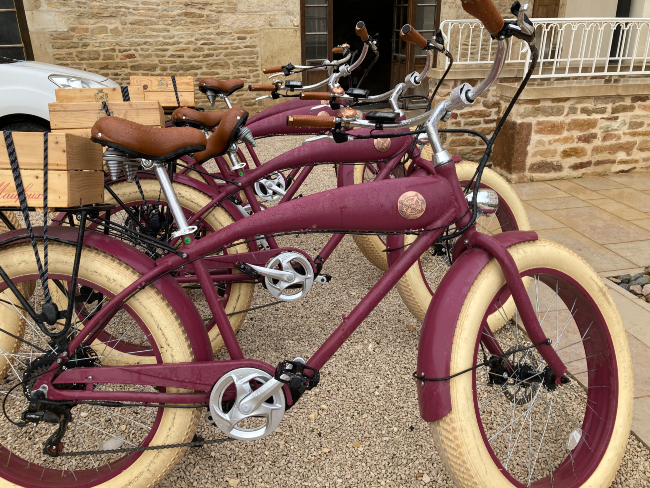 For those preferring to stay more centrally in Beaune, there is no better base from which to explore the region than the 5-star Hostellerie Cèdre & Spa, a stone's throw from the famous Hospices. Refinement, elegance and charm pervade the establishment, yet with a cosy lounge bar with comfy sofas and armchairs to snuggle into in front of a crackling open log fire. Forty bespoke rooms and suites, together with a gourmet restaurant, provide a luxurious and relaxing environment, perfectly positioned for exciting ventures into a wine lover's paradise.
The gourmet restaurant Clos du Cèdre, with its elegant panelling and shiny parquet floors, is located in a former wine-grower's mansion next to the Hostellerie. Chef Jordan Billan was recently awarded a Michelin star in recognition of his innovative and fragrant cuisine, inspired and sourced from local Burgundian producers. As it was –2°C when I visited in December, we appreciated the beautifully classical – and warm – interior. In warmer months, meals are served on the terrace in a romantic, leafy garden setting.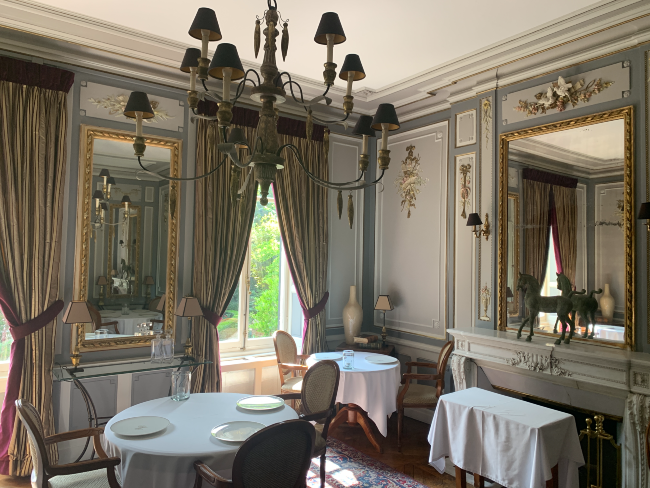 ---
About the author
Richard Esling BSc DipWSET is an experienced wine journalist, writer, educator and consultant. With experience in the wines and spirits industry spanning several decades, he is a member of the prestigious Circle of Wine Writers and an International Wine Judge. www.winewyse.com   Twitter @richardwje
---