Most of us have experienced the immense pleasure that a post-prandial snifter of Armagnac can deliver, but what about its usage in the preceding dishes themselves?
Celebrated British chef James Martin recently uncorked a bottle of the Baron's own Sigognac 1972 vintage on TV to make a French tart of Armagnac and prunes – delicious! Baronial pride for this televised event notwithstanding, more and more international chefs are employing this enchanting elixir in their culinary creations, thanks to Armagnac's immense adaptability and wealth of flavour profiles; qualities which make it the perfect partner, not just for professional preparations but equally in the domestic kitchen.
Armagnacs enjoy a veritable patchwork of colours, going from crystal-clear to straw yellow, gold, tobacco tans, rich reds, chocolate, chestnut and deep, warming mahoganies. The flavour profiles are correspondingly kaleidoscopic, with an aromatic palette measured at 100+ flavours, the predominant ones being flowers, dried and fresh fruits, citrus, spice, oak, caramel, vanilla and chocolate. It is these, coupled with additional sensorial qualities of freshness, smoothness, depth, roundness and length, that see Armagnac increasingly 'good-glugged' into multitudinous recipes, happily replacing whisky, cognac, rum and even botanical gins.
Read more from The Baron's Blog series here.
Armagnac in classical French cooking
Classical French cooking had kept Armagnac a closely guarded secret for hundreds of years but, those of you who have already travelled to France, will surely have experienced the pleasures of Gascony Gold-influenced gastronomy. Cakes, tarts, crêpes, marinated and flambéed meats, stuffings, pâtés, sauces (both sweet and savoury) and seafoods have ever been improved by a generous splash of Armagnac in French eateries; be they fine-dining, rustic or truck-stops. It's in their blood, quite literally!
Virtually all Gallic recipes employing eau-de-vie translate easily to Anglo-cuisine styles (for foie-gras read terrine, etc.), add New World culinary influences to this and the potential ingredients list, with its associated cookery methodologies, doubles in volume like a bowl of just-whipped cream (which is also partial to a drop of amber nectar). A simple cocktail sauce peps up your prawns when enhanced with a good shot of Armagnac, lobster thermidor provides the more decadent version, equally benefiting from a dram in the buttered shallots. Griddled scallops, flat fish and salmon are just divine when brushed with an Armagnac vinaigrette. Summer soups, home-made pâtés and terrines and even Beef Wellington all receive the je ne sais quoi treatment with a Gascony glug, while chicken, partridge, indeed, all game birds, experience vertical take-off when liberally doused, flambéed, and/or stuffed, with Armagnac.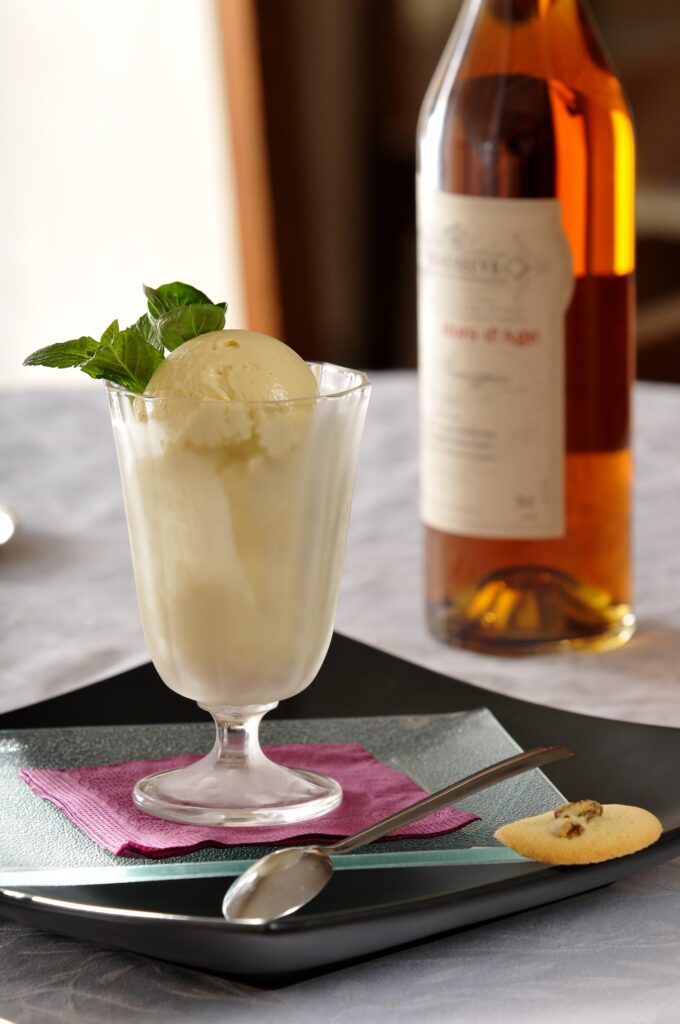 Armagnac in marinades
And then there's the vast potential offered by marination! The Baron has not yet come across any marinade which does not pack a perfected punch when embellished with a measure of Armagnac; it integrates harmoniously into both vegetarian and meat-based recipes alike.
Armagnac in desserts
The dessert end of the meal is equally open to drizzles and glugs aplenty: sweet batters, such as pancakes and cakes, apple tarts, creams, ice creams and parfaits, flans, panna cottas, rice puddings and even tiramisu, take on rich, characterful depth, as do the fruits soaking in readiness for those seasonal puddings and Christmas cakes.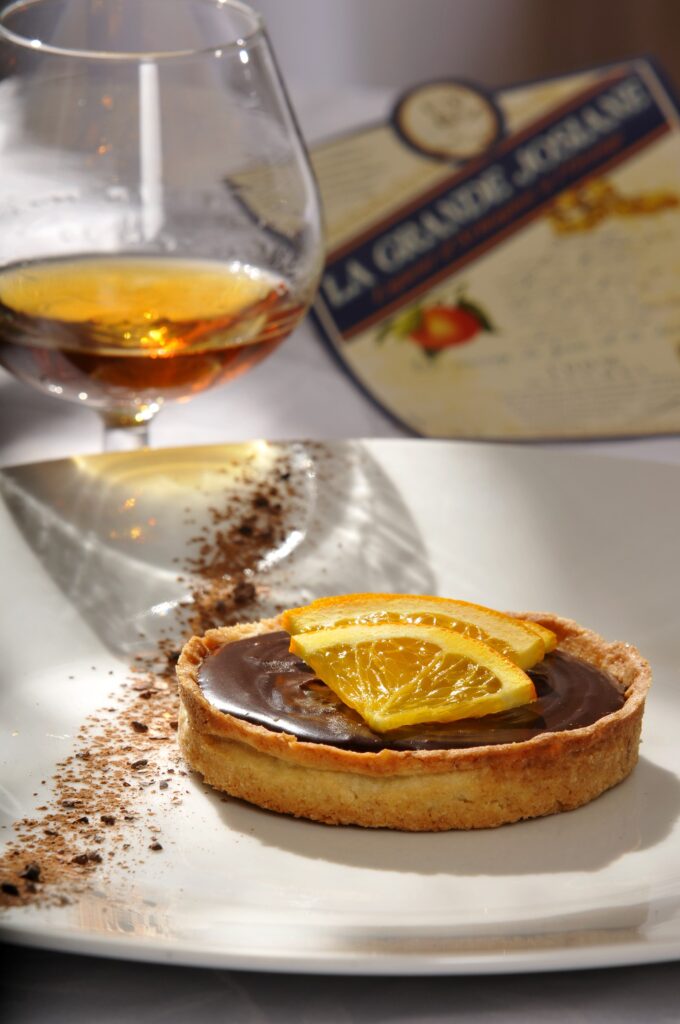 Chocolate and Armagnac pairing
And then there is chocolate – all chocolate, without exception! If you need convincing, just nibble a square of your favourite brand with a sip of Château de Bordeneuve (coffee optional), sit back, close your eyes and ride that train to Flavour Town! The Baron has a particular penchant for a chocolate-walnut tart made with his own La Grande Josiane: sweet crust pastry, meltingly rich chocolate filling and Armagnac with bitter-sweet orange, just waiting to tantalise your tastebuds.
Cheese and Armagnac pairing
As for cheese: strong, mild, blue, creamy, crumbly, goat, sheep, cow or buffalo, on a board, with a cracker and a decent measure of Gascony Gold. Sublimely simple done properly!
Hungry for more? Just drop a mail to the Baron's inbox and he will happily share some signature Sigognac recipes to try chez vous – bon appétit!
---
Please note: we may earn commissions from tours booked through links on our site.
---
Latest posts: