A lot of love goes into the making of this multi award-winning Calvados AOC Pays d'Auge – which is why we know you'll love it too!
It is made through double distillation in a traditional copper still. First, apples are pressed and the juice is fermented for 12 months in 100-year-old oak barrels, producing cider, which is then distilled to get what is called the 'petites eaux' (little waters) which are between 30% and 35% proof. Then those 'petites eaux' are distilled again, leaving a 70% proof Calvados, which is then aged in separate oak barrels for a minimum of eight years.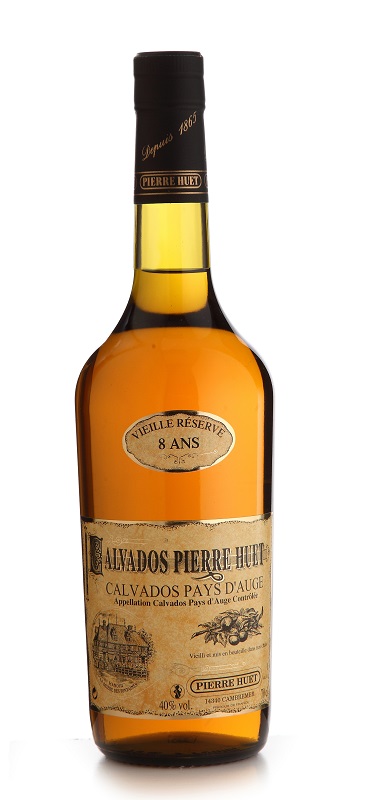 TASTING NOTES
Fresh and floral, it initial notes are of burnt apple, followed by more persistent notes of fresh green apple. On the palate, it is mineral, slightly peppery and minty with a finish of salted butter caramel.
THE ESTATE
Located on the Cider Route in the heart of Normandy's Pays d'Auge, the family-owned estate makes Calvados, Pommeau de Normandie and Cider from more than 25 varieties of apples grown in 30 hectares of orchards. Pierre Huet produces four out of the six AOC cider products of Normandy – Calvados Pays d'Auge, Calvados, Pommeau de Normandie and Cider Pays d'Auge – winning worldwide recognition for their skilful blends. They also make products such as cider vinegar and apple juice.
The family has been at the estate for over 100 years and has seen five generations of producers working the land. As well as being steeped in a rich tradition, it is also at the centre of innovation, particularly when it comes to environmental concerns. Pierre Huet uses a unique method of heating, by using woodchips produced on the estate, instead of the traditional oil previously used. It's both more economical and more ecological. The still has also been modified to make direct use of the hot water produced by the cooler, which can heat the premises during winter.
ENTER FOR YOUR CHANCE TO WIN
Sorry, this competition has now closed. Thank you for your interest. Keep up to date with all our latest competitions by following this link.
Terms & Conditions
Employees (and their relatives) of France Media Group are not eligible to enter. The judge's decision is final and no correspondence will be entered into. The competition closes on January 1st 2021. Once contacted, winners have one week to claim their prize. In the event that a prize cannot be supplied, no liability will attach to France Media Group. UK entrants only.