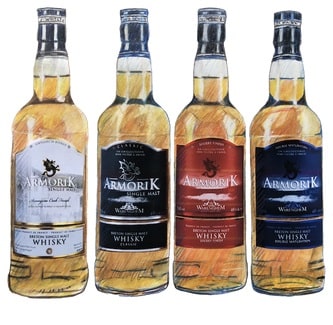 Known the world over for their fines wines, Cognacs and Armagnacs, we don't tend to associate the French with whisky. So when Peter Cullingford was offered the chance to try a single malt distilled in Brittany, naturally he jumped at the chance…
It's 22 years since Gilles Leizour set about creating France's first single malt whisky, Armorik, but the Warenghem distillery where it is made, in Lannion, Brittany, has a long and illustrious past stretching back more than a century.
In 1900, Leon Warenghem founded the distillery and created his first product, the Elixir d'Armorique, a distillate of 35 plants which went on to win awards at various international exhibitions. Since then, the distillery has created a small range of unusual fruit and plant-based liqueurs, honey liqueurs, apple brandy, beers and whiskies.
In 1967, Leon's grandson Paul-Henry and his business partner, Yves Leizour, moved the operation from the town centre to the outskirts of Lannion to be closer to the Rest Avel natural spring.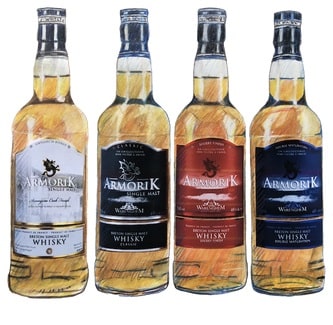 It was Yves' son, Gilles, who carried on the distillery's innovative spirit by creating a blended whisky in 1987 before producing the single malt in 1998. To this day, Armorik remains the most renowned double distilled whisky in France.
Continuing to keep it in the family, today Warenghem is overseen by Gilles' son-in-law, David Roussier. Innovation remains at the heart of the business, with the recent release of the first single malt whisky finished in Armagnac casks (from the oldest Armagnac house, Dartigalongue), which is currently only available on the US market.
Armorik is made from 100% French malted barley, which grows in granitic soil less than six miles from the sea, so the air is extremely iodised. Humidity levels are pretty similar to those of the Scottish Highlands, and the weather is renowned for being rainy and windy too! The double distillation takes place in traditional copper stills.
So what does a French malt whisky taste like…?
ARMORIK CLASSIC
The result of a unique ageing method, using a majority of refill bourbon casks made of American white oak and some refill sherry butts made of Spanish oak.
Awards
Finalist, 94 points, Excellent / Highly Recommended (Ultimate Spirits Challenge)
Gold Medal (San Francisco Spirits Competition, 2014)
Gold Medal (International Review of Spirits BTI Chicago)
Peter's Tasting Notes
Smell: Initial scents of vanilla with a subtle woodiness in the background.
Taste: Lots of vanilla backed by a lovely fruity taste and a smoky finish.
Overall: Smooth and enjoyable to drink.
Armorik Sherry Finish
Mostly aged in refill bourbon casks and then finished in refill sherry butts for about eight months.
Awards
Gold Medal (San Francisco Spirits Competition, 2017)
94 points / Chairman's Trophy (Ultimate Spirits Challenge, 2015)
Peter's Tasting Notes
Smell: Full of body and splashes of red wine, with a peppery touch.
Taste: Apples and rich chocolate whilst retaining the sweetness of the sherry.
Overall: Beautifully complex and rounded, this was my personal favourite of the three I tried.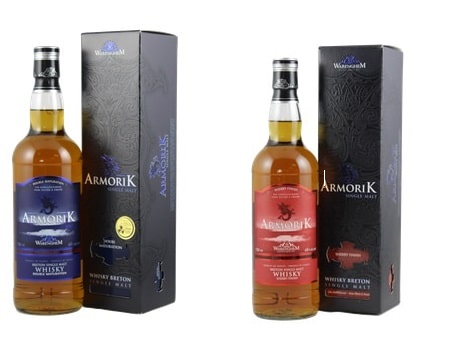 Armorik Double Maturation:
Aged in Breton oak from the forest of Armorik for about five years and then Oloroso Xeres sherry casks for about two years.
Awards
#6 – Top 20 Whiskies of 2018 (Whisky Advocate)
Best in Show – Other Whisky category (San Francisco Spirits Competition 2014)
Double Gold (San Francisco Spirits Competition 2014)
Best European Single Malt (World Whiskies Awards 2013)
90 points / Excellent / Highly Recommended (Ultimate Spirit Challenge 2013)
Peter's Tasting Notes
Smell: Light hints of sweet buttery caramel, with touches of flowers and earthy notes.
Taste: Not as layered as the nose, instead a subtle and lovely perfumed flower touch, with a slight buttery touch.
Overall: Wonderfully complex and worth savouring.
You can view more of the Armorik range and buy them at Heavenly Spirits.