A glug of wine or dash of liqueur can zhuzh up just about any French dish, says Justin Postlethwaite
Across France, tipples from cider and crème de cassis to brandy have long been used to add flavour – and that little je ne sais quoi – to plats mijotés and slow-cooked stews. Meat (cheaper cuts work well) and wine meld together joyously in such winter-warmers as coq au vin and boeuf bourguignon; while a simple red-wine reduction is a classic accompaniment to steak.
Up north, in Ch'ti country (Nord-Pas de Calais), the cold months are met head-on by unctuous, beery meat dishes en cocotte, such as carbonnade flamande, served up in cosy eateries called estaminets. Meanwhile, on the balmy Île de Beauté, Corsicans can't get enough of civet de sanglier, a moreish wild boar stew.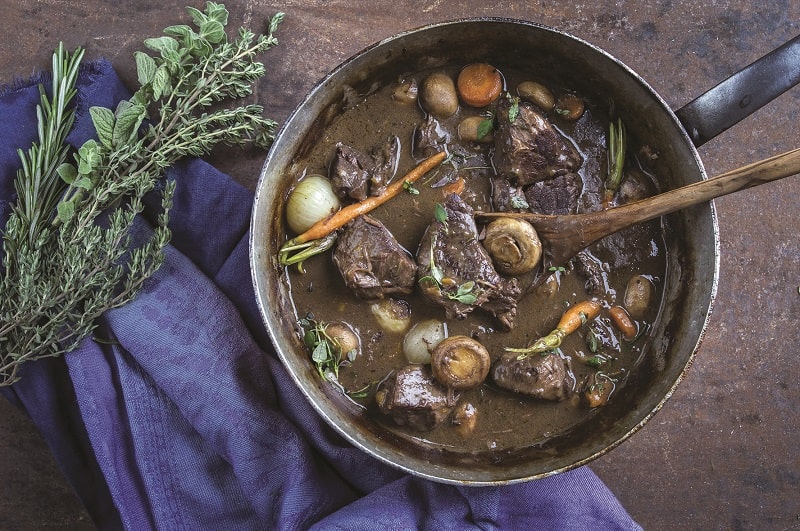 When cooking with wine, use whatever quality your budget allows, but try to avoid both the cheapest and the priciest. The exception to this sacrosanct rule, of course (and the peak of French fanciness!), is champagne, which is occasionally called upon to whip up light sauces for more delicate, noble seafoods like daurade (gilt-head bream), turbot, lobster or scallops.
Boozy apple derivatives, like cider and Calvados, provide punchy base flavours and work a treat for deglazing the pan in a wide array of recipes – such as savoury Normandy classics sauté de porc au cidre and the creamy poulet à la Normande. The fiery brandy stands up to stronger meats and game as well – chief among them pigeon and veal's liver, which are often rustled up with apples.
Armagnac jazzes up any stew, provided you're not too heavy-handed – you only need the merest of splashes. This Gascon eau de vie is also added to the prized prune clafoutis pudding for a sweet boozy kick. As for its cousin, Cognac, it lends a wonderful depth of saveur to sauté de veau.
Lighter staples benefit from a dash of booze too. A healthy glug of vin blanc in your cocotte will transform your moules marinière. And no gooey Alpine fondue is complete without a glass or two of Savoyard white. Dishes such as poulet à l'estragon (chicken tarragon) benefit from a trickle of white wine to deglaze the pot before stirring in a generous dollop of cream to finish.