Synonymous with fine wines and the gateway to six celebrated wine regions including Saint-Émilion and the Médoc, Bordeaux, an elegant city on the banks of the Garonne looks good from every level. Stroll along the quaysides; view the city's parks, squares and grand buildings from a roošop bar or terrace; and watch the changing reflections in the stunning Miroir d'Eau, the world's largest water mirror.
Read Top 10 Things to Do in Bordeaux
Renowned for its art de vivre and pleasant climate, 'the city of 1,000 restaurants' is dotted with pretty pedestrianised streets and charming squares where café terraces buzz with locals enjoying the serious business of relaxation.
Don't miss the multi-sensory Cité du Vin for an insight into the global wine industry, as well as three places to eat and a boutique selling wine accessories, gourmet food, gišs and a whole lot more.
Unmissable local dishes and produce in Bordeaux
Canelé: soft inside with a caramelised golden-brown crust, these iconic little cakes are flavoured with vanilla and a dash of rum.
Bordeaux macaron: produced in a wide variety of flavours,
these bite-sized cakes are made in various French cities but are particularly popular here.
Bordeaux wine: spread over 110,000 hectares, the largest and oldest region in the world of fine wines is home to 65 appellations and 7,000 winemakers.
Entrecôte à la Bordelaise: steak cooked in a rich gravy of Bordeaux wine, shallots and herbs.
Lamprey à la Bordelaise: eel-like fish caught in the Gironde estuary and stewed in a classic Bordelaise sauce.
Read Where to Stay and Eat in Bordeaux Wine Country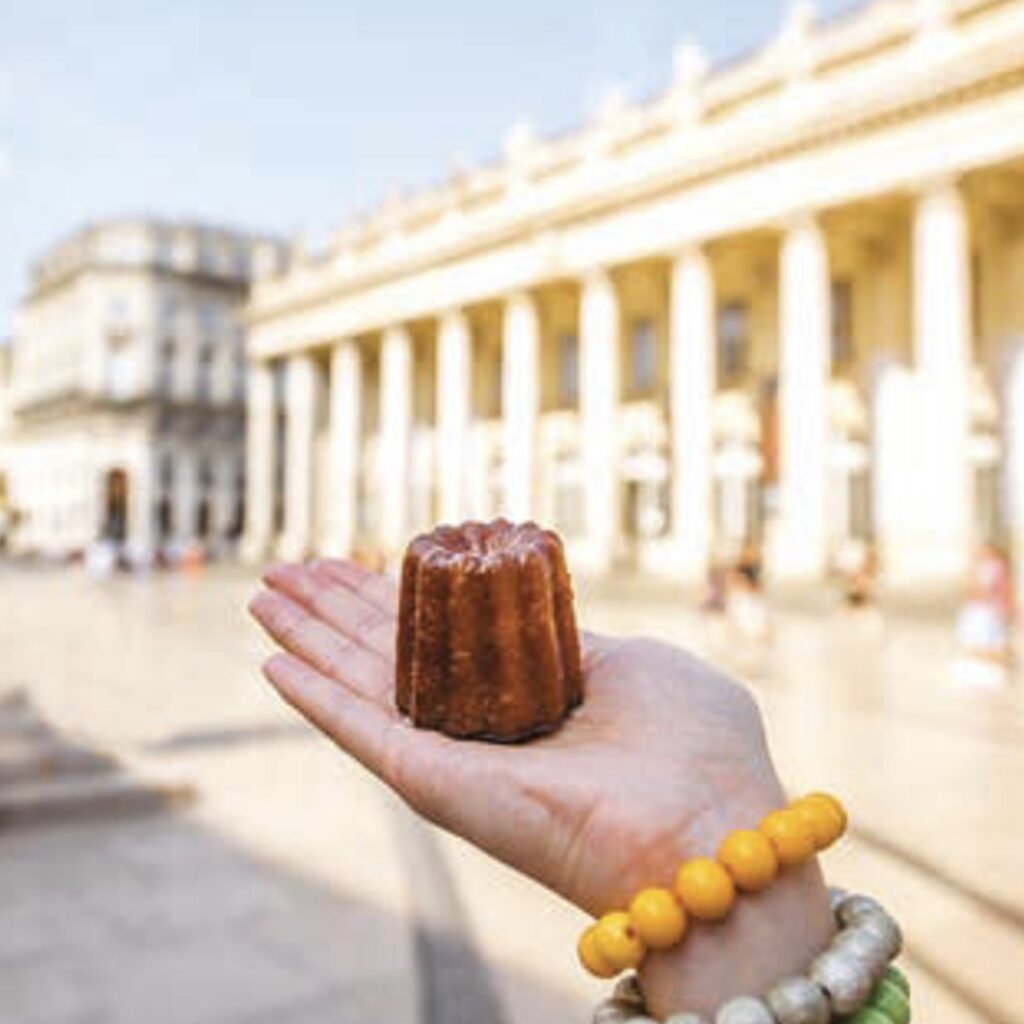 Must do foodie experiences in Bordeaux
Improve your knowledge of world wines at La Cité du Vin with a self-guided visit or through one of its many wine appreciation courses. Visit website here.
Take a guided excursion to the vineyards from the Bordeaux tourist office to meet winegrowers, tour their cellars and taste their wines. Visit website here.
Wander down Rue du Hâ, an epicurean paradise with a wealth of gourmet addresses to tantalise your taste buds.
Dine at the Michelin starrred L'Oiseau Bleu, renowned for its contemporary twist on classic French dishes. Visit website here.
Eat in or take away amongst the food stalls of the Marché des Capucins covered market, known as the 'stomach of Bordeaux'.
For more information, go to: www.bordeaux-tourism.co.uk
---
Article from Taste of France Issue Four.
Did you enjoy the recipe? Let us know in the comment section below.
Enjoy Taste of France? Well you're in luck as Taste of France Issue Five is out of the oven!
---
Please note: we may earn commissions from tours booked through links on our site.
---
Latest posts: