In a small town in a beautiful corner of Massachusetts, something rather heavenly is happening.
Husband and wife team Daniel and Christine Cooney have spent the past 20 years dedicated to promoting spirits – Armagnac, absinthe, rhum agricole… the list is impressive – from France, so their loyal American customers can enjoy the very finest that l'Hexagone has to offer from its distinguished stills.
From their offices in Lakeville – a stunning town, studded with picturesque ponds – Daniel, Heavenly Spirits' co-owner and marketing director, talked to us about the company's origins and its plans for the future. It all goes back to Christine's childhood…
"Christine grew up in the Cognac region of France," says Daniel. "She learned a great deal from her grandfather, Amedée Foubert, while helping him during summers at his winery and farm. Christine and I have always had entrepreneurial spirits and we both have backgrounds in the arts: I earned degrees in both fine art and graphic design; Christine danced professionally, and earned her linguistics degree in languages.
"We moved to France in 1994 to restore her grandfather's farm and began a search for the best brandy producers we could find, with the idea of bringing undiscovered gems to the American market. We started by brokering a variety of Cognac, Calvados and Armagnac producers. Armagnac Delord and Dartigalongue were two of the first. We founded the Heavenly Spirits import business in 2008, immediately becoming the leading importer of Armagnac in the United States."
Daniel and Christine set up their HQ in Lakeville, MA with their warehouse in nearby West Wareham. But how did they choose the company's name of Heavenly Spirits?
"It refers to what is known as "the angel's share," which refers to that portion of the distillation that is lost to evaporation while being aged in oak barrels," explains Daniel. "The word 'heavenly' is also a translation of the French word 'paradis', which sometimes refers to the oldest ageing cellar of the distiller. For us, the name represents years of research and passion for the art of French distillation. The results of our work are a collection of exceptional French spirits that are indeed 'heavenly' in both quality and taste."
The couple chose to specialize in spirits rather than France's other rather well-known export of wine not just because of Christine's childhood in Cognac, but because fate seemed to be leading the way: her first job after university was as a trilingual export assistant for a Cognac producer.
"Soon after meeting, we both developed a passion for the artistry and traditions of small, French, family-owned distillers," recalls Daniel. Then, after moving to France in 1994 to take over Christine's grandfather's farm, the couple set about visiting the various brandy regions to research the brands they would eventually represent. Pre-pandemic, they travelled to France at least once a year and then in 2019, they bought a farm in the Grande Champagne hills in Cognac. "Our plan is to turn it into a retreat and study centre," says Daniel.
And talking of Covid, we wondered what effect the various restrictions had had on Heavenly Spirits.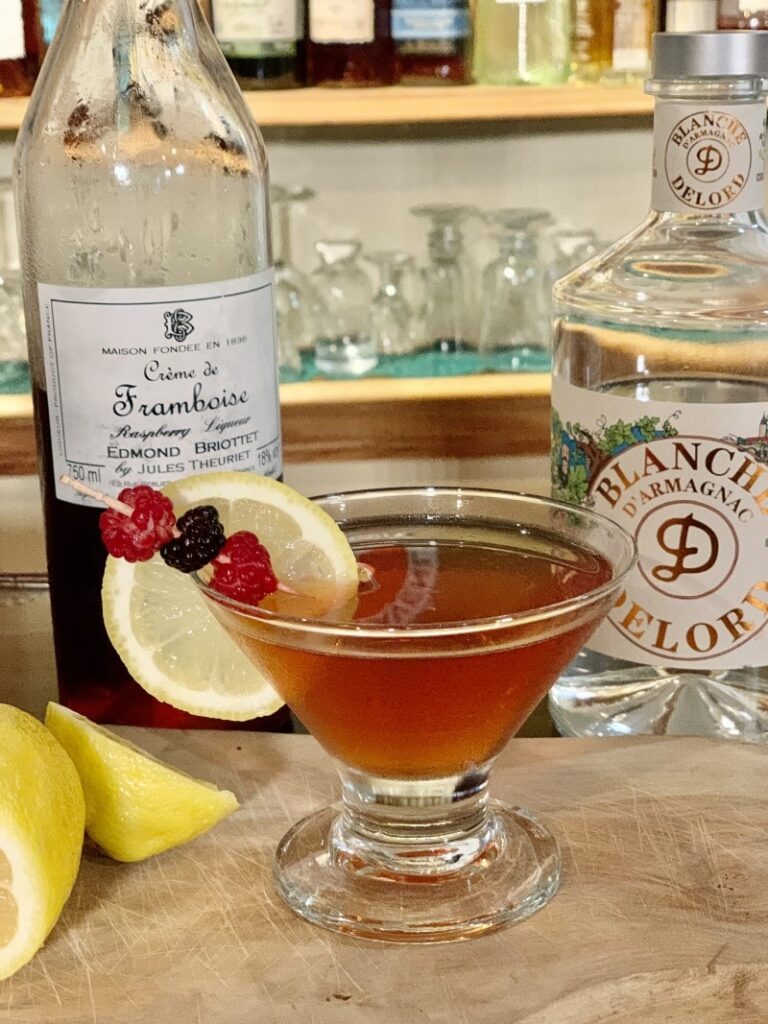 "First, we are very thankful the pandemic seems to be on its way out," says Daniel. "We sheltered in place like most everybody else during the worst of it. As a result of not being able to travel as we typically do, we had to find new ways to market our spirits. In addition to conducting online seminars and tastings, we created instructional videos about several categories of spirits."
Which begs the question – which category of spirits is the most popular?
"Our biggest seller continues to be Armagnac, specifically Delord, Marie Duffau, and Dartigalongue," Daniel tells us. And are these a good starting point for a first-time buyer who doesn't know much about French spirits but is keen to learn?
"I would say, start with the entry-level brandies: Cognac Du Peyrat Organic Selection, Marie Duffau Napoleon Bas Armagnac, and Claque-Pepin Calvados Fine," says Daniel. "After that be sure to check out some of the French whiskies, like Armorik and Bastille."
So in a year where travel for many of us is a distant memory, we couldn't resist asking where Daniel and Christine would be right now if they could choose.
"They say home is where the heart is, right? So, it's a good thing we both love to work and travel together!" says Daniel. "We just returned from our Cognac property where we are doing a lot of renovation work, and very happy, but we are also happy to be back in Massachusetts now, tending our garden and continuing to share our heavenly spirits portfolio with the rest of the US.
"And in addition to representing some of the finest artisanal spirits producers in France, we are looking into creating a retreat and study centre in Cognac, that would offer seminars and workshops focusing on subjects like wine, spirits, plein-air painting and basic French cuisine. We encourage Taste of France readers to check out our website at www.heavenlyspirits.com, view our online catalogue, and sign up for our seasonal newsletter."
Raspberry Blanche Cooler
Serves: 2
We asked Peter to share his perfect summer afternoon cocktail: "We are fortunate to have a wide range of options to choose from, and of course it depends on the day, but one of my current go-to summer cocktails would be something called a Raspberry Blanche Cooler.
---
Ingredients
3 oz Blanche Armagnac Delord
1 oz fresh lemon juice
2 oz Jahiot Crème de Framboise liqueur
2 oz club soda
Directions
1Add the first 3 ingredients into a cocktail shaker.
2Shake a few times, then add ice and shake until chilled.
3Pour into a chilled glass full of ice. Top off with club soda.
4Garnish with raspberries and lemon slice or mint.